Ford EcoSport Diesel 6000km Long term Review: Highway Run
Published On Sep 13, 2020 By Nabeel for Ford Ecosport 2015-2021
Cutlet takes me home 1300 kilometres away as Maharashtra imposes a second lockdown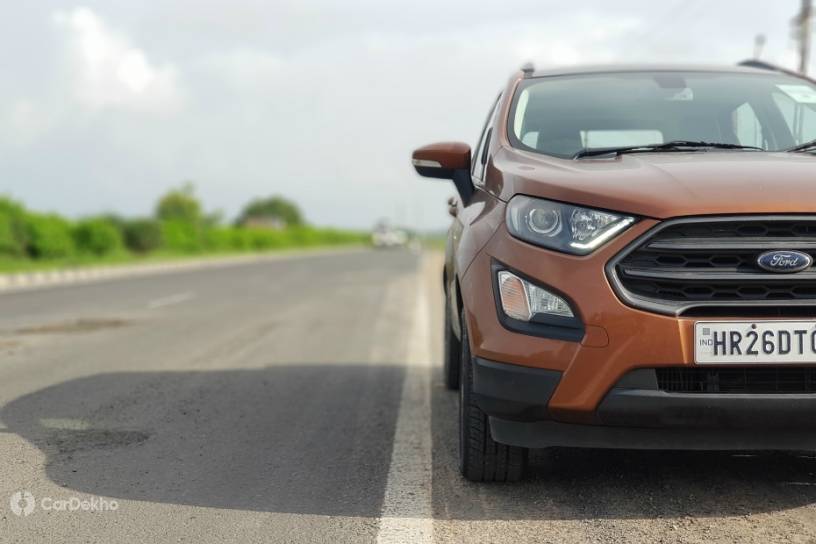 After a service, Cutlet and I were ready and eager to embark on a big road trip, but the unlock phase of the Maharashtra Government had other plans. Luckily, the road gods were listening. Pune and nearby areas were to go under a 10-day lockdown, which meant no more shoots. It took no time convincing the ed to let me leave for Jaipur and spend some time with my family. The very next day, I had an E-Pass taped to the windscreen, a full suitcase in the boot and a hand sanitizer in the cupholder.
Pack Up

We have discussed the boot space at length in one of our previous stories. My one large suitcase and other smaller bags were easy to load. However, this left little room for another big bag. So had I had a fellow traveller, adjusting his bag next to my large suitcase would have been a task.
Cabin Is A Mixed Bag

The cabin lets you keep most things handy. The door pockets are large and easily hold a one-litre bottle along with smaller cola bottles. There are two cup holders, one for me is dedicated to a hand sanitizer bottle and the other one later held a cup of coffee. However, with both of them full, my cellphone had to be kept on the passenger seat. There is a small opening over the glovebox, but that has my mints and chewing gum. The centre armrest has deep storage inside and can hold cables, small bottles and other miscellaneous items, things that you won't need often in the journey. I strongly miss a dedicated knick-knack storage area in the cabin. What was also missed later was a dedicated ticket holder for toll receipts, as I ended up having to put them away in the armrest.
A few vibrations too have been noticed inside the cabin. The dashboard cover for the base unit rattles under hard acceleration and the seatbelt clip mount to the seat makes a squeaking noise every time you go over a bump.
Get Set... GO!

The new MID introduced in the updated EcoSport is very handy. It lets you customise your displays, easily scroll for information with steering-mounted buttons, and the readouts are bright and clean in all conditions. My MID was set to a display which had average efficiency, trip, instantaneous efficiency and the tank range. Every info I needed on the journey was dialled into one display. Awesome!

In all factors, the EcoSport seems to be a much better car for the highways than the city. At 2500rpm, the engine feels strong, smooth and in its element doing about 110kmph in the 5th cog. And luckily, you will be spending most of your time cruising around this rpm as well. Get on the gas and it is quick to overtake buses or even cars at highway speeds. It even sounds rather sweet (for a noisy diesel) in doing so, which motivates you to get on the gas a little more.
Gaining speeds is so effortless that you often have to let off the throttle to slow down. This is where the EcoSport's speed limiter comes in handy. Set at 110kmph on the expressway, it allows you to get off the gas and then on it in traffic without having to worry about getting caught speeding on the speed camera.
Suspend

The EcoSport's suspension absorbs surface undulations well at speeds beyond 100kmph. Yes, they are felt inside the cabin but they won't feel like jerks or bumps. On well-paved surfaces, Cutlet glides on, well-planted to the tarmac. Gradient changes barely break composure and the suspension remains composed, settling down immediately after one.
However, a broken patch will force you to slow down. And if that is not done in time, you will be left apologising to the car like I did, on several occasions. The annoying smaller, sharper speed breakers appear out of nowhere and feel like hits from Thor's Hammer. These do get better with some more load in the car, but not exponentially.
S-Bend Ahead

Enough has been said about the EcoSport's handling by myself and everyone else. It is the KEY reason why the EcoSport is still in contention with SUVs much younger and practical than itself. And out on the highway, it takes the outside line around them. Every time I saw the board which said 'S-Bend Ahead' or ' Sharp Turn Ahead', it put a smile on my face. Cutlet had me entering the corners at decent speeds and then just punching through them without so much as breaking a sweat.

The grip from the recently installed Bridgestone Ecopia tyres, feel from her steering wheel and the meaty mid-range had me feeling like Mr. Hamilton himself. Especially the first 100km when you enter the Rajasthan border, the unmarked six-lane highway with little to no traffic was like my own little F1 track where I turned down the volume, tucked my phone in the bag and just enjoyed the mild squeal of the tyres. This is where the suffering on the bumps, apologies from the speed breakers and not having a place to keep my packet of chips didn't matter at all. All that mattered was how Cutlet was egging me to go that little bit faster, be a bit more naughty and the immense confidence in the handling which made me feel younger and happier. And I am not even old yet!
Tank Up

Let's talk numbers. To cover the 1300km stretch, Cutlet took a full tank at the start, and one refuelling stop in roughly 750km. And at the end, I was left with about a quarter tank of fuel still in the belly. This was while going to Jaipur and with mild traffic on the highway. Cutlet achieved an average efficiency of 18kmpl. While coming back, however, traffic was significantly less, the roads were better known to me and it was a race weekend as well, which got me a bit on the naughty side, resulting in an efficiency drop to 16kmpl. Harder acceleration and higher cruising speeds were the cause of this drop. In fact, up to 110kmph, the efficiency is pretty stable. But go over it and it starts to drop swiftly. I reached home with just 20km of range left. Even with the lower efficiency, I felt happier on the return trip.
Recommended?

Now to the most important aspect of them all. Did I have fun on the road trip? Hell yeah! Because you see, the final flavour isn't just the ingredients, it's the way they have been mixed . I surely would have been more comfortable in a Hyundai Venue, safer in an XUV300 and the trip would have cost less in a Nexon. But all of these cars would have me feel happy when I reached home. It's only the EcoSport that made me look forward to the journey and made me feel happy while I was on the road. And that's why I would pick it again, over its rivals, with its flaws, for this well-paved road trip.
Date Acquired: 20 November 2019
Km done when acquired: 9300km
Km done till date: 15,244km
Fuel efficiency: 17kmpl
Cheers: Punchy mid range, engaging handling, grip around corners.
Sneers: Vibrating plastics, missing cubby pockets, harsh ride quality.