Key Specs of Renault Kiger
Transmission
Manual14 variants

×

Renault Kiger RXERenault Kiger RXE DTRenault Kiger RXLRenault Kiger RXL DTRenault Kiger RXTRenault Kiger RXT DTRenault Kiger RXL TurboRenault Kiger RXL Turbo DTRenault Kiger RXZRenault Kiger RXZ DTRenault Kiger RXT TurboRenault Kiger RXT Turbo DTRenault Kiger RXZ TurboRenault Kiger RXZ Turbo DT

Automatic10 variants

×

Renault Kiger RXL AMTRenault Kiger RXL AMT DTRenault Kiger RXT AMTRenault Kiger RXT AMT DTRenault Kiger RXZ AMTRenault Kiger RXZ AMT DTRenault Kiger RXT Turbo CVTRenault Kiger RXT Turbo CVT DTRenault Kiger RXZ Turbo CVTRenault Kiger RXZ Turbo CVT DT
Top Features
Power Windows Front
Anti Lock Braking System
Air Conditioner
Power Steering
+8 more
Kiger Latest Update
Latest Update: Renault is offering the Kiger with a range of benefits in June.
Renault Kiger Price: Renault has priced the sub-4m SUV from Rs 5.64 lakh to Rs 10.08 lakh (ex-showroom Delhi).
Renault Kiger Variants: It is offered in four trims: RXE, RXL, RXT, and RXZ.
Renault Kiger Seating Capacity: The Kiger can carry up to five occupants.
Renault Kiger Powertrains: The Kiger is a petrol-only offering like its cousin, the Nissan Magnite. It comes with two engine options: a 1.0-litre naturally aspirated (72PS/96Nm) and a 1.0-litre turbo-petrol (100PS/160Nm) unit. The former is mated to either a 5-speed MT or an AMT, and the latter gets a 5-speed MT along with an optional 5-speed CVT.
Renault Kiger Features: It gets LED headlamps, wireless charging, an 8-inch touchscreen system with wireless Android Auto and Apple CarPlay, and push-button start/stop. Renault has also provided the SUV with auto climate control and a PM 2.5 air filter.
Renault Kiger Safety: Passenger safety is covered by up to four airbags, ABS with EBD, and rear parking sensors.
Renault Kiger Rivals: It rivals the Hyundai Venue, Mahindra XUV300, Toyota Urban Cruiser, Ford EcoSport, Kia Sonet, Maruti Suzuki Vitara Brezza, Tata Nexon, and Nissan Magnite.
Read More

Renault Kiger Price
The price of Renault Kiger starts at Rs. 5.64 Lakh and goes upto Rs. 10.08 Lakh. Renault Kiger is offered in 24 variants - the base model of Kiger is RXE and the top variant Renault Kiger RXZ Turbo CVT DT which comes at a price tag of Rs. 10.08 Lakh.
Renault Kiger price list (Variants)
RXE999 cc, Manual, Petrol
Rs.5.64 Lakh*
RXE DT999 cc, Manual, Petrol
Rs.5.84 Lakh*
RXL999 cc, Manual, Petrol

Top Selling

Rs.6.41 Lakh*
RXL DT999 cc, Manual, Petrol
Rs.6.61 Lakh*
RXT999 cc, Manual, Petrol
Rs.6.89 Lakh*
RXL AMT999 cc, Automatic, Petrol
Rs.6.91 Lakh*
RXT DT999 cc, Manual, Petrol
Rs.7.09 Lakh*
RXL AMT DT999 cc, Automatic, Petrol
Rs.7.11 Lakh*
RXT AMT999 cc, Automatic, Petrol
Rs.7.39 Lakh*
RXL Turbo999 cc, Manual, Petrol
Rs.7.51 Lakh*
RXT AMT DT999 cc, Automatic, Petrol
Rs.7.59 Lakh*
RXL Turbo DT999 cc, Manual, Petrol
Rs.7.71 Lakh*
RXZ999 cc, Manual, Petrol
Rs.7.78 Lakh*
RXZ DT999 cc, Manual, Petrol
Rs.7.98 Lakh*
RXT Turbo999 cc, Manual, Petrol
Rs.7.99 Lakh*
RXT Turbo DT999 cc, Manual, Petrol
Rs.8.19 Lakh*
RXZ AMT999 cc, Automatic, Petrol
Rs.8.28 Lakh*
RXZ AMT DT999 cc, Automatic, Petrol
Rs.8.48 Lakh*
RXZ Turbo999 cc, Manual, Petrol
Rs.8.88 Lakh*
RXT Turbo CVT999 cc, Automatic, Petrol
Rs.8.99 Lakh*
RXZ Turbo DT999 cc, Manual, Petrol
Rs.9.08 Lakh*
RXT Turbo CVT DT999 cc, Automatic, Petrol
Rs.9.19 Lakh*
RXZ Turbo CVT999 cc, Automatic, Petrol
Rs.9.88 Lakh*
RXZ Turbo CVT DT999 cc, Automatic, Petrol
Rs.10.08 Lakh*
View All Variants
Renault Kiger Comparison with similar cars

Ex-showroom price in New Delhi
Renault Kiger Review
Renault's Kiger blends space, sensibility and comfort in style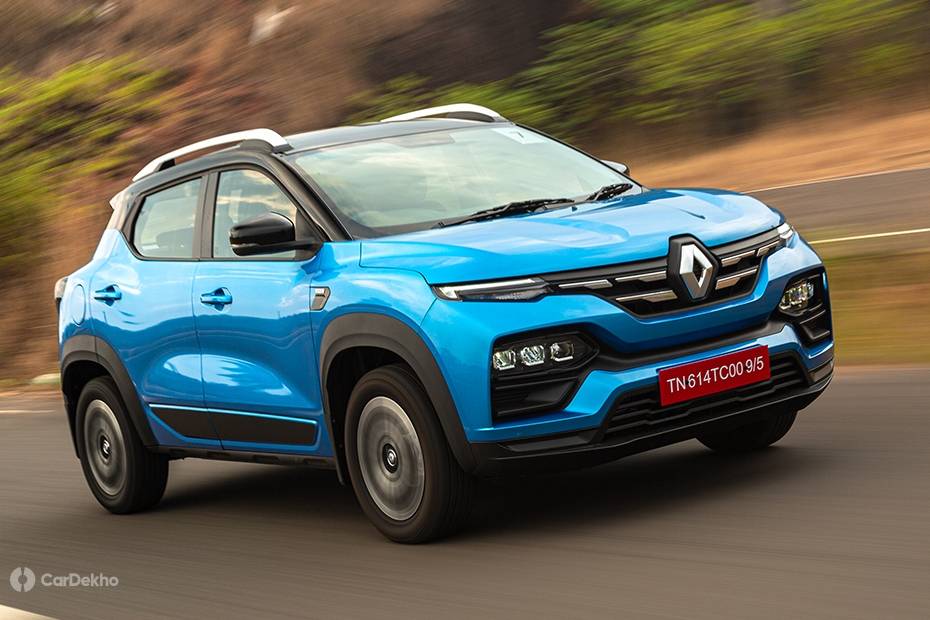 For Renault to make the new Kiger interesting for you and I was clearly no easy task. That's because we're flooded with options. Right from the Magnite that's redefining value to the Sonet that's punching way above its weight, there's something for everyone. Renault chose to stick to the value for money end of things with prices ranging between Rs 5.45 lakh and Rs 9.55 lakh (ex-showroom). That certainly makes it tempting. Should you give in?
What could the Kiger do better? Well, a better quality interior (that matches the funky exterior) would be great. Similarly, those wanting the latest wow features such as the all-important sunroof and cruise control won't warm up to the Kiger easily. That said, considering the price point that Renault is offering the Kiger at, the feature list seems adequate.

It will entice you with it's hatke styling for sure. And that cabin scores in spades when it comes to offering more than ample space for the family, while the 405-litre boot happily swallows luggage. There's the ride quality too that makes travelling on bad roads less of a heartache.
The Kiger's strength clearly lies in its tempting price tag. But you can't help but see how Renault is pushing you towards the top two variants, for that's where the real value is. You should give in to the Kiger's charm if you want a stylish, spacious and comfortable SUV on a budget.
Exterior
In images, you might think the Kiger looks like a Kwid that went to the gym. But this isn't the case when you view it in person. As you'd expect from any global manufacturer, the small SUV has a family look with a large Renault logo and a chrome-studded grille that connects the daytime running lamps.

The DRLs are offered as standard, along with mirror-mounted turn indicators and LED tail lamps. It's also appreciable that Renault is offering 16-inch tyres as standard. Interestingly, if you happen to like the Caspian Blue or the Moonlight Silver shade, these can be had with a dual-tone paint scheme (contrast black roof) right from the base variants. Other colours get a dual tone theme in the top-spec RxZ variant only. For the other colours, it's only in the top-spec RxZ variant that a two-tone theme is offered.


In the RxZ variant, the Kiger also gets triple-LED headlamps and 16-inch machine-finished alloy wheels. The SUV quotient is amped up by a healthy 205mm of ground clearance, a faux skid plate at the rear, and functional roof rails that can hold up to 50kg. Those with an eye for detail will appreciate smaller touches such as the shark fin antenna, the dual spoiler, the neat integration of the rear washer and the parking camera tucked neatly into the Renault lozenge.
There are surprising omissions though. For instance, you don't get fog lamps even in the fully loaded variants and the 'cladding' on the doors is just a black sticker.
You could look at adding the 'SUV' accessory pack for actual cladding along the side and to the tailgate for a more robust look. If you like bling, Renault's got a buffet of garnishes you can play around with.
Interior
Functional and practical. That's how we'd describe the interior of the Kiger. Access is easy, and irrespective of where you choose to sit, you simply have to walk into the cabin.

The cabin itself will seem familiar if you've spent time in the Renault Triber. Finished in a mix of black and dull grey, it looks like it could do with some lighter colours to liven things up. We aren't particularly fond of the hard and scratchy plastics either. They seem sturdy but not premium.
From the driver's seat, you get to see the nose of the car from the lowest position. Great if you're just getting used to driving. Driver's seat-height adjust is offered in the top two trims.
Frontal and sideward visibility is great too, but we can't say the same about the rear. Thanks to a tiny window and raised boot, the view out isn't all that helpful while reversing. You'll need to rely on the parking camera.

FYI: You might fumble finding the seat belt buckle and find the footwell to be cramped. Also, the power window switches might seem too close to your right arm.

You'd enjoy the Kiger's spacious cabin both from the front and rear seats. There's no dearth of width. At the rear, it's surprisingly accommodating—a six-footer will have kneeroom to spare sitting behind another. Feet room, head room and underthigh support are sufficient too. A small hiccup comes in the form of the view out of the rear window. The high window line, small window and the black colour theme dampens the sense of space. We'll say it again—there's no shortage of actual space here. However, using lighter colours such as beige would've amplified the feeling of sitting in a spacious vehicle.


With the Kiger Renault is showcasing it's mastery at eking out every ounce of space from a small vehicle. The Kiger's in-cabin storage leads the class at 29.1 litres. There's ample space for everything you'd want to carry in the two glove compartments, the shelf under the touchscreen and the bottle holders in the door. The large storage compartment under the front armrest alone accounts for nearly 7 litres of space. We'd urge you to invest in the 'central armrest organizer' accessory since it enables you to utilise the space properly. Without the organizer, the Kiger lacks a usable cupholder inside the cabin.

There's an equally helpful 'boot organizer' accessory available too. That negates the biggest bugbear of the Kiger's deep but narrow 405-litre boot: a high loading lip. The accessory adds a false floor (that sits in line with the seats when they're folded) and modular compartments underneath. 60:40 split seats are available in the top two variants for added versatility.
Technology
The Kiger's feature list isn't a tech bonanza. Focus is clearly on features you'd use on a daily basis more than those that grab headlines. So an electric sunroof, cruise control, ventilated seats and connected car technology don't make the cut. What it does offer (especially at the price point it does) is praise worthy.

The floating 8-inch touchscreen is available in the top two variants. However, wireless Android Auto and Apple CarPlay is offered only on the RxZ. It could do with a higher resolution screen and a snappier interface. But the screen does function satisfactorily. The 8-speaker Arkamys audio system feels adequate but not exceptional. Steering-mounted audio and call controls are available from the RxT variant onwards.

Exclusive to the RxZ variant is a 7-inch display in the instrument cluster. Graphics are sharp, transitions are smooth and the font is classy. It also changes skins and offers helpful widgets based on the drive modes. For example, the Eco mode display marks out the ideal rpm range to upshift whereas the Sport display gives you a bar graph for horsepower and torque (alongside a practically useless G meter).


Other notable features on the top-spec Kiger include a PM 2.5 cabin filter, automatic climate control, rear AC vents, and a chilled glovebox. From the accessory catalogue you get to add front parking sensors, a wireless charger, puddle lamps, trunk light and an air purifier.
Performance
Renault is offering two petrol engines with the Kiger: a 72PS 1.0-litre naturally aspirated motor, and a 100PS 1.0-litre turbocharged engine. A 5-speed manual transmission is offered as standard. If you desire an automatic, the non-turbo engine is offered with an AMT whereas the turbo engine is paired with a CVT.
1.0 Turbo MT

Typical of a three-cylinder engine, the engine feels vibey at startup and idle. You will feel vibrations on the doorpads, floorboard and the pedals. They mellow down as you get a move on, but are never entirely gone. It also doesn't help that noise insulation on the Kiger could've been better. You will hear the engine inside the cabin practically all the time.

From a drivability standpoint, we'd recommend the turbocharged engine over the non-turbo. It is the all-rounder of the two, as happy tackling highway roadtrip duties as choked city commutes. The numbers might make you feel it's a sporty, fun SUV to chuck around. Rest assured, it's set up more for daily use than fun. At the same time, you'd never feel like there's a shortage of power nor feel lag that would make driving taxing. It can maintain triple digit speeds on highways comfortably too.
The clutch and the gear action won't tire you out when you're stuck in bumper to bumper traffic either. However if budget isn't a constraint, consider upgrading to the CVT. If the experience in the Magnite is anything to go by, this would be effortless to drive within the city.

FYI: Eco mode smoothes out the throttle, making the Kiger even easier to drive in a relaxed manner. Sport mode makes the Kiger eager, and adds some weight to the steering wheel.
Ride and Handling

We're happy to report that the Kiger lives up to expectations Renault has set over the years. It's alarmingly comfortable tackling bad roads, potholes, level changes and rough surfaces. There's no thudding or thwacking from the suspension either, unless you go flying over a speed breaker. The steering is expectedly set up to make parking and u-turns easy, not to set corners on fire. But the Kiger does hold its line well when pushed hard.
Safety

Renault is offering dual airbags, ABS with EBD, and reverse parking sensors as standard across variants. Surprisingly, only the driver gets a pretensioner seatbelt. In the top two variants the Kiger is equipped with side airbags and ISOFIX child seat mounts. Renault has skipped features such as hill assist, vehicles stability control and tyre pressure monitoring system for the Kiger--all of which it's cousin, the Nissan Magnite, gets.
Pros & Cons of Renault Kiger

CarDekho Experts:
A car that offers a great mix of utility, practicality, features and comfort.
Things We Like
Quirky design stands out. Especially in loud colours like red and blue.
Super spacious cabin makes it a genuine family car.
405-litre boot is the largest in its class.
Well-tuned suspension feels at home tackling bad road conditions.
Two automatic options for varying budgets.
Things We Don't Like
Interior design looks plain and the cabin could do with livelier colours.
Feel good features are reserved just for the top RxZ trim
Cabin insulation could be better
Stand Out Features
7" Digital Driver's Display

3 Drive Modes: Eco, Normal and Sport

Wireless Android Auto / Apple CarPlay
Renault Kiger User Reviews
All (96)
Looks (47)
Comfort (13)
Mileage (14)
Engine (10)
Interior (17)
Space (12)
Price (16)
More ...
Stylish looks interior and exterior, good suspension, low price, good performance àlso in non turbo variants and also very good in fuel efficiency

It is a budget compact SUV with good features. Instead of buying a premium hatchback, I bought it. Decent mileage, cabin space, Ground clearance, solid build feel in this...Read More

Looking Awesome. Looking Real Tiger on Road. Performance and safety feature also good. I think Kiger is the perfect Family Car...

Never have I ever felt so comfortable and powerful driving any car. Turbo experience is just beyond explanation. CVT transition in the well-designed car is a bang on by R...Read More

I bought RXT MT Turbo variant. Let me give some pros and cons. Pros: 1. Car looks awesome (Definitely not a big Kwid if you look in real life). 2. Its ability to han...Read More

Renault Kiger Videos
Renault Kiger 2021 has 9 video of its detailed review, pros & cons, comparison & variant explained,test drive experience, features, specs, interior & exterior details and more. Watch our Latest Hindi video of Renault Kiger to know price, safety features & more.
Renault Kiger Variants Explained: RXE vs RXL vs RXT vs RXZ | पैसा वसूल VARIANT कौनसी?

Apr 19, 2021

Renault Kiger vs Nissan Magnite Variants Compared RXE vs XE, RXL vs XL, RXT vs XV, RXZ vs XV Premium

May 31, 2021

Renault Kiger vs Nissan Magnite Variants Compared RXE vs XE, RXL vs XL, RXT vs XV, RXZ vs XV Premium

May 31, 2021

2021 Renault Kiger | Nissan Magnite Rival Driven! | PowerDrift

Apr 12, 2021

Renault Kiger SUV 2021 Walkaround | Where It's Different | Zigwheels.com

Feb 10, 2021
Renault Kiger Colours
Moonlight Silver With Mystery Black

Mahogany Brown

Moonlight Silver

Planet Grey

ICE Cool White

Caspian Blue With Mystery Black

Planet Grey With Mystery Black

Mahogany Brown With Mystery Black



Are you Confused?
Ask anything & get answer in 48 hours
Questions & Answers
What is the exact on-road price of Renault Kiger?
The on-road
price of Kiger in Delhi
starts at Rs. 6,35,366. The on-road price is inclusive of RTO charges and insurance.
What are the latest June offers available on Renault Kiger?
For the month of June 2021, 1 offer is available on the Renault Kiger in Delhi.
Which car is better Kiger or Magnite?
Kiger price
starts at Rs 5.64 Lakh ex-showroom and
Magnite price
starts Rs 5.59 Lakh ex-showroom.
Compare
these two models on the basis of their price, features & specs.
What will the EMI or down payment for Renault Kiger?
Renault Kiger EMI
starts at ₹ 12,579 per month for a tenure of 60 months @ 9.8% for a loan amount of Rs 5.94 Lakh & down payment will be ₹ 66,000.
Is Renault Kiger a 5 or 7 seater SUV?
Renault Kiger is a 5 seater car, Which is priced at Rs 5.64 Lakh. Check more
5 seater SUV
options on CarDekho.
Write your Comment on Renault Kiger
15 comments
1
S
sinoj
Feb 16, 2021 5:33:23 AM
Has Kiger got Hill Assist start?
Read More...
Reply
Write a Reply
1
R
r v
Feb 13, 2021 8:03:46 AM
I am ready..
Read More...
Reply
Write a Reply
1
T
taufique raaz
Feb 11, 2021 3:41:36 PM
It's great... I'm waiting... this car
Read More...
Reply
Write a Reply


Renault Kiger Price in India
Choose your city