Hyundai Venue 2019-2022
Change car
Rs.6.55 - 11.88 Lakh*
This car model has discontinued

Key Specs of Hyundai Venue 2019-2022
| | |
| --- | --- |
| Engine | 998 cc - 1498 cc |
| Power | 81.86 - 118.35 bhp |
| Transmission | Manual / Automatic |
| Mileage | 17.52 - 23.7 kmpl |
| Fuel | Diesel / Petrol |
Explore Price of Venue 2019-2022 Alternatives

Hyundai Venue 2019-2022 price list (Variants)
Venue 2019-2022 E BSIV1197 cc, Manual, Petrol, 17.52 kmplDISCONTINUED
Rs.6.55 Lakh*
 
Venue 2019-2022 E1197 cc, Manual, Petrol, 17.52 kmplDISCONTINUED
Rs.7.11 Lakh*
 
Venue 2019-2022 E Diesel BSIV1396 cc, Manual, Diesel, 23.7 kmplDISCONTINUED
Rs.7.80 Lakh*
 
Venue 2019-2022 S1197 cc, Manual, Petrol, 17.52 kmplDISCONTINUED
Rs.7.91 Lakh*
 
Venue 2019-2022 S Turbo BSIV998 cc, Manual, Petrol, 18.27 kmplDISCONTINUED
Rs.8.26 Lakh*
 
Venue 2019-2022 E Diesel1493 cc, Manual, Diesel, 23.7 kmplDISCONTINUED
Rs.8.38 Lakh*
 
Venue 2019-2022 S Diesel BSIV1396 cc, Manual, Diesel, 23.7 kmplDISCONTINUED
Rs.8.50 Lakh*
 
Venue 2019-2022 S Plus1197 cc, Manual, Petrol, 17.52 kmplDISCONTINUED
Rs.8.79 Lakh*
 
Venue 2019-2022 S Turbo998 cc, Manual, Petrol, 18.27 kmplDISCONTINUED
Rs.9.04 Lakh*
 
Venue 2019-2022 S Turbo iMT999 cc, Manual, Petrol, 17.52 kmplDISCONTINUED
Rs.9.13 Lakh*
 
Venue 2019-2022 S Turbo DCT BSIV998 cc, Automatic, Petrol, 18.15 kmplDISCONTINUED
Rs.9.40 Lakh*
 
Venue 2019-2022 S Diesel1493 cc, Manual, Diesel, 23.7 kmplDISCONTINUED
Rs.9.56 Lakh*
 
Venue 2019-2022 SX Turbo BSIV998 cc, Manual, Petrol, 18.27 kmplDISCONTINUED
Rs.9.59 Lakh*
 
SX Dual Tone Turbo BSIV998 cc, Manual, Petrol, 18.27 kmplDISCONTINUED
Rs.9.74 Lakh*
 
Venue 2019-2022 SX Diesel BSIV1396 cc, Manual, Diesel, 23.7 kmplDISCONTINUED
Rs.9.83 Lakh*
 
Venue 2019-2022 SX Dual Tone Turbo998 cc, Manual, Petrol, 18.27 kmplDISCONTINUED
Rs.9.94 Lakh*
 
SX Dual Tone Diesel BSIV1396 cc, Manual, Diesel, 23.7 kmplDISCONTINUED
Rs.9.98 Lakh*
 
Venue 2019-2022 SX Diesel1493 cc, Manual, Diesel, 23.7 kmplDISCONTINUED
Rs.10 Lakh*
 
Venue 2019-2022 S BSIV1197 cc, Manual, Petrol, 17.52 kmplDISCONTINUED
Rs.10 Lakh*
 
Venue 2019-2022 S Turbo DCT998 cc, Automatic, Petrol, 18.15 kmplDISCONTINUED
Rs.10.03 Lakh*
 
Venue 2019-2022 SX Turbo iMT998 cc, Manual, Petrol, 18.0 kmplDISCONTINUED
Rs.10.21 Lakh*
 
Venue 2019-2022 SX Turbo998 cc, Manual, Petrol, 18.27 kmplDISCONTINUED
Rs.10.21 Lakh*
 
Venue 2019-2022 SX Sport iMT998 cc, Manual, Petrol, 18.0 kmplDISCONTINUED
Rs.10.39 Lakh*
 
Venue 2019-2022 SX Dual Tone Diesel1493 cc, Manual, Diesel, 23.7 kmplDISCONTINUED
Rs.10.40 Lakh*
 
Venue 2019-2022 SX Diesel Sport1493 cc, Manual, Diesel, 23.7 kmplDISCONTINUED
Rs.10.45 Lakh*
 
Venue 2019-2022 SX Opt Turbo BSIV998 cc, Manual, Petrol, 18.27 kmplDISCONTINUED
Rs.10.65 Lakh*
 
Venue 2019-2022 SX Opt Diesel BSIV1396 cc, Manual, Diesel, 23.7 kmplDISCONTINUED
Rs.10.89 Lakh*
 
Venue 2019-2022 SX Opt Dual Tone Turbo998 cc, Manual, Petrol, 18.27 kmplDISCONTINUED
Rs.10.95 Lakh*
 
Venue 2019-2022 SX Opt Turbo DT998 cc, Manual, Petrol, 18.27 kmplDISCONTINUED
Rs.10.95 Lakh*
 
SX Opt Executive Diesel1493 cc, Manual, Diesel, 23.7 kmplDISCONTINUED
Rs.11.08 Lakh*
 
Venue 2019-2022 SX Opt Turbo998 cc, Manual, Petrol, 18.27 kmplDISCONTINUED
Rs.11.13 Lakh*
 
Venue 2019-2022 SX Plus Turbo DCT BSIV998 cc, Automatic, Petrol, 18.15 kmplDISCONTINUED
Rs.11.15 Lakh*
 
Venue 2019-2022 SX Turbo Executive1498 cc, Manual, Diesel, 23.7 kmplDISCONTINUED
Rs.11.20 Lakh*
 
Venue 2019-2022 SX Opt iMT998 cc, Manual, Petrol, 18.0 kmplDISCONTINUED
Rs.11.38 Lakh*
 
Venue 2019-2022 SX Plus Turbo DCT DT998 cc, Automatic, Petrol, 18.15 kmplDISCONTINUED
Rs.11.41 Lakh*
 
Venue 2019-2022 SX Opt Sport iMT998 cc, Manual, Petrol, 18.0 kmplDISCONTINUED
Rs.11.50 Lakh*
 
SX Opt Dual Tone Diesel1493 cc, Manual, Diesel, 23.7 kmplDISCONTINUED
Rs.11.53 Lakh*
 
SX Plus Dual Tone Turbo DCT998 cc, Automatic, Petrol, 18.15 kmplDISCONTINUED
Rs.11.67 Lakh*
 
Venue 2019-2022 SX Plus Turbo DCT998 cc, Automatic, Petrol, 18.15 kmplDISCONTINUED
Rs.11.82 Lakh*
 
Venue 2019-2022 SX Opt Diesel1493 cc, Manual, Diesel, 23.7 kmplDISCONTINUED
Rs.11.84 Lakh*
 
Venue 2019-2022 SX Opt Diesel Sport1493 cc, Manual, Diesel, 23.7 kmplDISCONTINUED
Rs.11.84 Lakh*
 
Venue 2019-2022 SX Plus Sport DCT998 cc, Automatic, Petrol, 18.15 kmplDISCONTINUED
Rs.11.88 Lakh*
 
View All Variants
Hyundai Venue 2019-2022 Review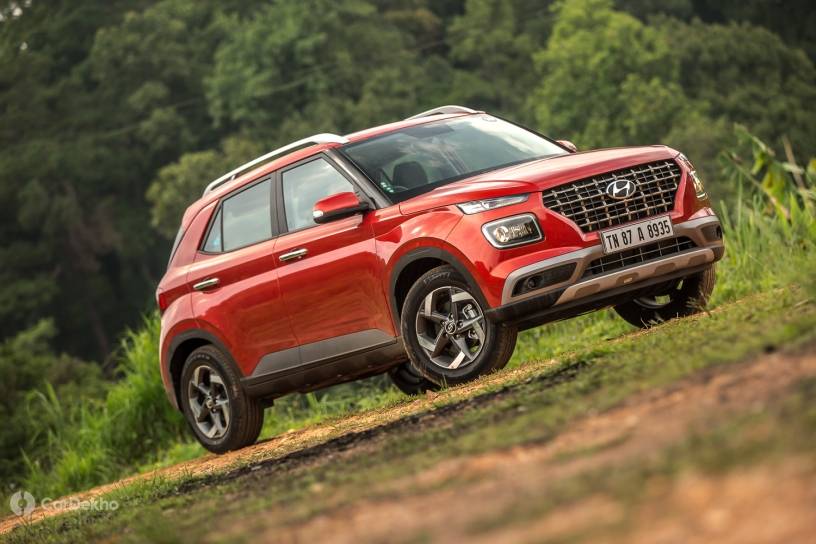 Hyundai has ensured that the Venue tempts sub-4 metre SUV buyers away from the Maruti Suzuki Vitara Brezza, Tata Nexon, Ford EcoSport, and Mahindra XUV 300. This Hyundai is proving to be a very convincing package to put your money on thanks to its combination of design, features and price, between Rs 6.4 Lakh and Rs 11.1 lakh (ex-showroom India). The 3-year unlimited kilometre warranty should calm any doubts further. But, does it drive well enough? And which engine would be right for you? A quick spin in the Venue tells us more.
Exterior
To suit our tastes, the Hyundai Venue has been designed to be angular, like a traditional SUV. The chunky flat face uses the large cascading grille to make it look large and the dull chrome finish on the "plus" shaped theme on the grille looks quite classy.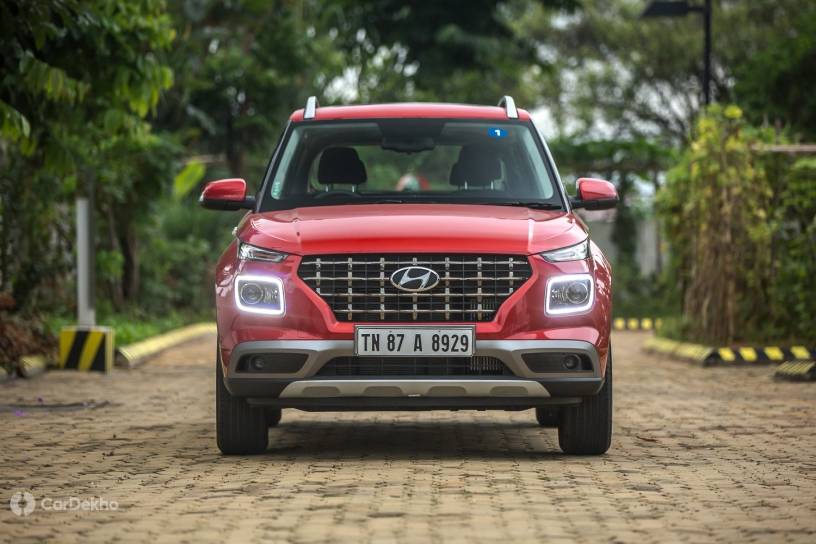 The grille is fenced in by the split-headlamp setup. Interestingly, the slim light element under the hood is the turn-indicator, and not the LED DRL like on the Harrier or the Hector. The chunky looking headlamp cluster is surrounded by LED DRLs and pack in cornering lamp functionality too (available only from the SX variant). Projector fog lamps are first in this segment.

From the side, the Venue looks a lot like its elder brother, the Creta. The upright A-pillar, floating roof, and chunky C-Pillar are Creta trademarks. However, there is a more muscular look here on the Venue with more prominent bulges for the wheel arches. The 16-inch diamond-cut alloy wheels look premium too. From the rear, the Venue looks a bit hatch-like. The LED tail lamps, the only instance of LEDs used on the exterior, look quite handsome.

In terms of size, the Venue feels a bit smaller than the competition. You can see this in the overall height, which is the lowest in the class. Its width also highlights this as it is only 5mm wider than the narrowest car in the class, the Ford EcoSport.
Interior
Simple and solid, that's the best way to describe the Venue's cabin. From the design of the dashboard, the materials used, the quality and the storage spaces, it's clear that the cabin has been well thought out to balance practicality, feel good factor and cost.

The dash uses hard plastics, but the finish for the silver accents and the floating infotainment screen look premium. There are two other colour themes too, including a Denim dual-tone and a Khaki dual-tone that are available with select exterior colour options.

Hyundai's Venue is plenty practical. 1-litre bottle holders in all four doors, the shelf on the dash for the passenger to stow his phone are very welcome. You also get a tray in the centre stack, a slot behind to store the key and a couple of cupholders. Do note that the air-purifier takes up a cupholder in the top-spec SX (O) variant.

The seats have leather inserts, this is undoubtedly cheaper than all-leather upholstery and will prove to be more comfortable on hot summer days. The contrast stitching on the seats, and the denim like texture for the fabric is handsome. The firm cushioning for the seats and the contours also hold you well. While this is applicable for the front and rear seats, the width and length of the seat base for the second row could have been better.

Actually, the narrowness of the Venue is exaggerated by the extensive use of black in the cabin. The second row, despite the shortcomings mentioned earlier, accommodates three adults much better than expected. While kneeroom isn't as much as in some of the competition, four adults will sit comfortably in the cabin.

Along with four adults, their luggage won't jostle for room either. The Venue's 350-litre boot is on par with the Nexon, and negligibly smaller than that of the EcoSport (352-litre). Also on offer are 60:40 split rear seats. Sadly, that's limited to the top-spec variant only.
Technology & Features

Aside from the connected car technology and features, the Venue is pretty low on the much touted "segment-first" quotient. That is no reason to be disappointed though, because it offers most of the safety, wow and basic features expected from a car in this class.

Among the highlights is an air-purifier that's nestled in the cupholder. This, Hyundai claims can remove harmful PM 2.5 particles, making the in-car air healthier. The purifier also gets coded lights - red, yellow, green, blue (ranging from worst to best) - to tell you the quality of the air inside the cabin.

Then, there's the 8-inch touchscreen infotainment system that gets Android Auto and Apple CarPlay. The screen itself is crisp in terms of graphics, and responsive too. This display is paired with a 6-speaker sound system that's tuned by Arkamys. Hyundai's BlueLink tech adds another layer of convenience by letting you track your car, pre-start the climate control and even immobilize the car from the comfort of your home. You also get three buttons on the inside rear-view mirror for SOS, roadside assistance and an on-demand concierge service that can push maps to your car. Hyundai has ensured that there's enough of feel good features. The top-spec version gets an electric sunroof, wireless charging, passive keyless entry as well as push-button start. There's automatic headlamps too, but rain-sensing wipers and an auto-dimming IRVM have been given a miss.
Safety

The Venue gets dual airbags, ABS with EBD and ISOFIX child seat mounts as standard. With the top-spec SX (O) variant, you additionally get side and curtain airbags — taking the tally up to six. There's additional tech such as vehicle stability management, traction control and hill assist control. That puts it on par with rivals such as the EcoSport and the XUV300. Notably, the Mahindra gets an additional airbag for the driver's knee.
Performance
There are three engine options to choose from - a 1.2-litre petrol, a 1.0-litre turbo-petol and a 1.4-litre diesel. If you want a manual gearbox, you get a 5-speed unit with the 1.2-litre motor, and a 6-speed with the other two. However, if you want an automatic, it's just the 1.0-litre turbo petrol that's available with a 7-speed DCT (dual-clutch transmission).
Hyundai Venue 1.0-litre Turbo:

This turbocharged three-cylinder motor has very exciting numbers on paper. With 120PS of power and 172Nm of torque, it's just as powerful (and in fact torquier) compared to its elder sibling, the Creta. But, it's not an engine that will make the enthusiast in you grin with glee. All of that torque has been tapped cleverly to make the Venue easy-to-drive on a daily basis.

Inside the city, you can amble about comfortably without having to downshift too often. You can hop over a speedbreaker in third gear, and then accelerate past 100kmph with ease. On the highway, you can cruise at triple-digit speeds all day long without a hiccup. Here too, overtakes will require very little planning. There's enough torque at your disposal to let you pull ahead in the same gear.

The 1.0-litre engine feels versatile enough to tackle city duties as well as road trips. For a three-cylinder engine, it's refined as well. Yes, it isn't as smooth as a four-cylinder engine and some vibrations do creep in on the floorboard. This is especially noticeable during start-up and under hard acceleration.
Finally, let's talk efficiency. Hyundai India claims a tested fuel-efficiency of 18.15kmpl (MT)/ 18.27kmpl (DCT). We'd like to put this to the test in the real world.
Hyundai Venue 1.0-litre DCT:

Hyundai has developed the 7-speed dual-clutch gearbox in-house. This transmission feels at home tackling bumper-to-bumper traffic, picking up small inputs on the accelerator. The gearbox is tuned to upshift early, usually around 2000rpm when you're driving with a light foot. It doesn't feel as snappy as Volkswagen's DSG. But, in terms of shift times, it is pretty close.

It falters a bit when you stomp on the accelerator pedal. It takes a split second to figure out which gear's required, before downshifting. That there's no Sport mode or paddle shifters is sign enough that this gearbox is meant to make the daily grind easier. And on that count, it delivers. No questions asked.
Hyundai Venue 1.4-litre Diesel:
NOTE: The 1.4-litre BS4 engine in the lineup has now been replaced by a BS6 compliant 1.5-litre diesel.

We've seen this engine under the hood of the Elite i20, Verna and the Creta. Here, it continues to shine. As far as diesel engines in this segment go, this 1.4-litre motor is among the most refined of the lot. It barely makes a sound as you start it up, and get going. With 90PS and 220Nm on tap, it isn't setting any new benchmarks. But, that's all the power you'd need.
Like we've seen in other Hyundais, this motor is quite easy going. The turbo kicks in at around 1800rpm, post which progress is brisk. However, the Venue doesn't feel bogged down when the turbo hasn't kicked in. So, you can leave it in a gear higher than usual and be rest assured the engine won't knock and protest. This is an absolute boon inside city traffic, where the Venue will be spending most of its time. On the highway, the motor feels at ease chugging miles at triple-digit speeds. On a related note, we'd recommend opting for the diesel if you're looking at extensive highway usage. It has proven itself to be dependable and efficient over the years.
| | | | |
| --- | --- | --- | --- |
| Tested Performance | 1.0-litre DCT | 1.0-litre MT | 1.4-diesel MT |
| 0-100kmph | 11.24s | 10.99s | 12.49s |
| Quarter Mile | 18.15s@126.88kmph | 17.70s@ 127.18kmph | 18.43s@121.38kmph |
| 30-80kmph (3rd gear) | - | 09.02s | 08.26s |
| 40-100kmph (4th gear) | - | 14.59s | 14.04s |
| Kickdown (20-80kmph) | 06.72s | - | - |
| 100-0 kmph | 42.92m | 43.10m | 45.96m (Wet) |
| 80-0 kmph | 26.69m | 27.28m | 28.53m (Wet) |
| CIty | 10.25kmpl | 12.43kmpl | 18.95kmpl |
| Highway | 16.72kmpl | 18.84kmpl | 19.91kmpl |
Variants
The Hyundai Venue is available in a total of 6 variants with petrol engines and in 5 variant with the diesel engine. The diesel lineup gets 1.4L E MT, 1.4L S MT, 1.4L SX MT, 1.4L SX Dual Tone and the 1.4L SX (O). Petrol lineup consists of the 1.2L E MT, 1.2L S MT, 1.0L S MT, 1.0L SX MT, 1.0L SX MT Dual Tone, 1.0L SX (O), 1.0L S DCT and the 1.0L SX+ DCT.
Pros & Cons of Hyundai Venue 2019-2022 Car
CarDekho Experts:
Hyundai has got the basics spot on with the Venue. It's spacious enough for the urban family, it has a large boot, and it's offering the right blend of features and quality.
Things We Like
Safety tech: Apart from the regular set of ABS, 6 airbags, it also gets IRVM-integrated buttons for SOS, RSA along with a distress alarm button in the key fob.
Feature-rich: Staying true to Hyundai's DNA, the Venue features projector headlamps with LED DRLs, air purifier, 8-inch touchscreen, sunroof, cruise control, wireless charging and a lot more.
Looks butch: The Hyundai Venue looks like a proper SUV with boxy design elements like the Creta.
Multiple powertrains: Hyundai Venue offers three engine options – 2 petrol and 1 diesel. A dual-clutch automatic transmission -- the only car in the segment to get it -- with petrol engine is also on offer.
Internet Connectivity: The Hyundai Venue gets a bunch of Internet-based connected tech accessible through a smartphone that should aid safety as well as convenience.
Things We Don't Like
No Diesel AT: The 1.5-litre diesel engine on the Venue is available with a 6-speed MT only.
No Top-Spec Petrol Automatic: Hyundai is not offering the petrol-DCT combination in the top-spec SX(O) variant. Instead, it is available in the SX+ variant.
Stand Out Features
Sunroof: An electric sunroof matches Venue's youthful exterior design. It might also make the all-black cabin appear roomy.

Remote-based convenience: Access for ignition startup, door locks and AC temperature through BlueLink smartphone application.

Wireless charging: It is a boon in today's scenario wherein all major flagship phones support wireless charging.
Specification of Hyundai Venue 2019-2022
| | |
| --- | --- |
| ARAI Mileage | 18.15 kmpl |
| City Mileage | 10.25 kmpl |
| Fuel Type | Petrol |
| Engine Displacement (cc) | 998 |
| No. of cylinder | 3 |
| Max Power (bhp@rpm) | 118.35bhp@6000rpm |
| Max Torque (nm@rpm) | 171.6Nm@1500-4000rpm |
| Seating Capacity | 5 |
| Transmission Type | Automatic |
| Fuel Tank Capacity (Litres) | 45 |
| Body Type | SUV |
Hyundai Venue 2019-2022 Car News & Updates
Latest News
Must Read Articles
Hyundai Venue 2019-2022 User Reviews
Based on
1585 User reviews
All (1585)
Looks (461)
Comfort (338)
Mileage (245)
Engine (215)
Interior (165)
Space (124)
Price (284)
More ...
LATEST
HELPFUL
VERIFIED
CRITICAL
This car has great comfort. You get the class and safety of Hyundai. It is very spacious for 5 peopl...Read More

Every feature is great mostly the comfort. The special attraction is its sunroof and milea...Read More

The venue has comfortable seats. Its smooth engine and premium-like interior. One of the best compac...Read More

Overall good car for family trips and daily use. Safety features are good. It's is a comfortable car...Read More

Great car for family and overall great experience with performance and comfort and nice small sunroo...Read More

View All Venue 2019-2022 Reviews
Hyundai Venue 2019-2022 Car Latest Update
Latest Update: The variant-wise features of the facelifted Hyundai Venue have been detailed.
Hyundai Venue Price: The sub-4m SUV is retailed between Rs 7.11 lakh and Rs 11.84 lakh (ex-showroom Delhi).
Hyundai Venue Variants: The Venue is sold in seven trims: E, S, S+, SX, SX(O) Executive, SX+, and SX(O).
Hyundai Venue Seating Capacity: It is a five-seater.
Hyundai Venue Engine and Transmission: Hyundai offers it with three engine options: 83PS/114Nm 1.2-litre petrol (with a 5-speed manual), 100PS/240Nm 1.5-litre diesel (6-speed MT), and 120PS/172Nm 1-litre turbo-petrol (6-speed manual, and optional 7-speed DCT and 6-speed IMT with a manual shifter).
Hyundai Venue Features: It packs auto climate control with rear AC vents, connected car tech, wireless phone charging, cruise control, push-button start/stop, an 8-inch touchscreen infotainment system, and a sunroof.
Hyundai Venue Safety: The Venue gets safety features such as vehicle stability management, electronic stability control, and up to six airbags.
Hyundai Venue Rivals: It is a rival to the Renault Kiger, Nissan Magnite, Tata Nexon, Maruti Suzuki Vitara Brezza, Toyota Urban Cruiser, Kia Sonet, and Mahindra XUV300
Read More
Hyundai Venue 2019-2022 Videos
Hyundai Venue 2019-2022 2023 has 5 videos of its detailed review, pros & cons, comparison & variant explained, test drive experience, features, specs, interior & exterior details and more. Watch our Latest Hindi video of Hyundai Venue 2019-2022 to know price, safety features & more.
16:20

Hyundai Venue Variants (): Which One To Buy? | CarDekho.com #VariantsExplained

Nov 18, 2019 | 23690 Views

🚗 Hyundai Venue iMT (Clutchless Manual Transmission) | How Does It Work? | Zigwheels.com

Jul 04, 2020 | 10912 Views

4:21

Hyundai Venue 2019 Pros and Cons, Should You Buy One? | CarDekho.com

Jun 17, 2020 | 27731 Views

11:58

Hyundai Venue vs Mahindra XUV300 vs Ford EcoSport Comparison Review in Hindi | CarDekho.com

Feb 10, 2021 | 128010 Views

🚗 Hyundai Venue iMT Review in हिंदी | ये आराम का मामला है?| CarDekho.com

Aug 31, 2020 | 65456 Views
Hyundai Venue 2019-2022 Images

Hyundai Venue 2019-2022 Mileage
The claimed ARAI mileage: Hyundai Venue 2019-2022 Diesel is 23.7 kmpl . Hyundai Venue 2019-2022 Petrol variant has a mileage of 18.27 kmpl.The claimed ARAI mileage for the automatic variants: Hyundai Venue 2019-2022 Petrol is 18.15 kmpl.
| Fuel Type | Transmission | ARAI Mileage |
| --- | --- | --- |
| Diesel | Manual | 23.7 kmpl |
| Petrol | Manual | 18.27 kmpl |
| Petrol | Automatic | 18.15 kmpl |
Found what you were looking for?
Hyundai Venue 2019-2022 Road Test

Are you Confused?
Ask anything & get answer in 48 hours
*Ex-showroom price in New Delhi
×
We need your city to customize your experience