Top 5 Fastest Diesel Cars under Rs. 12 lacs
Modified On Dec 07, 2015 06:20 PM By Ruchika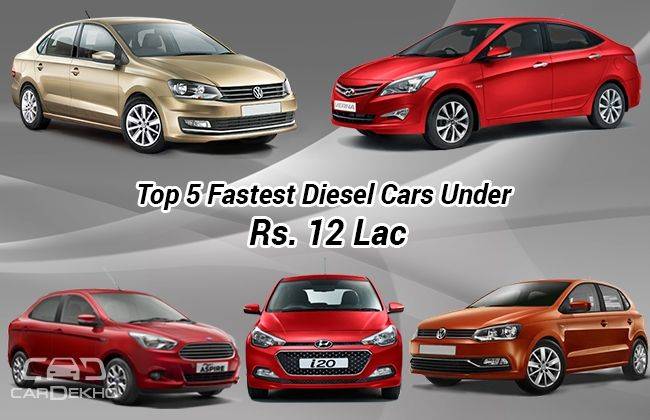 Most auto enthusiasts in India are looking forward to buying a car, which is fast and economical at the same time. Automobile manufacturers are prioritizing these concerns and are constantly striving to launch cars in Indian market that are known for fast acceleration and great performance at an affordable price. As compared to the naturally aspirated petrol engines, these diesel counterparts can produce a great amount of torque. Other than being relatively more fuel efficient, diesel models are also capable of yielding some serious acceleration figures. Let us take a look at top 5 fastest diesel cars under Rs. 12 lacs that are not only fun to drive but also fit your budget.

The Ford Figo Aspire features the same 1.5-litre TDCi diesel engine seen in the Figo hatchback. With this engine, the Figo Aspire is capable of producing a maximum power output of 100PS. The engine takes the car to the 100Kmph mark in less than 10 seconds from the scratch and can reach 165Kmph of top speed. The car returns a decent mileage of 25.8Kmpl.
Available at a starting price of Rs. 5.9 lac.
Check On Road Price of Ford Figo Aspire

Hyundai's Verna attracts attention of people with its fluidic design, feature pack cabin and powerful engine. The two diesel variants of Verna: a 1.4-litre unit and a more powerful 1.6-litre mill deliver impeccable performance. The latter unit is capable of hitting the 100kmph mark in just 10.62 seconds. Volkswagen Vento and Fiat Linea are two of its prominent competitors and have an edge because of its weak handling. But the car touches the top speed of 190Kmph, which is again a plus point.
Available at a starting price of Rs. Rs. 10.0 lac.
Check On Road Price of Hyundai Verna

With the Volkswagen's trademark solid build, top notch quality and finish, a wide variety of engine/transmission options, one cannot come up with reasons dismissing Vento as a good buy. The Vento now features a 1.5-litre diesel engine with a dual clutch automatic gearbox. Although the transmission box does not let you rev the car hard but compensates with a relatively low shift time. As a result the car accelerates from 0 to 100Kmph in around 11 second.
Available at a starting price of Rs. 9.1 lac.
Check On Road Price of Volkswagen Vento

The new Polo GT TDI comes with a 1.5-litre engine, which has a capable of generating a peak power output of 103.5bhp with a peak torque of 250Nm. The efficient chassis and powertrain combo is a plus point and makes the GT TDI a great car to own. The power-plant helps the car achieve the 0 to 100kmph acceleration in under 11.5 seconds.
Available at a starting price of Rs. 8.6 lac.
Check On Road Price of Volkswagen Polo GT

Hyundai has improved its i20 over the period, especialy in terms of its handling characteristics. The car has come a long way and the current model features a relatively powerful 1.4-litre diesel engine. With a decent acceleration and pickup, the car breaches the 100 kmph benchmark from standstill in just 11.94 seconds and achieves a top speed of 165KMph.
Available at a starting price of Rs. 6.5 lac.
Check On Road Price of Hyundai Elite i20
Other interesting car lists:
Was this article helpful ?
0 out of 0 found this helpful