Six Most Sporty Cars in India
Modified On Mar 12, 2018 04:22 PM By CarDekho
From past few years, the number of sports car enthusiasts in India is growing steadily; as a result, the sports cars from Ferrari, Lamborghini and Porsche, etc. are no more an occasional sight, especially in metro-cities. Most of the veterans and Bollywood stars had already got one for them. Let's check out some of the best sports car in India to buy.
Bugatti Veyron Grand Sports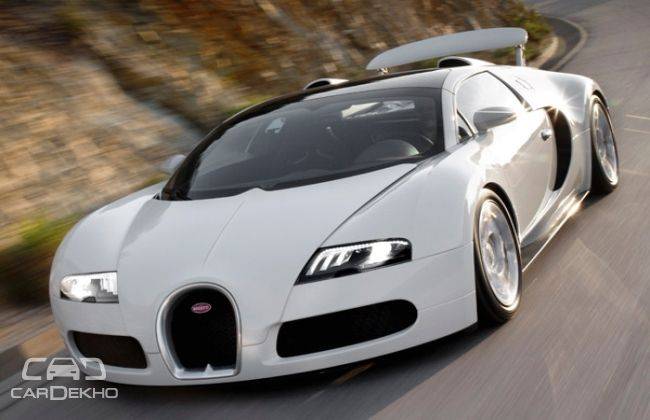 Veyron Grand Sports is a pure automotive luxury presented by one of the world's well-known high-speed sports car brand, Bugatti. This technological marvel is a sheer blend of exceptional features with great performance. The exquisite convertible boasts of a 16 cylinder engine that churns out a power of 1200 bhp at 6400rpm. One of the world's fastest car has got a precise and detailed exterior and interior which is just fabulous. This superb combination of engine, brakes and drive delivers marvelous power and acceleration. The car accelerates from 0-100kmph in just 2.6 seconds. The Indian car enthusiasts feel blessed to have a car which is light in terms of weight topped with some amazingly top class functionality and a host of safety features.
Lamborghini Aventador

Lamborghini's raging bull Aventador, has vigorously grown from a score of 2 to 3 cars a year to an annual sale of 17 cars since its start in the sub-continent. This crore-plus car has been a status symbol to many celebrities and a heartthrob for the motorsport aficionados in the cities across the country, since its launch in 2011. Thanks to its aerodynamic look and a powerful engine that spell bound the consumers. The sports car delivers a terrific performance with a 6498cc petrol engine mated to a 7-speed automatic transmission, producing enormous power of 690bhp @ 8250rpm and a peak torque of 690Nm @ 5500rpm. The Aventador touches the 100kmph in scary 3 seconds.
Aston Martin Vanquish

Aston Martin expanded its portfolio by introducing the second most expensive grand tourer Vanquish on Indian roads, back in 2012. The Vanquish is equipped with a naturally-aspirated AM29 6.0-litre V12 petrol engine, that generates a maximum power of 568bhp @ 6750rpm and a peak torque of 630Nm @ 5500rpm mated to a 6-speed automatic transmission. This sporty car has a top speed of 323kmph and reaches 100 from 0 in just 3.6 seconds. The Vanquish is a big competitor of the Lamborghini Aventador and the Ferrari FF in India.
Porsche 911 Turbo S

After the first launch of a new concept, 911 by Porsche in 1973, there is no looking back for the turbocharged 911. It has been forty years since it displayed a fixed wing and a rear-mounted engine. With the launch of every new model since then, Porsche has put in more power, more method and more madness to this turbo range. The luxury coupe from Porsche is powered by a 3.8 litre 24V petrol engine, that produces 560hp power @ 6500-6750rpm and generates 700Nm torque @ 2100-4250rpm mated to a 7-speed transmission box. The mighty sports car accelerates from 0 to 100 kmph in 3.1 seconds, with a top speed of 318kmph. Once booked, it takes 7-10 months to get its delivery.
Ferrari California

Leading sports carmaker Ferrari rolled out their turbo-charged California model in India this August. This sleeked body sports car is powered by an 8-cylinder 4.3-litre V8 engine mounted in the mid front. The 3,855-cc turbocharged engine produces 552bhp @ 7500rpm and a peak torque of 755Nm @ 4750rpm mated to a twin-clutch 7-speed auto-shift manual gearbox. The performance sports car touches the bar of 100kmph in 3.6 seconds with a top speed of 316kmph. The California T epitomizes versatility, luxury, exclusivity and sportiness of the Ferrari clan. It features a modified design that matches the hard body, refined cabin and a 15% more fuel efficient engine.
Audi R8 LMX

Launched in January 2015 in India, Audi R8 LMX is a sports car with a limited production run of only 99 vehicles globally. Claimed to be the first production car with laser high beam lighting in India, it attains 100kmph in 3.5 seconds. This limited edition supercar is powered by a 5.2 litre, V10 engine that churns out 690hp and peak torque of 540Nm. The engine is mated to 7-speed S Tronic gearbox that transfers the power to the Quattro permanent all-wheel drive system rendering a top speed of 317kmph.
Was this article helpful ?
0 out of 0 found this helpful