Top 10 Famous CEOs and their cars
Modified On Oct 20, 2015 03:00 PM By Sourabh
CEO or Chief Executive Officer of a company is like the Commander-in-chief of an army. He holds the most important job in the company and is trusted to take business to new heights. Paid in kilograms, the CEO of a company is seen driving flashy cars in their expensive Armani suits and Omegas. Cars as we know are big attention grabbers and if you are a head of a big conglomerate, even driving a pickup truck can get you in the news. So here's the list of famous CEO driving what comforts them.
1) Mark Zuckerberg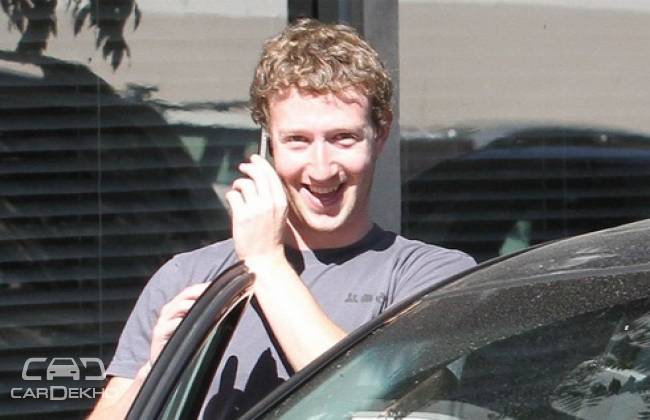 Also Read: These Top-5 Brands Should Enter India Right Away!
The co-founder and CEO of social media website Facebook, though doesn't believe dressing formal, has a soft corner when it comes owning a set of wheels. His most recent purchase reportedly includes Pagani Huayra which costs him dearly about 1.3 million dollars along with same smart purchase which includes Acura TSX, Volkswagen Golf GTI and Honda Fit. The one that impresses us is of course the Pagani Huayra which packs an AMG's V12 engine to churn power in figures of 730bhp. This sports car has also made it to our list of Top 10 Most Expensive cars in World.

2) Larry page and Sergey Brin

We all have been using the term google if you don't know the meaning of something and thanks to these two guys for making it possible. Larry Page and Sergey Brin co-founded google.com which is now undoubtly the best search engine and the best company to work for. In 2011, Larry Page replaced Eric Schmidt as the CEO of Google while his college friend Sergey Brin becomes Director of Google X and Special Projects. Apart from owning Dornier Alpha fighter Jet and Google Jet 767-200, both the Google co-founders show interest in autonomous driving and electric cars. Both have some serious investment in Tesla Motors and owns couple of Tesla Coupes and Roadsters along with a modest Toyota Prius. Under their leadership, their company is also working on driverless car which according to me is future of automobile industry.

3) Jeff Bezos

Also Read: 5 rarest supercars in the world
The X generation of today's loves to shop online and that's where Amazon comes in. Its founder and CEO Jeff Bezos recently topped the list of Best-Performing CEOs in the World by Harvard Business Review Staff. The Billionaire with a net worth of 34.8 billion owns a humble 1996 Honda Accord and that's it. (Well, that's how you remain Billionaire).
4) Bill Gates

Who doesn't know the richest man in world! Bill Gates with net worth of 79.3 Billion US dollar can buy any small to medium automobile company let alone one or two cars. His fascination towards fast cars, especially Porsche dates back to his teenage years. He became billionaire at the age of 31 but has purchased some of the cars even before Microsoft went public. His collection includes Porsche 930 Turbo, Porsche 959 Coupe, Porsche 911 Carrera, Jaguar XJ6, Porsche Carrera Cabriolet 964 and a Ferrari 348. In the early years of Microsoft, he bought a 1979 Porsche 911 that he used to race around the desert.
5) Carlos Slim Helu

Second in the list of world's billionaires list, Carlos Slim Helu has an estimated fortune of 74.7 Billion US dollars. He is the Chairman & CEO of Telmex, America Movil and Grupo Carso. He is the richest man in his home country Mexico and is the largest shareholder of The New York Times, with a nearly 17% stake. Slim also holds a controlling interest in industrial conglomerate Grupo Carso, financial venture Grupo Financiero Inbursa and infrastructure development and operating company Ideal. And when it comes to owning a sweet piece of engineering on wheels, he trusts the British Bentley Continental Flying Spur which he drives himself even though his convoy of bodyguards closely follow. He also owns a heavy duty navy military style Mercedes 4x4 and a Chevrolet Suburban SUV.
6) Warren Buffett

It's like we are playing number one, number two and number three game of Forbes's list of billionaires. But trust me we are not. It's just that I can't ignore these self made billionaires owning some of the best automobile known to mankind. Warren Buffett is the Chairman & CEO of Berkshire Hathaway and has something around of 72.3 billion US dollar of net worth. But he's an investor not a spender as he once owned a 4-door luxury sedan "Lincoln Town car" which later auctioned off for charity purpose in 2006. He then purchased DTS Cadillac was also auctioned for $1,22,500.
7) Elon Musk

Elon Musk, the Iron Man of reality is the CEO and CTO of SpaceX, CEO and Chief Product Architect of Tesla Motors, and chairman of SolarCity. He is the founder of SpaceX and a cofounder of Paypal Inc, Tesla Motors and Zip2. He loves to drive Tesla Model S and owns a McLaren F1 sportscar along with Lotus Esprit. He has also purchased Wet Nellie, the underwater car used in the movie 'The Spy Who Loved Me' for one million US dollars.

8) Mukesh Ambani

Moving on to Indian billionaires, Mukesh Ambani, the richest Indian owns several premium cars. His house Antilia which is the most expensive in the world has a parking space of 160 cars. According to reports afloat, he owns more than 150 cars which include the Mayback S67 super luxury sedan, Maybach 62, Mercedes S class, Bentley Flying Spur, Rolls Royce Phantom and Black Mercedes SL500.

9) Ratan Tata

Ratan Tata, the chairman Emeritus of Tata Sons has a craving for expensive and classy cars. Over the years, he has built his own car collection which include names like Ferrari California, Jaguar XF, Maserati Quatroporte, Mercedes-Benz S-Class, Cadillac XLR, Chrysler Sebring, Land Rover Freelander, Mercedes 500 SL and Honda Accord.
10) Gautam Singhania

Gautam Singhania, Chairman and Managing Director of Raymond Group is known for his collection of cars or better I say, sports cars. A F1 racer himself, Mr Singhania holds Limca Book of Records for his quarter mile run of 9.855 seconds to set the fastest time for a drag race in India. His garage flaunts names like Ferrari La Ferrari, Honda S2000, Verde Ithaca LP570 Superlaggera, Lotus Elise convertible, Lamborghini Gallardo, Ferrari 458 Italia, Audi Q7 and Nissan Skyline GTR.

Also Read:
Was this article helpful ?
0 out of 0 found this helpful