10 Clever Smallest Cars ever built
Modified On Oct 20, 2015 02:58 PM By Abhijeet
Ever since the dawn of the automobile, it was the affordable easy-to-run small cars that made it to the mass market. Without the introduction of small cars, owning a personal vehicle would still be out of reach for most of us. They are easy to drive around congested streets and owing to their diminutive dimensions saved a lot of parking space against giant SUVs and lengthy saloons.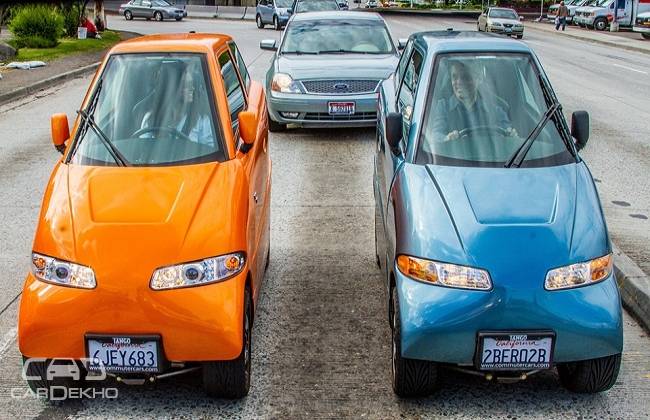 Also Read: Top 10 Famous CEOs and their cars
But there came times in car manufacturer development shops when designers and engineers were off on a tea-break (or probably on a pub-break), the thought popped up in their heads to make even smaller cars to solve ever troublesome parking issues, or ease off congestion on the roads, or just for plain amusement. Now these may or may not have caught mass sales numbers, but they surely showed the world the wonders of smart packaging and engineering genius.
Pasquali Riscio (pronounced "reeshaw")

The tiny Pasquali Riscio is actually a three wheeled electric city car that could be ordered with a 1-seat or 2-seat setup. This car took about 8 hours to fully charge and was good for a range of 50 km through town. Weighing in at just 360 kilograms, the 'reeshaw' could hit a top speed of 40kmph and had a small turning radius of just 2.5m.
Fuldamobil

The very German Fuldamobil started life back in the year 1950 and came with a wooden frame covered by aluminium body panels and three wheels. The single rear wheel was powered by a number of Sachs engines ranging from 200cc to 360cc. Soon the availability of steel meant the frame was replaced by it and by 1956 it gained another wheel.
Iso Isetta

Also Read: These Top-5 Brands Should Enter India Right Away!
The Iso Isetta is a round funky looking thing with side by side seating and a strong steel body. It had a 2-stroke engine displacing 236cc and developing 9.5bhp of power. The Isetta could manage speeds up to 70kmph.

Piaggio Vespa 400

Classified as a microcar, the Piaggio Vespa mostly had two seats to accommodate adults, while the rear compartment could be used to carry luggage or an optional cushion to seat two kids. The engine was a 2-cylinder air cooled 2-stroke unit with a displacement of 393cc. The developed power was 13bhp which was further increased to 14bhp. But the suspension was independent for all four wheels as a plus, though it'll take you 23seconds to touch 100kmph.
Buddy Cab

The Norwegian company responsible based the Buddy Cab on three governing principles, 'small, funny and reliable', and they really struck the correct chord with it. It has a seating capacity of 3 people and boot capacity of 150 litres. The electric motor can propel the Buddy Cab to 80kmph with drive range between 60km to 120km on a full charge.
Tata Nano

Although the Tata Nano should not be in this list but we consider it a triumph of clever packaging and extreme affordability hence it should be. Once stated as the most affordable car on the planet, the Nano's prices picked up eventually. It is the only car that you can buy and use daily in this list, especially because it has a twin cylinder petrol burning engine. The Nano can seat 4 people with a trunk capacity of 150 litres. Very recently a version with power steering was launched to add more convenience and to further increase user friendliness, and an automatic (AMT) transmission version will soon make it to the showrooms.
Mahindra REVAi

The REVAi was the first electric car to be sold by Reva Electric Car Company (RECC) which is a sub brand of Mahindra & Mahindra. Not a thing of aesthetic beauty, the tiny REVAi was famed for fitting into tight spaces easy, you could even park it nose to the pavement in a parallel parking space. The lead acid batteries gave it a range of about 75 kilometres and the top whack it is capable of is 80kmph.
Myers Sparrow

This little city commuter can carry a single passenger in its cabin to nearly 60 kilometres. Powered by a 20kW 3-phase electric motor, the Sparrow can touch a terrifying top speed of 110kmph. Because of its single seat cabin, the Myers Sparrow classifies as a Personal Electric Vehicle (PEV), somewhat like your cell phone or laptop.
Peel P50

Of all the cars in this list, the Peel P50 takes top honours as the smallest of them all, perhaps that is why it is in the Guinness holding the record for the same reason. Ingredients for the P50, a single seat cabin, a 50cc engine, and that's it. This thing is so light and tiny that it perhaps burns less fuel than you burn calories in walking the same distance. Celebrated motoring authority, Jeremy Clarkson, was so happy with the P50 that he built a smaller P45 inspired by it.

Commuter Cars Tango

This one is for the performance motorist in you; the Tango is the Veyron of the small car world. The Tango is narrow, almost as much as a big motorcycle, powered by electricity, and has a manufacturer claimed range of 380 kilometres. Now this does sound interesting, but what will blow you away is a 0-100kmph time of 3.2 seconds!

The Tango has two electric motors, one powering each rear wheel, which can spin up to 8,000rpm, a very low centre of gravity and weighs in at 1,500kg. The two electric motors generate a combined torque of 4,067Nm!!
Also Read:
Was this article helpful ?
0 out of 0 found this helpful