Mahindra e2o ELECTRIC DRIVE
Published On May 06, 2013 11:28 AM By Sundeep for Mahindra e2o
4274 Views

Write a comment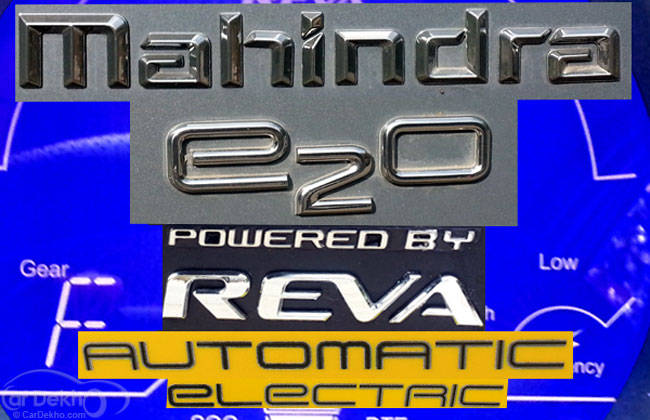 It is not for nothing that Mahindra Reva was selected as "one of the world's 50 most innovative companies 2013" by the Fast Company magazine, which is a business magazine focusing on technology, business and design. It was ranked 22 along with Tesla Motors in the category for "catering electric cars to new audience".

It is another matter that Mahindra Reva aims to cater to the environmentally aware middle-class of India whereas Tesla Motors target market is endowed with much greater affluence and developed infrastructure to support electric cars.

Mahindra Reva e2o is the latest iteration of the original electric car REVA Electric Car and as expected it is a much advanced, much more comfortable and user friendly version. First and foremost, it is a four-seater, though the convenience factor gets a hit as it is two door hatchback and access to the rear bench is through the time tested act of sliding and folding the front passenger seat. That said accommodation available at the back is quite spacious and comfortable for two adults. Built by using colour impregnated plastic, this plastic bodied car is attractively finished and contemporarily styled in contrast to the earlier generation Reva electric car which was a bit of an oddball in terms of style.

Being an electric car, Mahindra Reva e2o not only runs without any tailpipe emission (in fact there is no tail pipe), but even the manufacturing plant is IGBC (Indian Green Building Council) platinum rated for being eco-friendly and it is also LEED (Leadership in Energy and Environmental Design) accredited for having a very small carbon footprint.

Mahindra Reva e2o is powered by a 19 kW (25.5 bhp) @3750 rpm electric motor. Power and torque figures do not look attractive when seen in the perspective of the 830 kg kerb weight of the car but on road performance belies that to a large extent. This is so due to the fact that motive force is supplied not by an internal combustion engine but a three phase electric induction motor. The reason is simple, an electric motor develops maximum torque right from the moment it starts spinning and maintains it throughout its rev range. This particular trait of electric motor ensures that maximum torque is available at all motor speeds and this helps in providing the car with more than adequate motive power in almost all conditions. As was revealed in the extended intra-city use between Navi-Mumbai and Mumbai, Mahindra Reva e2o easily keeps pace with urban traffic. Top speed exceeds 80kmph and due to availability of maximum torque throughout the rev range at all vehicle speeds, it climbs gradients with admirable finesse and surprising ease.

Mahindra-Reva has lavished full attention to creature comfort and the interior gives the look and feel of ultra- advanced luxury car.

The dashboard and the infotainment system contribute to this feel in a big way with the futuristic HVAC controls further emphasizing the rich feel.


Power windows and power adjusted external rear view mirrors are another convenience features. Instrument panel is a very attractive and eminently readable big round affair, backlit in electric blue colour. It is traditionally located in front of the driver and provides all usual information and additionally gives a readout of battery charge status, available driving range, energy consumption pattern including energy recovery (while coasting or braking).

Notwithstanding the claimed top speed (81 kmph) and claimed range (100km), the big question was whether this car has what it takes to be a regular commuter vehicle in a big city where daily commute can easily exceed the half century mark and air conditioner is used round the year.

Well, after putting Mahindra Reva e20 through the grind of daily commute between Kharghar (Navi-Mumbai) and Bhandup (Mumbai suburb) for the better part of a working week, the answer is an emphatic yes.

The claimed top speed is not only attainable but there were occasions when it was exceeded as the accompanying photograph will testify.

There is no issue with drivability and even with full passenger complement (four adults), Mahindra Reva e2o keeps up with urban traffic without any hassle; and we are speaking of traffic speed on arterial roads of Navi-Mumbai which is quite respectable and so as a corollary is performance of Mahindra Reva e2o. By any stretch of imagination, this is not to even remotely suggest that Mahindra Reva e2o has any pretention of being a performance car but it certainly does the job for which it is designed.

Source of energy in Mahindra Reva e2o are lithium-ion batteries and therefore performance is basically independent of state of charge. What this means in real life is that the car behaves in the same manner whether remaining charge is as high as 100% or as low as 25% charge.

Actually the charge status and other parameters of the expensive Lithium ion batteries is monitored on real time basis and even when it shows no charge some residual charge is maintained to ensure that batteries do not get damaged. Part of this residual charge is made available for driving the vehicle in emergency situations through "revive" which is remotely activated it through a smart phone application or through Mahindra Reva Call Centre.

Daily drive of over sixty kilometers (Kharghar – Bhandup) proved beyond doubt that the range is sufficient for urban commute. Use of air conditioner does reduce the range on account of extra power consumption. Depending upon ambient temperature, number of occupants and general traffic, range may reduce by 10%-15% with full time AC use. Charging the car is straightforward affair of plugging the charging cable into any 15 ampere 220 volt outlet and connecting the other end to the socket which is provided on the rear right side of the vehicle inside the hatch.

Once plugged in, the hatch can be closed and locked so there are no security issues. With an ordinary domestic 15 ampere power outlet, full charge takes approximately 5 hours which is as claimed.

Even while charging, battery monitoring appears to work full time as whirr of cooling fan can be heard clearly. As it is, heat generation and dissipation in Lithium ion batteries has always been an issue. Apparently, Mahindra Reva has taken up the issue of energy management and heat dissipation of Lithium ion batteries in the right earnest and proactive manner and this should not only preclude the premature deterioration of battery capacity but also ensure safety.

The car provided for review came equipped with a big touchscreen infotainment system. This infotainment system, which is standard fitment in Mahindra Reva e2o T2 comes integrated with a rear view camera and GPS based navigation system. The infotainment cum navigation system is completely customized for the car.

Apart from the usual information, it continuously displays range and battery status. Another interesting feature is inclusion of recharging stations in the navigation menu. Activating this feature displays all the charging stations (basically Mahindra establishments, viz. dealers, service centres) in the vicinity.

Mahindra Reva e2o is fitted with automatic transmission with the slots marked R(reverse), N(neutral) in addition to F(forward) for driving forward and B(boost for extra power).

In normal driving condition with full time air-conditioner use in reasonably fast paced urban traffic and a climb over the Parsik hills at Belapur, need to use the B position of the shifter was never felt and the car simply soldiered on in F(Forward) position.

Driving an electric car for the first time is a different experience as there is almost complete absence of engine noise and power delivery is absolutely linear. It takes a while to get used to the eerie silence but for the whirr of the cooling fans and a slight hum emanating from the drive train.

A very tight turning radius of 3.9m and reasonably light steering means that Mahindra Reva e2o is eminently maneuverable. With the rear seats unoccupied, the rear suspension feels hard. At times it is disconcerting - on rough surface and especially when the rear wheels pass speed-breakers. Once fully loaded, the rear suspension settles down nicely. Otherwise the car handles well and in a predictable fashion. Brake feel is a bit different as it is fitted with energy recovery system and servo (vacuum assist) seems to be provided by an intermittently running electric vacuum pump but nonetheless the combination of front disc brakes and rear drums is effective.

Air conditioning is run off an electric compressor mounted in the front boot. Front boot also accommodates the spare wheel and other aggregates – wind screen washer fluid tank, brake fluid tank, Jack etc.

Stress on energy efficiency is evident all around – the lights in the rear luggage compartment charging point and front bonnet are LEDs. Air conditioning is quite effective and the instrument panel keeps on toggling the outside ambient temperature and cabin temperature read outs for the benefit of the driver.

There is a start / stop button on fascia on the right of the steering column. After pressing it to start the car, the instrument panel demands authentication. Authentication is done by touching the rear of the key remote to the start / stop button and once authenticated the instrument panel flashes a "welcome:" text and then it is time to shift into F(forward) and go.

Overall Mahindra Reva e2o looks to be a good urban commuter car with extremely low running cost but the proverbial fly in the ointment is the high initial cost. Apart from the state of Delhi, no other state has granted any incentive / subsidy to this car and that is a shame. The other hitch is lack of adequate charging infrastructure. In tier 2 and tier 3 cities where multi storied flats are not the norm, charging can be effected through cables plugged in the domestic power outlet of the owner's residence but in tier 1 cities where multi storied buildings are the norm it may be a problem. Apparently, Mahindra Reva provides for installation of outdoor charging station connected to owner's electric meter but how practical that would be in societies, particularly in Mumbai, where parking space is at premium is to be seen. One solution in such circumstances is to run a long cable to connect the car to the owner's domestic power outlet, but then this is easier said than done. The other solution is to provide fast charging stations for public so that the cars can be charged quickly but then this would require enormous investment and would be feasible only when such cars attain a critical mass in terms of their number on road. So this plays out as the classic chicken and egg story.

Apart from some direct incentive to subsidize the high initial cost, there can be a number of other smaller incentives that can be provided to electric cars.

To begin with, electric cars could be exempted from payment of toll. Full or partial exemption from parking charges at government owned parking lots can be another incentive. Further, norms for issuing driving license should also be revised for electric cars as the skill required to drive such cars is much less rigorous than skill required to drive normal cars equipped with manual transmission. Drivers obtaining license to drive electric cars by appearing for driving test in electric car should have endorsement to the effect - "allowed to drive automatic electric cars only". This is how licenses for auto transmission cars are issued in many European countries.
Another approach could be promotion of Mahindra Reva e2o as rental cars for intra-city usage in metros and tourist destinations in India as well as abroad. For intra-city usage, driving range is appropriate and in case of organized ownership (read rental agencies, big corporates, government departments etc.), creation of captive charging infrastructure shouldn't be an issue. A small initiative from society and government can definitely provide a fillip and go a long way in mitigating vehicular pollution related problems in urban agglomerations. Once volume builds up, economy of scale may come into picture and result in substantial reduction in cost of electric car and may also boost creation of necessary infrastructure.
Was this article helpful ?
0 out of 0 found this helpful