8 tips to keep in mind before a road trip
Modified On Oct 20, 2015 01:18 PM By Firdaus
Summers have almost begun and with the exam season getting over soon, one thing that's almost synonymous with summer vacations is a road trip. Everybody loves a good road trip; it gives you the opportunity to explore new roads and destinations at your own pace, and you can choose to alter the route as per your conveniences adding or subtracting enroute destinations, which one cannot do while using public or common transport. While road trips have their share of fun, there is always the uncertainty of a breakdown, so it's best to be prepared. Here are a few tips to keep in mind before you head out into the rising sun with your machine.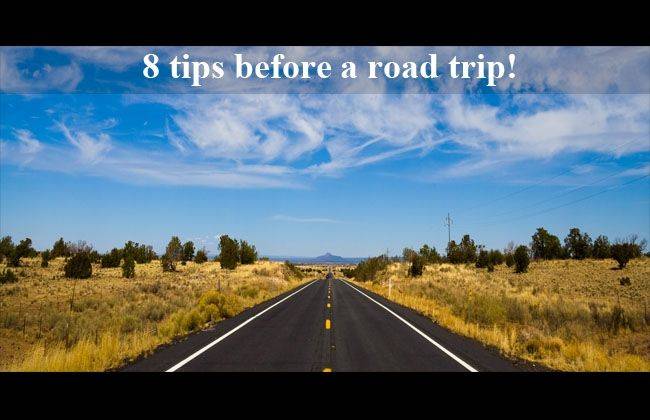 Also Read: Powerful, desirable, ultra rare: Aston Martin Vulcan
1. Get your car checked from the mechanic

Yes, you follow your car service cycle with religious dedication but it wouldn't hurt to get your car checked before heading out for long journey. Last minute mechanical check-ups help you diagnose any issues in your car giving you ample time to get them fixed before hitting the road. If you've just got your car serviced, then a basic engine oil, brake oil, and engine coolant check-up at home will also suffice. Ensure you check the battery terminal and cables for any deposits and apply some grease or petroleum jelly to keep them in apt condition.
2. Check your car tyres

Also Read: #WorldCup2015: Cricketers and their Rides
Ensure your car tyres are inflated to the right pressure and that the spare wheel is also inflated. Many a times we forget to check the spare wheel, only to be reminded in case of a puncture. If your car has tubeless tyres you really needn't worry much, but as a safety measure you can also carry a tyre puncture repair kit which is a saving grace in terrains where finding a puncture-wala is a task. Investing in an inflatable tyre pump is also a good idea, as it saves you plenty of time and effort. Ensure you have the complete tyre changing kit in your car which includes the jack, the spanner for opening the wheel and the lever for turning the jack. Another thing one needs to check before a trip is the alignment of the wheels. Irrespective of whether you're driving the car in the city or on the highway, it is vital that all the wheels on the car are aligned and balanced. Mis-aligned wheels result in uneven tyre wear and also affect your drivability. If the wheels on your car are not aligned, there will be constant pulling via the steering wheel causing strain on your arms.
3. Download maps

In today's world of technology you can get from one point of the globe to the other with just a cell phone and Google maps. Yes, many of us rely heavily on Google maps to get various route options, and it is our saviors in new lands. However, given that we live in India where there are still pockets of no network connectivity, it is advisable to download Google maps on your phone or tablet if you ever foray unknowingly into an area with no cellular connectivity. We've all at some point or the other experienced the panic of not knowing where to head, when we haven't found connectivity on our maps so it's best to be prepared and have the maps online; buying a physical map of the area you're heading is also helpful.
Investing in a Global Positioning System (GPS) is also a good idea. However some SatNav systems are expensive and hence people prefer using the maps on their phones for guidance. Cars which come with built-in navigation systems are a boon, but otherwise cell phone maps also do a good job of maping the route for you.
In case you're planning to embark on a solo road trip ensure you have a GPS/phone mount in your car, this will make navigation way more easier for your, helping you keep your focus on the road than on holding the phone.
4. Check your wiper blades

This may sound trivial, but it is ideal to change your car wiper blades every three seasons. Having a clean, soft wiper blade makes a world of a difference to your windscreen. If you're recently changed the wiper blades clean them with a sanitizer to remove any debris; if you notice the rubber on the wiper blades is cracked at places and has become hard, it is best to change them as using damaged wiper blades will result in scratches on the windscreen, eventually affecting your vision particularly while night driving. We suggest using a sanitizer to clean the blades as it contains small amount of alcohol that aids in removing greasy deposits which may furthermore scratch the windscreen.
5. Ensure the headlights are clean

Another trivial and often ignored aspect of the car - check the headlight of your car before you head out for a roadtrip. This includes not only checking the intensity of the light bulbs, but also the headlamp casing for scratches. Yes, there will be some amount of scratches on the casing, but too many of these can lower the intensity of the beam being thrown on the road, thereby affecting visibility. You wouldn't want to take chances.
6. Check the weather updates of that area for the next week
Make sure you have the weather updates for the entire week for the destination you're heading to. This will help you pack accordingly allowing you to be prepared for what nature has to offer. There are plenty of apps on the internet that give you access to weather updates, quite a few phone apps also offer the same and they are quite accurate at giving weather data.
7. Book your accommodation in advance
Since it's the vacation season you cannot not book your stay in advance unless you're camping or are ok with sleeping in your car. If you've booked your stay online, ensure you call the hotel and confirm. Once at the hotel you can inquire at the reception desk of the places that you can visit and the cuisines that you can try. Travel websites also offer this information, but make sure you read the reviews given by users before you finalize a place.
8. Make your music playlist
The thought of driving along a long lone highway is certainly enticing but it can get boring after a while, even when you have company. So to up the tempo when receding into a boring drift, it's always handy to have a playlist that will pump up your mood and make the drive even more worthwhile. If you're going to play music from your phone, make sure you carry your car phone charger as well.
We hope these eight tips will make your road trip experience even more delightful, and yes do remember to start early to avoid the chaotic traffic, and also because nothing beats the thrill of catching the sunrise on a trip, does it?
Also Read
Was this article helpful ?
0 out of 0 found this helpful