6 SUVs That Can Shame Supercars
Modified On Dec 05, 2017 04:10 PM By Tushar
The SUV craze has gripped the world, with brands including Lamborghini and Rolls-Royce developing their own offerings in the body style. SUVs traditionally come with the expected package of a commanding driving position, imposing road presence and the ability to deal with bad or no roads.
However, there's a special breed of sports utility vehicles that takes performance to the next level and enters supercar territory, with a taste of practicality. They're expensive, loud, consume the same amount of fuel as a small country and best of all, they're all in India!
Here's a list of drool-worthy performance SUVs to please your inner Sheikh.
Range Rover Sport SVR (Price: Rs 2.12 crore, ex-showroom, Mumbai)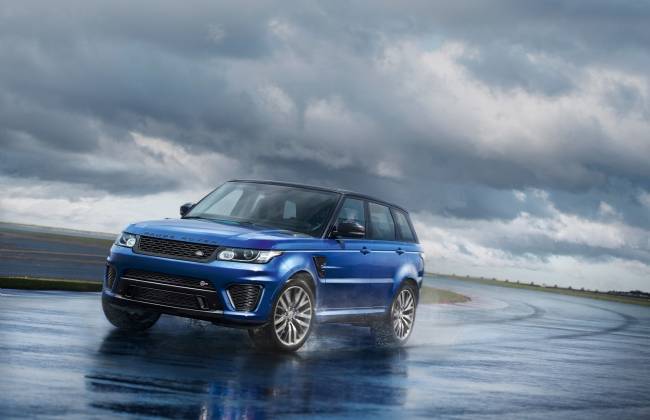 The Range Rover Sport SVR is the fastest Land Rover ever made. This behemoth is a thing of sheer beauty and under its bonnet is the same engine that powers the F-Type 2-door sports car. The 5.0-litre V8 engine produces 500PS of power and 625Nm of torque, a large chunk of which goes into just getting its 2.6 ton weight moving!
You get an 8-speed automatic gearbox that spins all four wheels, though you can probably get it to 'wag its tail' with a little hooliganism. This mini-continent does the 0-100kmph sprint in a claimed 4.7 seconds and hits a top speed of 260kmph. You get a 105-litre fuel tank, but with the monstrously beautiful exhaust note being so addictive, we're sure any owner will burn most of it with some unnecessary but oh-so-enjoyable lead footing.
Mercedes-AMG G63 (Price: Rs 2.08 crore, ex-showroom, Mumbai)

I'll be honest, the Gelandewagen i.e. the G-Wagen is one of my all-time motoring favourites. It's one of the longest production models in the Mercedes-Benz range and was originally built as a military vehicle. Old-school SUVs don't get much better than this and the no-nonsense design is timeless as ever.
Under the flat bonnet is a 5.5-litre biturbo V8 that growls out 544PS and a tyre torturing 760Nm of torque. With the boxy design, it's about as aerodynamic as the White House, but pulls off the 0-100kmph sprint in 5.4 seconds with a top speed of 210kmph. While the RR Sport SVR is loud and screamy, the G63 AMG has the typical AMG burble that makes passersby experience the sound of an earthquake.
BMW X6M (Price: Rs 1.67 crore, ex-showroom, Mumbai)

It's amazing how much of a difference one letter makes. The standard X6 comes across as a 'neither here nor there' offering, but the X6M adds a little bloodlust to liven things up. It shares it engine and tune with the X5M with the 4.4-litre V8 belching out 575PS and 750Nm of torque.
While the Rangy and G-Wagen are more traditional SUV with their aesthetics, the BMW X6M is curvy, with the coupe design making it look more hunkered down. It's also quicker off the mark with a 0-100kmph time of just 4.2 seconds and, comically enough, it has an auto start/stop system. Prudent to mention that has a claimed fuel efficiency figure of 9kmpl.
Jeep Grand Cherokee SRT (Expected Price: Rs 1 crore, ex-showroom)

As you'd expect, it's the American here that's the biggest in the engine department. The Grand Cherokee SRT is one of two new models that Jeep makes its India debut with, and under the bonnet is a 6.4-litre HEMI V8 that screams 'Murica'! The power output though, is comparatively 'modest' at 475PS, but what you get is a healthy 624Nm of torque, with 90 per cent of it available from 2,800-6,000rpm.
Transmission to all-four wheels is through an 8-speed automatic transmission and the SRT-tuned cherry hits 100kmph from a dead stop in 4.9 seconds.
Porsche Cayenne Turbo S (Price: Rs 2.48 crore, ex-showroom)

Well, we can't get through this list without mentioning the SUV that was launched amid a lot of hue and cry by Porsche enthusiasts. The Cayenne was the brand's first attempt at taking on the SUV space and went on to become a bestseller. The most hairy-chested version is the Turbo S, that's propelled by a 4.8-litre V8.
The motor produces 570 horses and enough torque to spin the earth the other way – 800Nm. The end result is a 2.2-ton SUV that executes the 0-100kmph run in 4.1 seconds, before hitting a top speed of 284kmph.
Lamborghini Urus (Expected Price: Rs 5 crore, ex-showroom)

Just like all other Lamborghinis, the Urus too shares its name with a bull. The first SUV from the Italian brand since the 80's is reminiscent of the carmaker's sports cars thanks to the coupe like roofline and frameless doors among others.
The super sports SUV is equipped with a powerful 4.0-litre twin-turbocharged V8 engine and shares the MLB platform with Volkswagen Group's other cars like the Audi Q7, Bentley Bentayga and Porsche Cayenne. It pumps out earth shattering 650PS of max power and a peak torque of 850Nm. Mated to an 8-speed automatic transmission, the Urus does the 0-100 kmph in merely 3.6seconds with a class-leading top speed of 305 kmph. It is the fastest and the most powerful SUV in the world.
While buying a big, heavy SUV with a thirsty petrol engine seems like overkill, they're a few among us who would love nothing more than to own one (lack of monetary competence notwithstanding). These machines won't do a track day as must justice as an equivalent supercar, but as everyday demons, they tick a lot of the right boxes. So which one would you pick?
Was this article helpful ?
0 out of 0 found this helpful