Tata Zest Expert Review
Published On Jul 14, 2014 By Prithvi for Tata Zest
A stepping stone to conquer best in automotive technology and design, home grown manufacturer seems to have moved in the right direction with the Zest sedan. Would it be able to shake the competition and finally leave an impression on the mind of a consumer, is what we intend on finding out.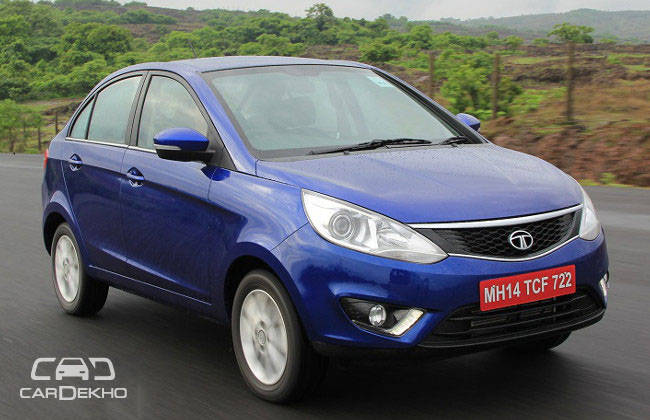 Showcased during this year's biggest automobile extravaganza (Auto Expo 2014), the Zest is Tata Motors latest creation that sets the tone for the company's new design philosophy and engineering dynamics. Designed to impress with engineering that could transform the way in which we look at motors, the new Revotron 1.2 litre turbocharged MPFi petrol engine aims to enhance performance. Availability of a diesel automatic transmission, which is first in its segment, will surely lure many towards it as we shall first magnify its exterior feel followed by interior appeal and then finally different power plants that propel this particular sedan.
Design

Introduced into the most competitive sub 4 meter sedan segment, Zest has come of age as it not only looks attractive but has the important elements that could pull a customer towards it. What are these elements? At the front, we have the all new 'Signature Tata Grille' that speaks of humanity and trust line. Basically what it refers to is a plastic grille that bears the logo with chrome lining on top giving it a glossy look. Combination of projector headlamps with LED daytime running lights and light guide position rings further help in enhancing the front fascia. Sharp lines along with body coloured door handles, side view mirrors with ORM inserts and a set of elegant 8-spoke alloy wheels highlight the side profile of this sedan. While the rear features wrap round around LED tail lamps and chrome lining that puts together an attractive stance. In profile, having an overall length of 3995 mm, width of 1706 mm and overall height of 1570 mm – the Zest does feel appealing to the naked eyes with it ground clearance of 175 mm.
Interior

Unlike earlier, the designers at Tata Motors this time seem to have really worked hard when it comes to the interiors. The reason why we say this is that, the cabin is definitely up market when it comes to the embellishments provided on board that are superior than some of its competitors within the segment. The most important improvement here is the quality of plastics which has been an issue with almost each and every Tata vehicle in the past. Therefore once inside, the enhanced quality does across in a very strong way. Perfect blend of black and beige interiors give one the sense of roominess. The presence of a three spoke steering wheel with steering mounted controls is a welcome addition as it not only looks good but is firm to grip while driving. A newly designed instrument cluster with chrome surrounds brings to light two analogue dials – RPM and speedometer along with a digital display placed right in the centre providing information such as average fuel economy, trip metre and instant consumption of fuel at any given time.

A newly designed instrument cluster with chrome surrounds brings to light two analogue dials – RPM and speedometer along with a digital display placed right in the centre providing information such as average fuel economy, trip metre and instant consumption of fuel at any given time. While the fuel and temperature gauge are individually represented in two different analogue dials as seen in the image. To the left, is the company's ConnectNext Infotainment system which has been developed with the help of HARMAN (world renowned audio system expert) keeping the 'Zest' as the focus. Featuring a 5 inch touch screen display, this system caters to advanced Bluetooth technology that enables smart phone integration. It features a total of 8 speakers split into 4 speakers and 4 tweeters which keeps one entertained with excellent audio quality. There is also a smart voice recognition which enables the user to give commands especially in regards to SMS notifications and read outs making life simpler for people like you and me who need to operate their smart phones on a regular basis while being behind the wheel. Other features such as Aux-In and a USB port also find their way into the cabin thereby enriching the overall cabin experience.

Seating both in the front and rear is pretty comfortable however its lacks under thigh support especially for those who are a bit tall. There is decent of amount of shoulder and leg room in both rows with the rear one falling short on head room due to its sloping roof line which is a bit of an issue for tall individuals. Rest active and passive safety features on board include elements such as driver and front passenger airbags, central locking, rear parking assist, burglar alarm, immobilizer to name a few.

Engine and Performance

This is one area where Tata Motors claimed to have cracked revolutionary changes with its first in class 1.2 litre Turbocharged MPFi petrol engine. So what's so special one would ask? To begin, the 1.2 litre petrol power plant features shift-on-fly technology which basically aims to provide three different driving modes comprising of Economy, City and Sport. In detail, the petrol variant comes loaded with an 1193cc engine on board that puts out a maximum power output of 89 bhp with 140 Nm of torque.

All of this basically translates to an impressive engine performance which is said to be extracted out of a modern water cooled turbocharger that aims to provide faster, flatter response along with better torque spread. Having said this, there is a bit of turbo lag especially lower down the revs, the presence of a 5 speed synchromesh gearbox catering to smooth shift indicates that the Zest is perfectly packaged and meant for Indian conditions. Its ride quality, we must say is at par with rest of the competition within its segment as going over potholes and broken roads isn't really an issue. Throw it at corners and curves, the Zest will do its best in providing decent handling as per its ability. Having mentioned all three driving modes earlier, its Sport mode really tinkles the maximum power from the engine making it rev all the way to 5,500rpm where in the needle automatically changes its colour to red indicating 'redline'. Just to highlight the petrol model runs on 'City' which is its default mode.

This is just not it, for the increasingly competitive and growing diesel compact car segment Tata Motors have come out with an automatic diesel option which is again a first for this category. Interested in knowing more, christened as F-Tronic AMT, Zest diesel caters to a 4 cylinder; turbo intercooled 1248cc diesel engine that gives out a maximum power output of 89 bhp with 200 Nm of torque. Featuring a 5 speed F-Tronic AMT with Shift Assist Manual, the manufacturer has tried to address driving comfort for an end consumer considering that automatics are a boon nowadays keeping our traffic conditions in mind. The diesel provides two modes for driving; normal and sport. In normal mode the sedan remains subdued and goes about taking its occupants swiftly to places while the sports is more torque heavy relating to better power for those swift getaways.

However while overtaking within the city or the highway one does require to change to manual to get the extra bit out of this diesel power plant in order to be able to make an effective pass. Considering that this is a diesel, low NVH levels leads to better in cabin experience. Ride and handling is similar to its petrol sibling.

Verdict

It must be said that Zest is probably Tata's best and well coveted attempt to target most sort after compact sedan segment. It actually breaks away from what we Indians are used to seeing in Tata Motors product portfolio till date as this sedan brings forward the company's latest design philosophy and engineering to conquer competition. In sheer performance, the petrol is the one that impresses the most while the availability of an automatic in diesel is definitely going to attract a great number of seekers. The attractive pricing at which the company has launched the Zest into the market, will surely pull a lot of customers towards it, especially when it comes to the first-in-segment diesel automatic variant.
Ed's Take:
Tata has seen an incredible jump in quality, design and engineering with the new Zest. This compact sedan is spacious and at the same time matches the international standards for quality. The Harman music system is the first in this segment and the music quality is just brilliant. The 1.2 Revotron engine is marvellous, especially its drivability. There isn't any turbo lag, however the punch from the turbo too isn't very prominent. This car moves even in the fifth gear at 40km/hr. On the other hand, the diesel AMT is another segment first. It offers people to get a diesel engine and free up their left leg from clutching and declutching. It needs some improvement in shifts, else it is fine. The Zest as an overall is a great product with several positives and a couple of small negatives, which can be easily fixed. One thing that need update is addition of bottle holders in the door pocket. Else, this is just a brilliant car and Tata Motors has a bright future with this car.

Spec comparison: Petrol

Spec comparison: Diesel