Renault Kwid 1.0 AMT: First Drive Review
Published On Nov 06, 2016 By CarDekho for Renault KWID 2015-2019
Words by Benjamin Gracias | Photography by Vikrant Date
Car tested: Renault Kwid 1.0
Variant: 1.0 Easy-R RXT (O)
Engine: 1.0 petrol with AMT transmission / 68PS / 91Nm / ARAI Mileage: 24.04kmpl
Automatics are fast becoming the need in developing India. So, not just premium car buyers looking for luxury, but the budget car buyers are keen to adopt automatics to cut out some of the hassle and stress of the urban commute. AMT – or Automated Manual Transmission – technology has offered a simple, efficient and affordable solution for these cars. Renault's Kwid has gained huge ground in the entry-level hatchback market, and the arrival an AMT-equipped Kwid Easy-R is going to strengthen its appeal further. But, just how well does the AMT solve your rush-hour woes? We took a spin to find out.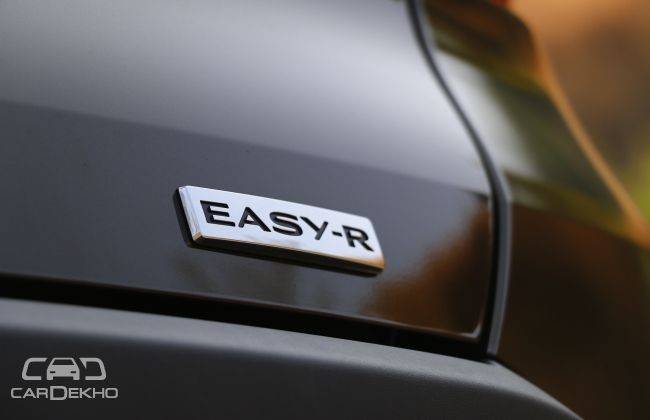 Fast Serve
First shown at the 2016 Auto Expo, the Kwid Easy-R comes at a time when the segment is warming up to the idea of AMT transmissions and more buyers are opting for it. The Kwid has gained a lot of admirers for its SUV-esque styling and features leading to more than 90,000 cars being sold in a little over a year. Since launch, it has been upgraded with a more powerful 1.0-litre motor and now it gets an AMT option as well.
An AMT is similar to a manual transmission and behaves as one except for the fact that there is no clutch pedal. It completely removes the need to depress a clutch pedal to facilitate gear changes and instead relies on sensors, ECU and actuators. A simpler tech also takes care of the price gap.
Engine and Performance

The 1.0-litre motor is a peppy performer given the small frame it has to lug around. The smooth albeit noisy 999cc 3-pot motor makes 68PS@5500rpm and 91Nm@4250rpm and delivers good torque at lower revs making it easier to move faster in the city though the talking point here is the AMT drivetrain that it now comes optioned with.

The 5-speed AMT has been developed in-house with the assistance of Bosch. The system piggybacks on the existing ECU leading to a simplistic software approach that should help in quicker commands and ultimately quicker shifts. The shift mechanism consists of a rotary dial with three positions – Neutral, reverse and Drive. Surprisingly, there is no manual mode like other AMTs. Also the simplistic approach means there is no creep function or hill assist. Nonetheless, it is pretty clear that the gearbox and engine have been made to work together very well!

The problem with traditional AMTs has been the lurch and lag between gearshifts making it a tedious affair in traffic. Renault seemed to have found a solution to this when they came up with the Duster AMT which has one of the best AMTs on offer here. The Renault Kwid AMT follows that tradition with its well-tuned gearbox that offers shifts that, by most AMT-equipped cars' standards, are virtually seamless! Getting away at traffic lights is no problem with well-timed shifts and in traffic too, the gearbox impresses, with the lurch kept to a minimum. It is only during hard getaways that you feel the lag. Highway runs won't be an issue either as the 1.0-litre motor has ample grunt to keep up with bigger cars.
Design and Styling

In terms of styling, the Kwid AMT remains unchanged with just the addition of an Easy-R logo on the tailgate. It looks similar to the 1.0 variant and we can't find anything wrong with that. The Kwid has always found followers with its SUV-inspired design giving it an edge in a country obsessed with SUVs.
Interior

Things remain same on the inside and the only difference you will notice is the absence of a gear lever replaced by a shiny rotary dial on the dash. There is a cubbyhole in place of the gear lever now. The Kwid's party trick was the touchscreen infotainment system with Bluetooth and navigation on the top variants and this one gets it as the AMT will be available only on the top-spec RXT (O) variant which also gets driver-side airbags, front power windows and a completely digital instrument cluster.


Despite its compact dimensions, everything has been smartly designed for more storage space. The tall seating liberates a lot of space and boot space isn't that bad either.
Verdict

The Kwid was positioned as an affordable city car and the automatic gearbox helps it serve that objective even better, thanks to the sheer convenience of an automatic without compromising on fuel efficiency. It is actually more efficient than the manual, with a claimed 24.04kmpl. The Kwid AMT excels in terms of shift quality, and drivability and is one of the best AMT gearboxes we have reviewed. We expect performance and fuel efficiency numbers to be strong too. While prices are yet to be announced, expect a 20 to 30 thousand rupee hike over the manual version which is good value for the convenience and overall usability offered. AMTs are coming of age and the Kwid AMT shows that you don't need expensive cars to enjoy the convenience of an automatic.