Maruti Suzuki Swift
Published On Nov 27, 2014 By Prithvi for Maruti Swift 2014-2021
Things to look forward to:
Maruti badge and reliability
Sporty exterior design
Improved fuel economy
Low cost of maintenance
Feature rich on its top variant
Things that would make you think twice:
No drastic exterior and interior changes
Lack of rear space of occupants
Small boot space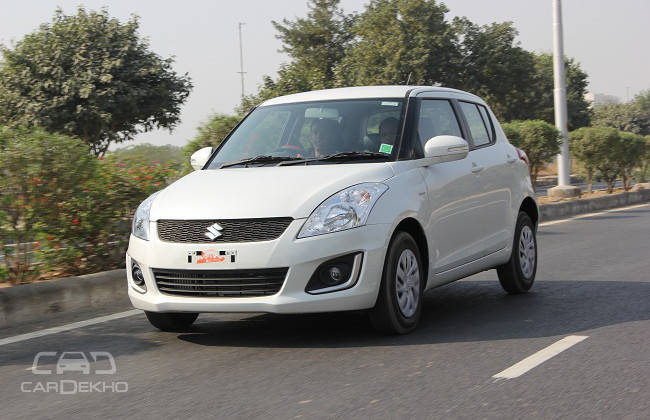 Maruti gives its largest selling model a facelift. Is the new Swift worth the effort to be re-crowned the 'King' of its segment let us find out as we take this hot hatch for a short spin?
Erstwhile Maruti Suzuki came to the forefront of the premium hatchback segment back in 2005, when it first launched the hottest and most awaited model called Swift in India. Back then it was rated as one the most exciting looking cars of its time due to its sporty exterior and interior design.

This is supported by the fact that the homegrown manufacturer has sold more than 2 million units of this hatch in the country till date and to provide consumers with something new, the company recently gave it a facelift. India specific, this is the second time that this particular model has been given an upgrade even though they might be very superficial; Maruti claims to have introduced 'the all-new Swift'. So what does it entail, let us find out.
Exterior
Prior to its launch, there was a lot of speculation concerning the all new Swift, as to how it would look and the kind of features it would offer to the end consumer.

Now that we have it right in front our eyes, the first thing that one would notice is that there are no drastic changes on the exterior design. In fact the facelift as we refer it to as features re-designed fog lamp clusters with silver accents and a reworked front bumper as is visible on diesel VDi variant.

Other elements like the curved hood, stretched headlamps, front grille with S logo in chrome are identical to the one seen on its previous generation. A subtle but a marginal change comes in its air intake size which is placed on the lower half of the front bumper.

Its side profile remains unchanged apart from electrically folding OVRM's (side view mirrors) and sporty looking alloys which in the VDi's case were plastic hubcaps. In general, its sides cater to flared wheel arches, VDi's badge, sharp lines running from the front to the rear, body-coloured door handles, pronounced side view mirrors with indicator inserts, a sloping roofline along with blacked out A and B pillar giving it the all important sporty appeal. To add in, the door handles on being reached out feel pretty solid indicative to its good built quality.

On the other hand, the rear is curved with an unchanged tailgate which offers sweeping tail lights and a bumper that provides an inserted brake light right in the middle placed on its lower half. To identify the model and make, there are badges all over the boot such as Maruti Suzuki towards the left with its 'S' logo sitting pretty right in the centre. To top it up there is a rear spoiler with yet another light. Availability of a rear roof mounted antenna further completes the look.

Interior
Like its exterior design, the cabin layout too remains the same as the outgoing model. There is a three-spoke steering wheel with silver accents which offers mounted controls however the VDi variant that we had with us did not feature it. The instrument cluster provided herein is identical with circular dials.

There is a digital information display that gives out essential information about the car. A bit more towards the left and the centre console offers air vents with silver surrounds giving the cabin an up-market look. Entertainment system provided in VDi Swift definitely feels more premium which was there before and now has been added with Bluetooth connectivity while other features such as radio, CD player, USB are present as before.

Circular air conditioning knobs feel pretty nice to operate. One must mention like earlier, the new Swift still offers a whole lot of cub holders and extra spaces to store things throughout the cabin. A well thought out feature which was there before as well are the retractable glass holders which comes quit handy especially while driving long distances. Its glove box is fairly decent or keeping essential documents like car papers and others.

Besides these features, we would like to add that the top end variant ZDi features a Start Stop Button with automatic climate control for the matter of convenience to the end user. Although Swift diesel comes with fabric seats, the test vehicle that we got featured a combination of red, black and silver leatherette on it. Blending in almost perfectly was the red and black steering cover which happens to be an aftermarket fitment.

Speaking of comfort, the front seats provide ample of space and more so when pulled all the way back. Its cushioning is pretty decent with reasonable lumbar support and good amount of head room upfront. Coming to the rear with its front seats pulled all the way back there is very little amount of leg room left for its occupants. Cushioning is good but the lumbar support is a bit upright to anyone's dislike. Moreover over long distances the rear seat can get a bit discomforting.

While the under thigh support is good both in front as well as the rear like before. Due to its sloping roofline, headroom can be an issue for a taller person. From an accessibility point of view getting in and out of the back is a bit of an issue due to compact size of the rear three quarter. Its rear parcel tray is wide enough for additional storage but the same cannot be said about its boot which is very miniscule in size. For safety, the VDi offers ABS with EBD and brake assist. Dual airbags and reverse parking sensors are only available on the ZDi variant.

Engine and Performance
This is one area wherein Maruti has been able to capitalize big time with its 1.3 litre diesel engine. The 1248cc diesel engine is the same as the one available on the previous edition. Ideally what Maruti have done here is that they have improved the overall efficiency by 0.7 kmpl in comparison to before therefore the new figure now states that the Swift diesel returns a figure of 25.2 kmpl.

This is all possible due to tweaked ECU and reduced friction. In depth, this 1.3 litre unit produces a maximum power output of 74 bhp @4000 rpm with 190 Nm of torque. Powering its four wheels it is a 5 speed manual transmission that provide decent shift be it in city or the open highway.

When while driving, the territory feels familiar as the steering is light considering that it is a diesel and clutch fair light which is plus point for a hatch of its type. Like before, the ride and handling is the same as before apt for Indian conditions, the new Swift does well to soak in potholes and broken road surface with utter ease.

Verdict
Superficial that it is, the New Maruti Swift does not have much new to offer. What is does give the end consumer is a bit of extra equipment both inside and outside along with its trademark performance and reliability. Despite this, going by the consumer sentiment we can still predict that this hot hatch would still sell like hot cakes giving Maruti an edge of its rivals for time to come.