Bajaj Qute (RE60): First Drive Review
Published On Oct 04, 2018 By Nabeel for Bajaj Qute (RE60)
What exactly is Bajaj's Qute? Is this four-wheeler more than just a step up from the ubiquitous auto-rickshaw?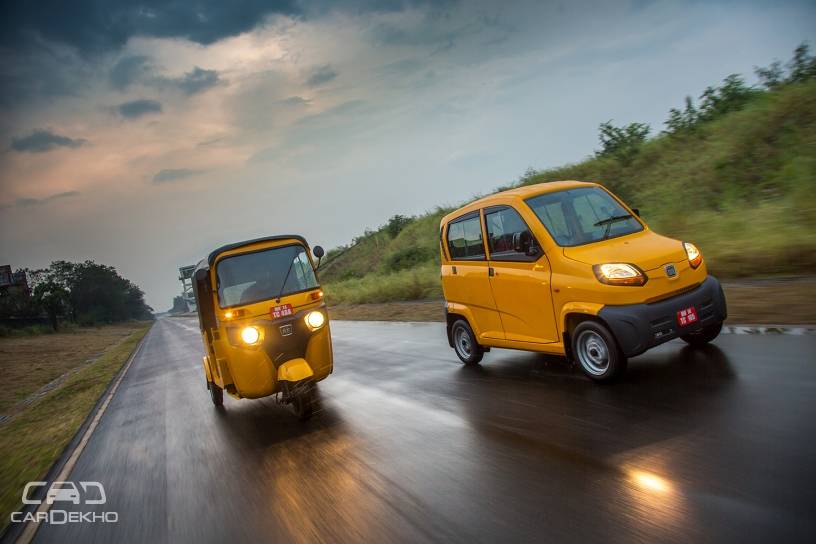 Everyone of you would have travelled in an auto-rickshaw at least once in your life. For some of us, it has been a big part of our childhood, whether it was going to the school or the market. Auto-rickshaws have been the affordable, on-demand public transport in India for quite some time now. But along with the basic design and low cost of ownership, you also get poor weather protection, practically no crash protection and this three-wheeled platform isn't the most stable either.
So, with the world around us seeing improvements in every walk of life every passing day, is there a step-up to the good old auto-rickshaw as well?

If we were to believe Bajaj, there indeed is one. Enter the Bajaj Qute. A quadricycle that is the size of a three-wheeler, but with a steering wheel, doors and an extra wheel. It has to be more than that though. To replace the age-old auto-rickshaw, it has to be cheap to run and maintain, be as practical in terms of load- and human-carrying, and should be offered at a competitive price point as well. Can it deliver?


Pros
More stable and safer than an auto-rickshaw

Better weather protection than a rickshaw

Small footprint, convenient for parking or manoeuvering

High claimed mileage of 35kmpl

Low running cost, much lower than a conventional car

Sequential gearbox makes changing gears easy
Cons
Closed cabin and lack of a blower makes it steamy when idle

No air conditioning/heating or blowers

No improvement in storage for larger objects over an auto-rickshaw
Looks

The Bajaj Qute is a quadricycle and has a footprint almost similar to that of a three-wheeler. In other words, it looks pretty small. But, Bajaj has been able to add a sense of quirkiness to the design to make it palatable.
To keep the overall weight of the car low, the bonnet and doors are made of plastic. A good thing here is that any damage to these doors can be fixed without having to replace the entire unit. The headlights are basic bulbs, underlined by indicators. Under the hood is actually the boot, as the engine is mounted at the rear. The vents just above the bumpers direct air towards the driver's footwell and the left C-pillar.

From the side, the small footprint becomes obvious as the Qute is just a bit longer than a motorcycle. It ends up looking a bit comical as it isn't really long but is quite tall. That said, the sharp shoulder lines do a good job of making the tall profile easier on the eye.

It's only from the rear that the Qute looks like an auto-rickshaw, albeit a funky one. The tail lamps, sliced into four sections, the contrasting colours for the chunky bumper and the rear windscreen surround make it look modern.
The tiny Qute stands its own ground when it comes to the looks. It definitely won't wow anyone, but given the limited canvas, Bajaj has done a good job of making the Qute look different yet acceptable.
Interiors

Let's be absolutely clear, the Qute is not a potential replacement for your first car. It's an intra-city low-cost mobility vehicle, which basically means replacement for an auto-rickshaw. And hence it's a no frills experience inside the cabin, closer to a rickshaw than a car.

What will strike you right away is that the Qute uses a steering wheel like a car, not a handlebar like in a rickshaw. An analogue-digital instrument cluster in the centre that packs in a gear position indicator, digital fuel gauge, odometer and tripmeter, cover all the basics. There's no air conditioning unit or a heater/blower, but you do get an FM player with two speakers. Also, there is a 12V socket to juice up your phone. The dashboard is pretty barebones with one lockable storage compartment on each side of the centrally mounted instrument cluster. Also, the dash-mounted gear shifter looks rather rugged.

The seat is non-reclinable, but the driver's seat can be horizontally adjusted for more legroom. Inside the cabin, you sit very tall and get a pretty clear view of the surroundings. The sense of space inside doesn't feel like a distinct step up. However, keep in mind that occupants will be more comfortable than in an auto-rickshaw as the 2+ 2 setup offers more space for each passenger. The doors also ensure that you don't overload this little people mover.

At the rear, there is ample kneeroom but the legroom feels a bit limited. The headroom too is very generous and the seats are comfortable for short in-city journeys. A roof liner has also been added to provide better heat insulation inside the cabin.

But, there are a few things which we did not like about the cabin. The door handles, for instance, are too small and take some getting used to. The rear seat latching mechanism which holds the seats in an upright position is also very rudimentary. Lack of ventilation in the cabin, at idle, is another drawback of the budget experience and will be a pain point for drivers, while they wait for their next customer.
Practicality and storage

If we talk about practicality, the Qute has ample space for three passengers.

The boot under the bonnet, at 77 litres, is large enough for grocery bags but its weight-carrying capacity is limited to 20kg. If you need some more space, there is some under the front seats in the petrol variants, but that space is occupied by a CNG cylinder in the, well, CNG variant.
Additionally, luggage can also go on the roof-mounted carrier, which can hold upto 40kg of weight. Then, there is the boot behind the seats, which, with the seats up, can hold small cloth bags or laptop bags at best. But you can fold them in a 60:40 split and store upto 400 litres of cargo. Also, we would not recommend dairy items there as the compartment sits just above the engine and can get fairly hot.

The door pockets too are wide and deep, especially at the front, and can store a lot of knick-knacks. But since they are not segmented, whatever you put in them keeps moving around. There is also a small storage space near the driver's door handle to keep his phone. The two compartments on the dashboard are lockable and are deep enough to keep papers, chargers or other small items.
Overall, the Qute remains as practical in passenger and load carrying as a traditional auto-rickshaw, but doesn't really feel like a step-up.
Engine and performance

The Qute is powered by a 216.6cc, liquid-cooled DTS-i engine which can run on petrol, CNG and LPG. It makes a decent 13PS/19.15Nm while running on petrol, 10.8PS/16.1Nm on CNG, and 12.4 PS/18.2Nm when powered by LPG. It comes mated to a 5-speed sequential gearbox (like in motorcycles) and you only have to push the lever up for an up-shift, and pull down for a downshift. The throw of the gear stick felt a little long and heavy, and is something that you will have to get used to. There is a clutch, but it's pretty light with a short throw.

Because the Qute weighs only 465kg (petrol), the power feels just enough to make quick overtakes and keep up with the traffic slightly better than an auto-rickshaw. But when it comes to drivability, the Qute excels as it picks up easily from 30kmph in third and from 40kmph in fourth gear, which will negate the need to shift too frequently in the city. The only place where we felt the power to be a little lacking was while starting on a gradient. We drove the CNG and the petrol variants of the Qute and the latter felt more peppy and responsive. The claimed mileage for the petrol variants is 35kmpl and for the CNG variants is an impressive 45km/kg.
Ride and handling

This is the one area where the Qute completely outshines the traditional three-wheeler. In terms of handling, the addition of the fourth wheel has helped it gain more stability. Under hard braking, there is a lack of feedback from the pedal, and because of the lack of ABS, the tyres have a tendency to lock up. A more progressive brake feel would have made for a much more stable braking experience.

The Qute rides on 135/70 R12 MRF ZECs which offer good grip and give the driver a greater sense of confidence compared to an auto-rickshaw. It gets a monocoque chassis which uses high-strength steel and helps it feel a lot more car-like. It even feels a lot more planted while making sharp turns and will not tip over as easily as a three-wheeler. This gives both the driver and the passengers more confidence and peace of mind.

Even when it comes to ride quality, yes, you do feel sharp bumps inside the cabin, but it's nothing close to the harshness of a three-wheeler. The ride is a lot more supple and especially over a broken patch of road, it remains more composed and offers a better experience.
Safety
We'd like to again point out here that the Qute wasn't designed to exist in the same space as a regular car in terms of safety. It is, however, a clear step up in terms of stability, weather protection and crash protection, compared to an auto-rickshaw. The Bajaj Qute was crash tested at 50kmph by Euro NCAP, where it scored a single star. In terms of safety features, the Qute only gets seatbelts for all four occupants.
Verdict

The Bajaj Qute is a very simple yet very complicated four-wheeler. Simple because all the components used to make it are very basic, in order to keep the running and maintenance cost low. And complicated because it's not only something new in our market, it has also created an entire category for itself. If you compare it to an auto-rickshaw, the Qute is definitely a step up in term of safety, weather protection and ride quality -- for both passengers and the driver. Though it has a low running and maintenance cost, it costs Rs 2.7 lakh (ex-showroom Delhi), which is slightly more than a three-wheeler. Given the advantages it offers, it seems to be a fair trade. Also, as of now, it's only available as a commercial vehicle in the market.
Does it offer a car-like experience? No. But will we pick it over a conventional auto-rickshaw for our daily chores? Definitely yes.