Key Specs of MG Hector Plus
| | |
| --- | --- |
| Mileage (upto) | 16.65 kmpl |
| Engine (upto) | 1956 cc |
| BHP | 167.67 |
| Transmission | Automatic/Manual |
| Seats | 6 |
| Boot Space | 155 L |
Hector Plus Latest Update
Latest Update: MG Motor India has hiked the prices of the Hector Plus. Find the revised price list here.
MG Hector Plus Price: It is priced between Rs 13.73 lakh and Rs 18.68 lakh (ex-showroom).
MG Hector Plus Variants: The Hector Plus is available in four variants: Style, Super, Smart and Sharp.
MG Hector Plus Seating Capacity: MG offers the Hector Plus in a 6-seater layout with captain seats in the middle row.
MG Hector Plus Powertrains: The Hector Plus is powered by both petrol and diesel engines. It gets a 1.5-litre turbo-petrol engine (143PS/250Nm) coupled with a 6-speed dual-clutch automatic. MG also offers the turbo-petrol unit featuring a 48V mild-hybrid system paired to a 6-speed manual gearbox limited to the top-spec Sharp variant. The 2.0-litre diesel engine is rated at 170PS/350Nm and comes mated to a 6-speed manual gearbox. It is the common engine option across all variants.
MG Hector Plus Features: MG offers the SUV with a panoramic sunroof, rain-sensing wipers, a powered tailgate, and 8-colour ambient lighting in its top-spec. It also gets auto-LED headlamps with DRLs, front and rear LED fog lamps and LED tail lamps, and electric parking brake (DCT variant only). The Hector Plus offers the 10.4-inch touchscreen infotainment system with Android Auto and Apple CarPlay as standard.
MG Hector Plus Safety: Safety features include electronic stability program (ESP), front and rear parking sensors, hill hold control, ISOFIX child seat anchors, ABS with EBD and brake assist, dual front airbags, and traction control as standard. It gets up to six airbags in the top-spec variant.
MG Hector Plus Rivals: It rivals the likes of the Toyota Innova Crysta and Mahindra XUV500. The Hector Plus will also rival the upcoming Tata Gravitas.
MG Hector Plus 7-seater: MG will launch a 7-seater version of the Hector Plus around Diwali 2020.
Read More

MG Hector Plus price list (Variants)
Style MT1451 cc, Manual, Petrol, 11.67 kmpl
Rs.13.73 Lakh*
Style Diesel MT1956 cc, Manual, Diesel, 16.56 kmpl
Rs.14.89 Lakh*
Super Diesel MT1956 cc, Manual, Diesel, 16.56 kmpl
Rs.15.69 Lakh*
Smart AT1451 cc, Automatic, Petrol, 11.67 kmpl
Rs.16.69 Lakh*
Smart Diesel MT1956 cc, Manual, Diesel, 16.56 kmpl
Rs.17.19 Lakh*
Sharp Hybrid MT1451 cc, Manual, Petrol, 14.025 kmpl
Rs.17.38 Lakh*
Sharp AT1451 cc, Automatic, Petrol, 11.67 kmpl
Rs.18.35 Lakh*
Sharp Diesel MT1956 cc, Manual, Diesel, 16.65 kmpl
Rs.18.68 Lakh*
View All Variants
MG Hector Plus Comparison with similar cars

Ex-showroom price in New Delhi
MG Hector Plus Review
The Hector Plus promises a 'Plus' experience within an added row for more company. It even goes the extra mile and gets feature and cosmetic updates. Do any of these make a strong enough reason for you to spend the extra money?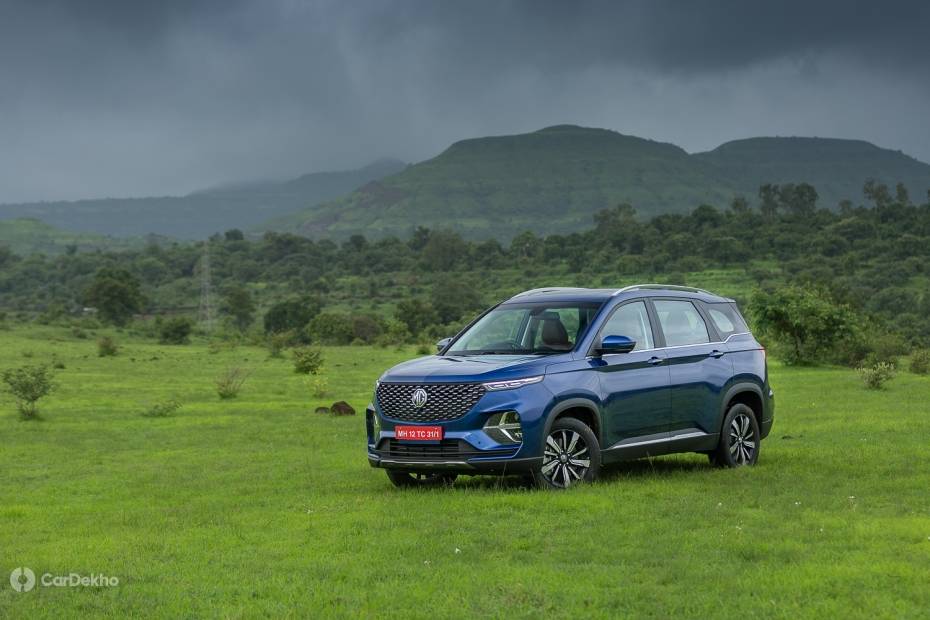 The MG Hector is one of the most loaded SUVs in its segment. Be it in terms of features, powertrain options or the sheer size of the thing, the Hector has it all. Well... apart from a third-row of seats. That has now been fixed in the form of the Hector Plus. And MG has not just plonked a third row in the boot but also made sufficient changes all around to justify calling it a 'Plus'. We got the Hector Plus for a couple of hours to figure out if the changes and feature additions have improved the SUV.
Car Tested
Name: Hector Plus
Variant: Sharp
Powertrain: 2.0-litre Diesel MT
Price: Rs 18.54 lakh (ex-showroom India)
Price

Now here's the tricky part. The MG Hector Plus is priced between Rs 13.49 lakh and Rs 18.54 lakh (ex-showroom, India). This is a premium of up to Rs 65,000 over the corresponding Hector variants. However, these are introductory prices and are said to be valid till August 13 after which the variant-wise prices will go up by up to Rs 50,000.
Verdict

The Hector Plus definitely is a Plus to the Hector. The middle row seating is the biggest upgrade here and is surely the most important one in terms of improving the cabin experience. The last row can seat kids and gets ample features as well. The new features that have been added are a bit gimmicky and don't really add value to the overall package. Finally, the looks. They are definitely more sober and classy as compared to the Hector, and will be preferred by more sophisticated buyers. The drive experience and the ride quality remain likeable. Bigger wheels and finishing touches to the middle row like window shades, cup holders and tumbling seats would have surely made this THE pick in the Hector family.

With its new price, the Hector Plus offers a better overall experience and should be the pick if you have narrowed down to get the Hector for your family. But at this price, you land in Toyota Innova's territory, an MPV which has proven to be the benchmark for 6/7 seaters in the country time and again. Something worth checking out if it's space and comfort for the family that you are looking for.
Exterior
Looks

MG has been smart while redoing the face for the Hector Plus. While there are no new features, it still manages to have a separate and more classy personality. The big MG grille is now frameless and gets small chrome accents, like Mercedes' diamond grille. This helps tone down the more in-your-face design of the standard Hector. However, there is no lack of bling as you still get a more detailed LED DRL, new headlamps, fog lamps and a repositioned dynamic turn indicator. These changes retain the typical Hector elements while making it easy for you to differentiate the two.

From the side, the only change is that the SUV is now longer by 65mm. The extra length is due to the revised bumpers and does not make a difference in the interior space. The height, width and the wheelbase are still shared with the Hector. However, what MG should have changed are the 215/60 17-inch wheels. They still look a tad bit small on the bulky design and the alloy is also the same as the Hector. This sweet blue colour, however, is new and exclusive to the Plus.

At the rear, you get a proper refresh. The boot gate is new and gone is the red plastic "connecting" the taillamps. The detail I really liked is in the new tail lamp. The elements are detailed and the dynamic indicators get multiple layers, which look even cooler. The new, more sporty bumper houses fake exhaust vents, which is a silly trend. However, MG should have put more effort into hiding the actual exhaust to pull off the look.

Overall, the Hector Plus is easily distinguishable from the Hector when viewed from the front or rear and looks more premium and classy.
Interior

From the driver's seat, the only thing new to notice is the dual-tone dashboard. The earlier black accent is now brown to match the new brown leatherette upholstery. Apart from that, things remain the same. You get a nice and chunky leather-wrapped steering, a 7-inch digital instrument cluster, and a 10.4-inch touchscreen in a minimalistic layout.

In terms of features, MG has added a new 'Chit-Chat' function to the infotainment system. This is similar (in theory) to the one Mercedes has on its MBUX systems. However, the one here is not very polished. In our tests, the voice assistant kept giving us random answers or current location for multiple questions like "how are you?", "how am I looking?" and "where are you from?" The only one it could get right consistently was "are you alive?". And for that too, the answer wasn't quirky enough. And to know what that is, check out our video review. MG could have polished this feature more before rolling it out in the car.

The cabin remains fairly loaded with features. You get eight colour ambient lights, power-adjustable seats for the driver and co-driver, Apple CarPlay and Android Auto, 55+ connected car features, a brilliant 8-speaker Infinity sound system, heated ORVMs, auto headlamps and rain-sensing wipers. The touchscreen experience feels better than before with less latency in operation.
Second Row

The addition of a third row has helped MG make the second row even plusher with the help of captain seats. These seats are well-bolstered and get individual armrests as well. This makes them a lot more comfortable than the usual bench seat. Plus, you can slide and recline them. Pushing them all the way back opens tonnes of legroom to stretch out for someone my height (5'7"). Recline them a bit more and this makes for a very comfortable long-distance traveller. Plus, if you are usually chauffeured around, the backseat now is the ideal place to be in. Adjustable headrests further help the comfort factor and headroom, despite the panoramic sunroof, is plenty.

Another thing you will appreciate is the airiness of the cabin. Large windows, a low widow line and the massive sunroof make for a very open cabin. The brown leatherette upholstery further helps open it up visually. Practicality aspect is taken care of by a USB charger, rear AC vents, storage space in the centre console and bottle holders in the doors. The only thing missing here are window shades and cup holders, both of which would have elevated the captain seat experience to a higher level.
Third Row

Access to the third row is tricky and hasn't been well thought out. The second-row seats only recline and slide forward, they don't tumble. This means you have barely a few inches of clearance between the door and the captain seats. Getting directly into the third row is not advised for any and all ages. The way you have to get in then is by walking in between the captain seats.

At the back, given the middle row has been adjusted for someone my height, there is just enough room for me to squeeze in. Width is enough for even two regular-sized adults to sit side by side. Knee room and legroom for the third row are adequate. But with the feet tucked below the middle row seats, you sit pointing outwards, and that makes it a bit uncomfortable. Adults will have to keep a leg in the aisle between the captain seats to get comfortable. Also, the seats are low and you sit knees up, something which will tire you in longer journeys. Another issue here is outside visibility. The windows are small and higher up, making you feel a bit cooped up. Overall, these seats can seat kids and it's best if the adults stick to the captain seats.

As far as features are concerned, MG has given a fair bit of attention to the third-row passengers as well. They get cup holders, a USB charger and their very own AC vents with a fan speed controller. The placement of these vents, however, makes them a bit tricky to adjust. On the plus side, the third row does get three-point seatbelts and adjustable headrests.
Boot Space

The Hector's boot, at 587-litres, was plenty for the weekend luggage. Luckily, the third-row hasn't eaten too much of that space when folded down. At 530-litres, you will still manage to keep all kinds of bags and suitcases with ease in the boot. With the third row up, you only get 155-litres, good for a couple of small bags and a small suitcase.

This time around, you also get the smart swipe feature. Just kick an imaginary ball out from underneath the rear bumper and the electric tailgate opens up. This function works 7 out of 10 times and is quite handy if your hands are full with heavy bags, and you cannot raise them even slightly to press a button. Or, you are just looking to show off.
Performance

Engine and transmission options get no new additions. You can pick a 1.5-litre turbo petrol with a manual or a DCT automatic. The same turbo-petrol is available with a 48-volt hybrid setup and gets a manual transmission. Or you could pick the 2.0-litre diesel with a 6-speed manual. No option for a diesel automatic yet. Power and torque figures are exactly the same as the Hector as well. We only got to experience the diesel in our first-drive.

The 170PS, 350Nm diesel is a punchy motor and feels at home both in the city and on the highway. Sound and vibration levels are kept in check and while it is not the most refined version of the Fiat-sourced engine we have driven, it won't leave you complaining either. Overtakes in the city are handled with ease and the motor proves to be plenty tractable as well. However, the gear shifts are a bit clunky and take a conscious effort to shift. Plus, the clutch is a bit heavy and will make you regret missing leg day in bumper to bumper traffic (if such a thing exists anymore). And then there is a tendency to stall while applying the throttle after overcoming a minor undulation.

On the highway, it manages triple-digit speeds with ease and doesn't feel tired or out of breath until you are seriously pushing it. And even with six people on board, this engine should not struggle in any situation. As the diesel experience is exactly the same as the Hector, it's safe to assume the petrol is going to be the same as well. To read how they drive, check out our Hector First Drive Review.
Ride and Handling

The ride has always been a strong suit of the Hector. And I am glad to report that things are the same here. The suspension is softly sprung and tuned for Indian roads. As a result, it gobbles up speed breakers and broken roads effortlessly. Inside the city, at speeds of up to 40-50kmph, the Hector offers a very comfortable ride. But increase the speed a bit and it starts to roll. Plus there is a fair bit of side to side movement as well. It takes a while to settle back too, which you will have to get used to.

Naturally, with such a tall car and a soft setup, there is going to be roll. The Hector isn't shy about letting its body roll in corners, but it settles and doesn't become scary. The steering feedback is very car-like and tuned to minimise effort, and not read the tyres. However, if you still decide to have a bit of fun, the tyres do offer good grip to give you a bit of confidence.
Safety

The Hector always had a good safety kit on offer, and MG hasn't tinkered it any way for the Hector Plus. So you get 6 airbags, ABS with EBD, front and rear parking sensors, 360-degree camera, traction control, Electronic Stability Program, Hill Hold, ISOFIX child seat anchors, Tyre Pressure Monitoring System and all-wheel disc brakes. The SUV has not been tested by Global NCAP for a crash test score yet.
Pros & Cons of MG Hector Plus

CarDekho Experts:
With its small price premium over the Hector, the Hector Plus seems to be the logical pick for a family for 4 or 6.
Things We Like
Looks better than the Hector
Second row captain seats are premium and comfortable.
Brown upholstery helps make the cabin feel more upmarket
Ride quality is well suited to Indian roads
Things We Don't Like
New Chitchat function is not finished well
Boot space with third row up is small
Access to the third row is a challenge
Stand Out Features
Captain seats

Smart swipe boot opening 

Panoramic sunroof

10.4-inch touchscreen

MG Hector Plus User Reviews
All (24)
Looks (5)
Comfort (8)
Mileage (2)
Interior (1)
Price (4)
Performance (4)
Seat (2)
More ...
Wonderful car, I love this beast. Nice car for family and I have the diesel variant, nice punch in acceleration.

Awesome car with lots of features and I will give 5 stars for safety. Mg provides features like automatic boot opening and 360 degrees camera and many more.

Superb car at this price. Comfort and features are un compatible with the other cars. It gives Luxury feeling and very spacious, Built quality very strong, the suspension...Read More

Even though the car is good, as it is a Chinese owned one. We can expect anything at any time, which may result in service unavailability, end of service in India.

A Fantastic car. Hector/ plus beaten Tata harrier/Jeep Compass/ XUV 500 on-road and performance. A very nice SUV for all Indians, the performance on road is extreme. I lo...Read More

View All Hector Plus Reviews

MG Hector Plus Videos
MG Hector Plus 2020 has 6 video of its detailed review, pros & cons, comparison & variant explained,test drive experience, features, specs, interior & exterior details and more. Watch our Latest Hindi video of MG Hector Plus to know price, safety features & more.
(हिन्दी) 2020 MG Hector Plus Variants Explained | Which One To Buy? CarDekho

Jul 27, 2020

ZigFF: 🚙 MG Hector Plus (6-Seater) | Hector+ Innova Ambitions? | Zigwheels.com

Jul 15, 2020

🚙 MG Hector Plus Review | The Better Hector? | Zigwheels.com

Jul 15, 2020

🚗 MG Hector Plus 6-seater Launched in India #in2mins (हिंदी)| Hector Se Alag Kya Hai? 🤔 | CarDekho

Jul 15, 2020
MG Hector Plus Colours
Burgundy Red Metallic

Starry Black

Aurora Silver

Starry Sky Blue

Glaze Red

Candy White



Are you Confused?
Ask anything & get answer in 48 hours
Questions & Answers
What is the exact on-road price of MG Hector Plus?
Which car is better Hector Plus or Venue?
What will the EMI or down payment for MG Hector Plus?
MG Hector Plus EMI
starts at ₹ 30,339 per month for a tenure of 60 months @ 9.8% for a loan amount of Rs 14.34 Lakh & down payment will be ₹ 1.59 Lakh.
Does the MG Hector Plus have a sunroof?
Yes, Sharp Hybrid MT, Sharp AT & 1 other variant(s) of MG Hector Plus are having sunroof.
Write your Comment on MG Hector Plus
5 comments
1
A
amazing fun
Jul 17, 2020 11:18:45 PM
No wirless charging system in mg hector plus
Read More...
Reply
Write a Reply
1
D
dipakbhai
Jul 13, 2020 4:10:22 PM
World best car MG hector Plus car
Read More...
Reply
Write a Reply
1
D
dipakbhai
Jul 13, 2020 4:08:50 PM
My dream car mg hector best car in world please gift me best company in MG
Read More...
Reply
Write a Reply


MG Hector Plus Price in India
Choose your city