Hyundai Aura 2020-2023
Change car
Rs.6.20 - 9.51 Lakh*
This car model has expired
Compare with Hyundai Aura
Key Specs of Hyundai Aura 2020-2023
| | |
| --- | --- |
| Engine | 998 cc - 1197 cc |
| BHP | 68.05 - 98.63 Bhp |
| Transmission | Manual/Automatic |
| Mileage | 20.1 - 25.4 kmpl |
| Fuel | Petrol/CNG/Diesel |
| Boot Space | 402-litres |
Explore Price of Aura 2020-2023 Alternatives

Hyundai Aura 2020-2023 price list (Variants)
Aura 2020-2023 E1197 cc, Manual, Petrol, 20.5 kmplEXPIREDMore than 2 months waiting
Rs.6.20 Lakh*
 
Aura 2020-2023 S1197 cc, Manual, Petrol, 20.5 kmplEXPIREDMore than 2 months waiting
Rs.7.03 Lakh*
 
Aura 2020-2023 S AMT1197 cc, Automatic, Petrol, 20.1 kmplEXPIREDMore than 2 months waiting
Rs.7.53 Lakh*
 
Aura 2020-2023 SX1197 cc, Manual, Petrol, 20.5 kmplEXPIREDMore than 2 months waiting
Rs.7.72 Lakh*
 
Aura 2020-2023 S CNG1197 cc, Manual, CNG, 28.0 km/kgEXPIREDMore than 2 months waiting
Rs.7.98 Lakh*
 
Aura 2020-2023 S Diesel1186 cc, Manual, Diesel, 25.35 kmplEXPIRED2 months waiting
Rs.8.06 Lakh*
 
Aura 2020-2023 SX Option1197 cc, Manual, Petrol, 20.5 kmplEXPIREDMore than 2 months waiting
Rs.8.28 Lakh*
 
Aura 2020-2023 S AMT Diesel1186 cc, Automatic, Diesel, 25.4 kmplEXPIRED1 Month waiting
Rs.8.43 Lakh*
 
Aura 2020-2023 SX Plus AMT1197 cc, Automatic, Petrol, 20.1 kmplEXPIREDMore than 2 months waiting
Rs.8.47 Lakh*
 
Aura 2020-2023 SX CNG1197 cc, Manual, CNGEXPIRED2 months waiting
Rs.8.57 Lakh*
 
Aura 2020-2023 SX Plus Turbo998 cc, Manual, Petrol, 20.5 kmplEXPIREDMore than 2 months waiting
Rs.8.97 Lakh*
 
Aura 2020-2023 SX option Diesel1186 cc, Manual, Diesel, 25.35 kmplEXPIRED1 Month waiting
Rs.9.19 Lakh*
 
Aura 2020-2023 SX Plus AMT Diesel1186 cc, Automatic, Diesel, 25.4 kmplEXPIRED2 months waiting
Rs.9.51 Lakh*
 
View All Variants
Hyundai Aura 2020-2023 Review
Hyundai's second shot at giving us a small sedan is based on a potent recipe. Does the Aura have it's own flavour, though?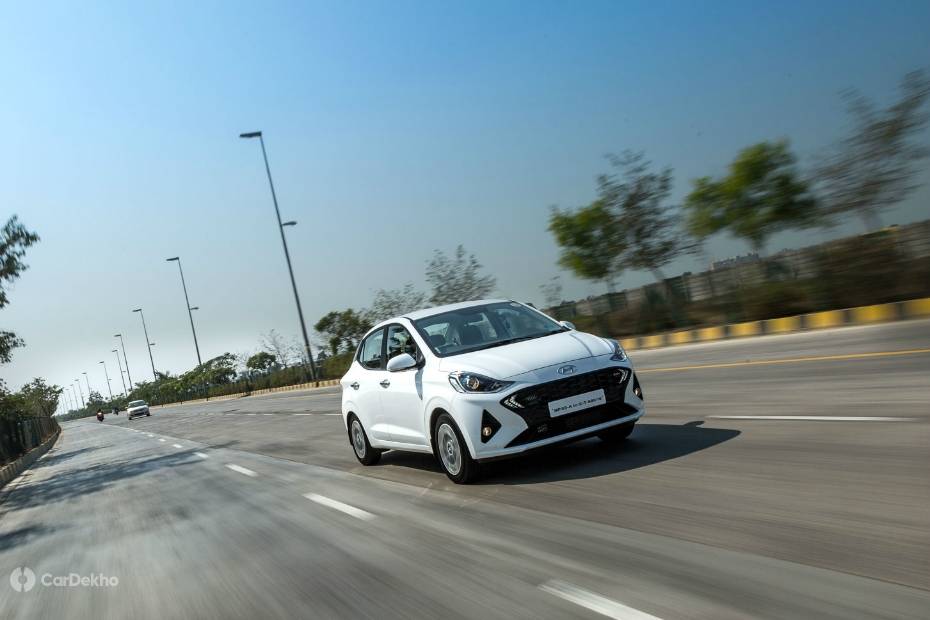 A compact sedan based on the likeable Grand i10 Nios was just a matter of time. It's here, launched at a price that promises to offer value, an interior that looks upmarket and as many as six engine-gearbox-fuel combinations to suit your needs. On paper, at least, it looks like Hyundai's Aura has something for everyone. Let's put this to the test, shall we?
Exterior

Let's settle the controversial bits first. Yes, the Aura's design takes a bit of getting used to; especially when viewed from the rear or rear three-fourths. But it does grow on you fairly quickly. We aren't as put off by it as we were at the global unveil. If you spot one at night, you'd appreciate the sharp LED elements in the tail lamps. The integrated lip on the boot - in isolation - looks quite nice too. Maybe Hyundai could've done away with the piano black - chrome strip between the tail lamps.

View the Aura from the side, and you'd see 80 per cent of the Nios as is. You'd pick on the sloping roofline immediately, but surely have second thoughts about the gloss black applique on the C-pillar. This too could've been better integrated.

You'd immediately like the concept car-like 15-inch alloy wheels. Tyre size remains unchanged from the Nios at 175/60 R15, and looks proportional to the overall size of the small sedan. Smaller touches like the chrome door handles and the shark fin antenna show some attention to detail.

Speaking of which, you'd have to pay attention to know if it's a Nios or Aura in your rear-view mirror. The smoked-out projector headlamps, the contoured bonnet, the sharp bumper and the projector fog lamps are all carried over from the hatch. Here's a quick hack: look at the daytime running lamps. The compact sedan gets two boomerang elements on each side, as opposed to the Nios' single setup. If you're a keen observer, you'd also spot the detailing on the grille has a honeycomb pattern instead of horizontal slats.

To differentiate the sportier Turbo variant, the grille gets a rich gloss black finish. There's a tiny 'turbo' badge on the grille (finished in a bright red, no less) that gives away what's under the hood. Sadly, that's about it. We'd have loved to see either a dual-tone paint scheme, different (or bigger) alloy wheels and maybe a set of naughty exhaust tips to drive the point home.

There's no denying that the Aura is merely a Nios with a boot. It isn't particularly handsome but looks premium and well-built. It sizes up against its sub-4 metre competitors well in terms of overall length and wheelbase, but is the narrowest in its class.
Dimensions:
| | | | | | |
| --- | --- | --- | --- | --- | --- |
| | Hyundai Aura | Maruti Suzuki Dzire | Honda Amaze | Ford Aspire | VW Ameo |
| Length (mm) | 3995 | 3995 | 3995 | 3995 | 3995 |
| Width (mm) | 1680 | 1735 | 1695 | 1704 | 1682 |
| Height (mm) | 1520 | 1515 | 1501 | 1525 | 1483 |
| Wheelbase (mm) | 2450 | 2450 | 2470 | 2490 | 2470 |
Interior

Step inside the cabin, and there's very little here differentiating from the Nios. It is banking on a premium-looking copper/bronze-coloured insert on the dashboard (as opposed to off-white on the hatchback) to remind you that you've got the sedan. The design of the cabin is identical, including the honeycomb-like texture on the dashboard, doorpad and gear lever housing. Pick the Turbo variant, and you get the colour theme from the Nios' Sportz Dual Tone variant: full black with garnishes of red.

There's new upholstery on the seat too, and we have to appreciate the quality of the fabric used. They feel just right for Indian summers, and we'd pick them over leather/leatherette upholstery for sure. Hyundai's missed a trick at the front by skimping out on adjustable headrests for the front seats. The seats themselves score high on comfort and support for someone with an average build. For those that are overweight or have broad shoulders, the seats will feel narrow. Tilt-adjust steering and height-adjustable driver's seat is available on all variants except the base-spec E; you'd have no trouble finding a comfy position. On that note, Hyundai should've equipped the Aura with a front armrest to help on those long road trips.

In the rear seat, you'd find that the kneeroom isn't any more than the hatchback. That's to say a six-footer would have a little room to spare seated behind a six-foot tall driver. Hyundai hasn't copy-pasted the rear seats from the Nios. With the Aura, the backrest angle is relaxed. That, coupled with semi-hard cushioning, makes for an ideal seat to spend a lot of time in.

The pinch comes in the form of headroom. You'd feel you're a bit too close to the rear windscreen, and chances are you'd have just about a fistful between your head and the roof. This problem compounds when you're above six feet tall. If you're looking at the Aura as a do-it-all family compact sedan, you'd be miffed at the relative lack of width in the cabin. In our books, it's a four-seater. Maybe four adults and a kid at best.

Compared to its predecessor, the Aura has lost out on 5-litres of boot space. But, at 402-litres, the boot is still among the biggest in its class. Should Hyundai have traded some luggage room for a bigger cabin? We feel so!
| | | | | | |
| --- | --- | --- | --- | --- | --- |
| | Hyundai Aura | Maruti Suzuki Dzire | Honda Amaze | Ford Aspire | VW Ameo |
| Boot Space (litres) | 402 | 378 | 420 | 359 | 330 |
Technology & Features

Hyundai's spoiling the compact sedan buyer silly with the Aura. Practically every little feel-good feature you'd want from a car that costs as much is included, and then some. You'd appreciate that you don't really have to stretch all the way to the top-spec to get a well-specced variant. If you're on a budget, the one above the base S variant ticks off all the essentials including power windows, a 2DIN music system, rear AC vents and electric adjust for the mirrors.

The fully-loaded SX (O) variant brings with it some serious firepower. It shares the 8-inch touchscreen with the Nios, and gets the usual connectivity options too. Smooth to use, easy to understand — Hyundai has nailed the basics down here. You can control it using the buttons on the steering wheel, or Hyundai's 'iBlue' Bluetooth-based remote control app.

Other goodies include a wireless charger, automatic climate control, a reverse parking camera and keyless entry and go. You also get a detailed 5.3-inch MID in the instrument cluster that displays a host of information, including door status, distance-to-empty and average speed over the usual readouts.
You'd argue that's exactly what you get with the Nios; you'd be right. The only addition to the Aura is cruise control. And to keep the accountants at Hyundai happy, it's available only in the top-spec petrol-manual variant. Also, in typical Hyundai fashion, you can't have the Aura AMT or Turbo in the absolute top-spec SX (O) variant. You get an SX+ variant instead, but the only real miss there is a leather-wrapped steering wheel. So, as long as you don't care about the name of the variant you own, you'd be fine.
Hyundai should've built on the Nios' strong feature list for the Aura. And we don't mean throwing in a sunroof or ventilated seats. But basics, including adjustable headrests, backlit switches for the power windows, a front armrest and auto-dimming rearview mirrors should've been included. Goodies such as automatic headlamps and rain-sensing wipers would've strengthened the Aura's case compared to its own sibling. Because right now, you only need to decide if you want the boot or not.
Safety

Pick any variant of the Aura and you get dual airbags, ABS with EBD and ISOFIX child seat mounts as standard. Impact-sensing door unlock and speed-sensing door lock are offered on all variants except for the base-spec E variant. Notably, Hyundai's Aura hasn't been tested for crashworthiness by an independent crash-test body like Global NCAP.
Performance

Hyundai is offering three engines with the Aura compact sedan: a 1.2-litre petrol, a 1.2-litre diesel and a 1.0-litre turbocharged petrol motor. There's a bi-fuel (petrol-CNG) variant available as well. Both the 1.2-litre engines can be had with a 5-speed AMT, whereas a 5-speed manual is standard across the range. Notably, there's no turbo-automatic or CNG-automatic combination on offer here.
1.2-litre Petrol
This familiar engine has been soldiering on for a reason. There's practically nothing wrong with it. Even under the small hood of the Aura, the 1.2-litre petrol engine makes a big first impression with its refinement. You'd be scratching your head figuring out if the motor is actually running — it's that silent.

It is a laidback engine. That's to say it feels ample for city commutes, and even sedate trips on the highway. The light clutch and positive gear throw mean you can drive this for hours before wanting a break. This is good news for anyone looking at taking the Aura to the office and back every day. You can stay in second (or sometimes third) for a speed breaker and pull clean in the same gear immediately after. But, bear in mind progress isn't exactly quick. The engine doesn't knock or lug very easily: just takes its own sweet time to get going. Even on the highway, ambling about calmly at 80-100kmph will see the Aura in its element. No drama, no fuss, just gets the job done.
1.2-litre Diesel

Compared to the motor on the Xcent, this engine has taken a step back in terms of refinement. Blame this on the reworking required for the small engine to meet stringent BS6 emission norms. Vibrations can be felt on the dashboard, doorpads and even a slight buzz in the floor. You'd also notice that the retuned engine has a stronger pick-up compared to the old one. When the turbo kicks in, it's a wee bit stronger than before.
That's not to say it has lost its easy to drive nature. We think it's among the most versatile small diesel engines you could buy. It doesn't tire you out by asking for frequent gear changes inside the city. And on the highway, it's at considerably more ease compared to the petrol. If you see yourself shuttling between cities often for a meeting or to meet family over the weekend, consider the diesel.
Driving the AMTs
Both the 1.2-litre engines are available with a 5-speed AMT. And, as far as AMTs go - it's among the best you'd experience. The shifts are smooth, with next to no head nod. Of course, the caveat here is that you'd have to be gentle on the throttle. If you aren't, you'd notice a lag between shifts when the gearbox holds the gear right up to the redline.

There's a manual mode too that you can call upon by pulling the gear lever towards yourself. Shifts aren't any quicker in this mode, it simply offers a greater degree of control.
1.0-litre Turbo Petrol

Let's clear up one thing: the Aura turbo-petrol isn't a Tigor JTP equivalent. It's not an outright sporty small sedan. That's a bit of a shame considering the engine does succeed in putting a grin on your face.
The motor is borrowed from the Venue, but the 6-speed gearbox isn't. It is quite a versatile engine that lets you pull from double to triple digits in third gear itself. The kick of torque is addictive, and you'll have some fun picking gaps in traffic on the highway. However, it's not an engine that enjoys being revved all the way to the redline. Progress isn't as brisk once you are above the 4000rpm mark, so you might as well shift up.
Thankfully, the engine is easy to drive inside the city too. It doesn't feel bogged down or annoyingly lurchy in stop and go traffic. There's enough power for you to stay in either first or second for an entire office commute. From the lot, it's this engine that's our favourite. It takes a little bit of the petrol motor's refinement and blends it with a little bit of torque from the diesel. Just right for whatever you'd expect from it.
Ride and Handling

Expectedly, the Aura is supremely easy to drive. The slender A-pillars, the large windscreen and the tall-ish seating position mean you'd get used to the car's size in no time. There's no learning curve here, so the Aura can realistically be your first car if need be.

Its super-light steering inspires confidence inside the city. Even while parking it in a tight spot, you'd require very little effort. Thankfully, like most new-age Hyundais the steering on the Aura weighs up enough for you to be relaxed doing highway speeds too. Around the corners, only someone hellbent on extracting fun would complain about the lack of feedback. For everyone else, the steering is quick and precise enough.

The Aura's ride is tuned towards outright comfort. But it isn't all perfect. You'd feel the broken and uneven surfaces through the floor. However, larger bumps and potholes are kept well in check. If you're driving solo, or just with a single passenger, you'd be really comfortable at the front.

However, at the rear, it tends to get a bit bouncy and a bit floaty. Rear passengers would bob around for a bit before the cabin settles back to a smooth ride. This is noticeable especially when you're running full load on the highway, and go over an expansion joint or witness a minor change in road level.
If it were up to us, we'd use the Aura Turbo's steering and suspension setup across the range. The suspension on the turbo variant doesn't compromise much on comfort, but feels noticeably better in terms of stability. After you encounter an undulation, the rear end doesn't bounce about as much either. The steering is marginally quicker to respond to inputs too.
Variants

Hyundai offers a total of 12 variants, spread across three engines and two gearbox options. The variants are: E, S, SX, SX+ and SX (O). Notably, not all engines and gearboxes are available across all variants. If you want the petrol-manual, you can have it in any trim; whereas the petrol-AMT is available only in the S and SX+ grade. The diesel engine can be had with a manual in the S and SX (O) variants, and in the S / SX+ variants with an AMT. The turbo petrol is available only in the SX+ variant.
The E variant can be given a skip altogether. If you're on a budget, the S variant will tick all the basics for you. You could choose to add a touchscreen or alloy wheels to this variant to jazz it up a bit. The SX+ / SX (O) offer all the bells and whistles imaginable and are the one to pick if budget isn't a constraint.
Verdict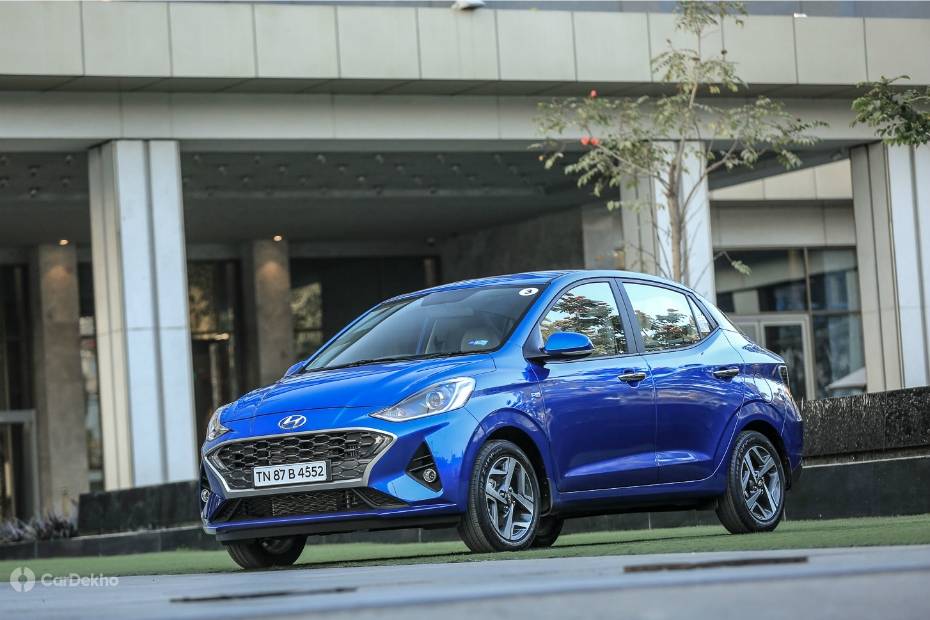 Like Maruti Suzuki did with the Dzire, Hyundai could've chosen to offer a better rear-seat experience in the Aura. That would've also tackled the Aura's biggest bugbears: that of width and rear-seat headroom. That's not to say the rear seat is cramped. The baby sedan is still plenty comfortable for four adults, and there's generous bootspace to be had too.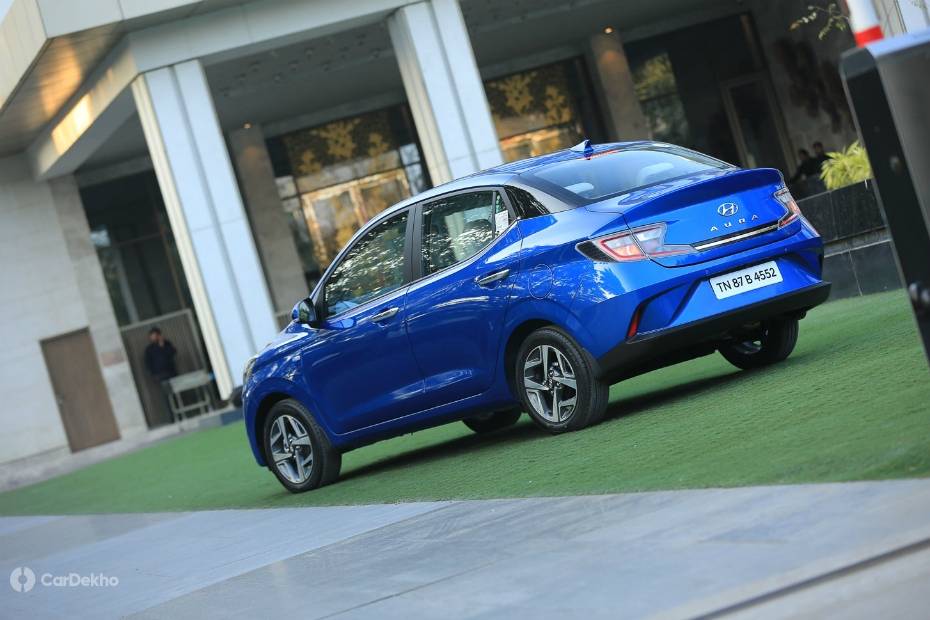 It's got a drivetrain for everyone: the occasional user, the city commuter, the highway mile-muncher and the fun-seeker. Yes, the turbo variant isn't your shortcut to petrolhead paradise, but it does enough to plaster a smile on your face. Traditional Hyundai strong points, including a strong feature list, premium quality and a well-built, well-finished cabin, are all in place too.
This Hyundai also offers solid value for money in the mid-spec 'S' variant, and the top-spec SX (O) is arguably the most feature-rich compact sedan on sale today. The unique warranty plan lets you choose between 3 years / 100,000km, 4 years / 50,000km and 5 years / 40,000km; ensuring peace of mind.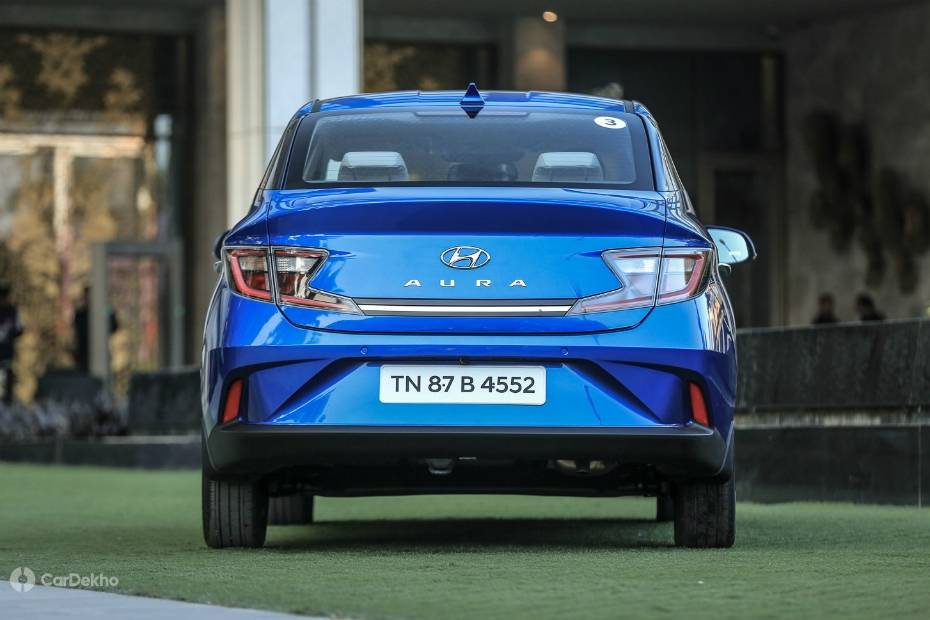 While the Aura may not have a flavour that's distinct from the hatchback it is based on - it definitely gives you more reasons to consider it.
Pros & Cons of Hyundai Aura 2020-2023
CarDekho Experts:
While the Aura may not have a flavour that's distinct from the hatchback it is based on - it definitely gives you more reasons to consider it.
Things We Like
Segment best feature list - wireless charging, projector foglamps, cruise control - gets everything!
Interior quality feels on par with cars from a segment above.
Multiple engine-gearbox-fuel options to choose from. Take your pick.
Things We Don't Like
Strict four-seater, seating five will be a stretch.
Diesel engine not as refined as earlier.
Silly misses: adjustable front headrests, backlit switches, front armrest.
Stand Out Features
1.0-litre turbo petrol blends fun and everyday usability.

8-inch touchscreen is the largest in class, and easily among the best.

Wireless charging is unique to the Aura.
Specification of Hyundai Aura 2020-2023
| | |
| --- | --- |
| ARAI Mileage | 20.5 kmpl |
| City Mileage | 14.0 kmpl |
| Secondary Fuel Type | CNG |
| Fuel Type | Petrol |
| Engine Displacement (cc) | 1197 |
| No. of cylinder | 4 |
| Max Power (bhp@rpm) | 81.86bhp@6000rpm |
| Max Torque (nm@rpm) | 113.8nm@4000rpm |
| Seating Capacity | 5 |
| TransmissionType | Manual |
| Fuel Tank Capacity | 37.0 |
| Body Type | Sedan |
Hyundai Aura 2020-2023 User Reviews
All (275)
Looks (98)
Comfort (122)
Mileage (81)
Engine (46)
Interior (61)
Space (32)
Price (48)
More ...
LATEST
HELPFUL
VERIFIED
CRITICAL
The all-new Hyundai Aura was launched in the market on 23rd January. I was excited and looking forward to its launch. The Hyundai Aura has always been the best in the seg...Read More

Pros: 1. Excellent music system (Before buying the car I planned to fit the JBL subwoofer in the car). After hearing the music's clarity and bass I was surprised that the...Read More

I bought Hyundai Aura last year in exchange for an old car. Hyundai sales reps are excellent. I've driven the car for over ten months, mainly in the city and on the highw...Read More

The Hyundai Aura has the same definition and same looks as the Hyundai sedan compact car. In the front, the chrome grille effects add definition, but it is quite small to...Read More

I've purchased many cars over the years - Jon is by far the most accessible and knowledgeable person to work with. His passion is the car industry and it shows - he doesn...Read More

View All Aura 2020-2023 Reviews
Hyundai Aura 2020-2023 Latest Update
Price: The sedan costs between Rs 6.09 lakh and Rs 8.87 lakh (ex-showroom Delhi).
Variants: It is offered in five trims: E, S, SX, SX+ and SX (O).
Engine and Transmission: Hyundai's sub-4-metre sedan is available with two engines: a 1.2-litre unit (producing 83PS and 114Nm) and a 1-litre turbocharged one (100PS and 172Nm). The former is paired with a five-speed manual transmission and an optional AMT, whilst the latter is paired with a five-speed manual transmission. The 1.2-litre petrol engine is also available with a factory-fitted CNG kit on the 'S' and 'SX' models.
Features: It comes with an eight-inch touchscreen infotainment system with Android Auto and Apple CarPlay, a wireless phone charger, auto climate control, a height-adjustable driver seat and cruise control.
Safety: Its safety net includes dual front airbags, ISOFIX child-seat anchorages and rear parking sensors.
Rivals: The Hyundai Aura goes up against the Maruti Suzuki Dzire, Honda Amaze and Tata Tigor.
2023 Hyundai Aura: Hyundai has unveiled the facelifted Aura and commenced bookings for the updated sedan for Rs 11,000.
Read More
Must read articles before buying Hyundai Aura 2020-2023
Hyundai Aura 2020-2023 Videos
Hyundai Aura 2020-2023 2023 has 1 video of its detailed review, pros & cons, comparison & variant explained,test drive experience, features, specs, interior & exterior details and more. Watch our Latest Hindi video of Hyundai Aura 2020-2023 to know price, safety features & more.
6:30

Hyundai Aura | Grander than the Nios | Powerdrift

Apr 19, 2020
Hyundai Aura 2020-2023 Images

Hyundai Aura 2020-2023 Mileage
The claimed ARAI mileage: Hyundai Aura 2020-2023 Diesel is 25.35 kmpl | Hyundai Aura 2020-2023 Petrol is 20.5 kmpl | Hyundai Aura 2020-2023 CNG is 28.0 km/kg.The claimed ARAI mileage for the automatic variants: Hyundai Aura 2020-2023 Diesel is 25.4 kmpl | Hyundai Aura 2020-2023 Petrol is 20.1 kmpl.
| Fuel Type | Transmission | ARAI Mileage |
| --- | --- | --- |
| Diesel | Automatic | 25.4 kmpl |
| Diesel | Manual | 25.35 kmpl |
| Petrol | Manual | 20.5 kmpl |
| Petrol | Automatic | 20.1 kmpl |
| CNG | Manual | 28.0 km/kg |
Hyundai Aura 2020-2023 News

Are you Confused?
Ask anything & get answer in 48 hours
*Ex-showroom price in New Delhi
×
We need your city to customize your experience