Ford Aspire
Change car
Rs.5.21 - 9.10 Lakh*
This car model has expired
Key Specs of Ford Aspire
| | |
| --- | --- |
| Engine | 1194 cc - 1499 cc |
| BHP | 86.8 - 121.0 Bhp |
| Transmission | Manual/Automatic |
| Mileage | 16.3 - 26.1 kmpl |
| Fuel | Petrol/Diesel/CNG |
| Boot Space | 359-litres L (Liters) |
Explore Price of Aspire Alternatives

Ford Aspire price list (Variants)
Aspire 1.2 Ti-VCT Ambiente1196 cc, Manual, Petrol, 18.16 kmplEXPIRED1 Month waiting
Rs.5.21 Lakh*
 
Aspire 1.2 Ti-VCT Ambiente ABS1196 cc, Manual, Petrol, 18.16 kmplEXPIRED1 Month waiting
Rs.5.52 Lakh*
 
Aspire 1.2 Ti-VCT Trend1196 cc, Manual, Petrol, 18.16 kmplEXPIRED1 Month waiting
Rs.5.94 Lakh*
 
Aspire Ambiente BSIV1194 cc, Manual, Petrol, 20.4 kmplEXPIRED1 Month waiting
Rs.5.99 Lakh*
 
Aspire Ambiente1194 cc, Manual, Petrol, 18.5 kmplEXPIRED2 months waiting
Rs.6.09 Lakh*
 
Aspire 1.5 TDCi Ambiente ABS1498 cc, Manual, Diesel, 25.83 kmplEXPIRED1 Month waiting
Rs.6.20 Lakh*
 
Aspire Ambiente CNG1194 cc, Manual, CNG, 20.4 km/kgEXPIRED1 Month waiting
Rs.6.27 Lakh*
 
Aspire 1.5 TDCi Ambiente1498 cc, Manual, Diesel, 25.83 kmplEXPIRED1 Month waiting
Rs.6.31 Lakh*
 
Aspire 1.2 Ti-VCT Titanium Opt1196 cc, Manual, Petrol, 18.16 kmplEXPIRED1 Month waiting
Rs.6.36 Lakh*
 
Aspire 1.2 Ti-VCT Sports Edition1196 cc, Manual, Petrol, 18.12 kmplEXPIRED1 Month waiting
Rs.6.50 Lakh*
 
Aspire Trend BSIV1194 cc, Manual, Petrol, 20.4 kmplEXPIRED1 Month waiting
Rs.6.63 Lakh*
 
Aspire Trend1194 cc, Manual, Petrol, 18.5 kmplEXPIRED
Rs.6.69 Lakh*
 
Aspire 1.2 Ti-VCT Titanium Plus1196 cc, Manual, Petrol, 18.16 kmplEXPIRED1 Month waiting
Rs.6.80 Lakh*
 
Aspire 1.2 Ti-VCT Titanium1196 cc, Manual, Petrol, 18.16 kmplEXPIRED1 Month waiting
Rs.6.83 Lakh*
 
Aspire Trend Plus1194 cc, Manual, Petrol, 20.4 kmplEXPIRED1 Month waiting
Rs.6.97 Lakh*
 
Aspire Ambiente Diesel1498 cc, Manual, Diesel, 26.1 kmplEXPIRED1 Month waiting
Rs.6.99 Lakh*
 
Aspire 1.5 TDCi Trend1498 cc, Manual, Diesel, 25.83 kmplEXPIRED1 Month waiting
Rs.7.04 Lakh*
 
Aspire Titanium BSIV1194 cc, Manual, Petrol, 19.4 kmplEXPIRED1 Month waiting
Rs.7.09 Lakh*
 
Aspire Trend Plus CNG1194 cc, Manual, CNG, 20.4 km/kgEXPIRED1 Month waiting
Rs.7.12 Lakh*
 
Aspire Titanium1194 cc, Manual, Petrol, 18.5 kmplEXPIRED
Rs.7.28 Lakh*
 
Aspire Trend Diesel BSIV1498 cc, Manual, Diesel, 26.1 kmplEXPIRED1 Month waiting
Rs.7.37 Lakh*
 
Aspire Titanium Plus BSIV1194 cc, Manual, Petrol, 19.4 kmplEXPIRED1 Month waiting
Rs.7.44 Lakh*
 
Aspire 1.5 TDCi Titanium Opt1498 cc, Manual, Diesel, 25.83 kmplEXPIRED1 Month waiting
Rs.7.46 Lakh*
 
Aspire 1.5 TDCi Sports Edition1498 cc, Manual, Diesel, 24.29 kmplEXPIRED1 Month waiting
Rs.7.60 Lakh*
 
Aspire Titanium Blu1194 cc, Manual, Petrol, 20.4 kmplEXPIRED1 Month waiting
Rs.7.62 Lakh*
 
Aspire Titanium Plus1194 cc, Manual, Petrol, 18.5 kmplEXPIRED
Rs.7.63 Lakh*
 
Aspire Trend Plus Diesel1498 cc, Manual, Diesel, 26.1 kmplEXPIRED1 Month waiting
Rs.7.77 Lakh*
 
Aspire Trend Diesel1499 cc, Manual, Diesel, 24.4 kmplEXPIRED
Rs.7.79 Lakh*
 
Aspire 1.5 TDCi Titanium Plus1498 cc, Manual, Diesel, 25.83 kmplEXPIRED1 Month waiting
Rs.7.90 Lakh*
 
Aspire 1.5 TDCi Titanium1498 cc, Manual, Diesel, 25.83 kmplEXPIRED1 Month waiting
Rs.7.93 Lakh*
 
Aspire Titanium Diesel BSIV1498 cc, Manual, Diesel, 26.1 kmplEXPIRED
Rs.7.99 Lakh*
 
Aspire 1.5 Ti-VCT Titanium1499 cc, Automatic, Petrol, 17.01 kmplEXPIRED1 Month waiting
Rs.8.13 Lakh*
 
Aspire Titanium Plus Diesel BSIV1498 cc, Manual, Diesel, 26.1 kmplEXPIRED1 Month waiting
Rs.8.34 Lakh*
 
Aspire Titanium Diesel1499 cc, Manual, Diesel, 24.4 kmplEXPIRED
Rs.8.38 Lakh*
 
Aspire Titanium Blu Diesel1498 cc, Manual, Diesel, 25.5 kmplEXPIRED1 Month waiting
Rs.8.42 Lakh*
 
Aspire Titanium Plus Diesel1499 cc, Manual, Diesel, 24.4 kmplEXPIRED
Rs.8.73 Lakh*
 
Aspire Titanium Automatic1497 cc, Automatic, Petrol, 16.3 kmplEXPIRED2 months waiting
Rs.9.10 Lakh*
 
View All Variants
Ford Aspire Review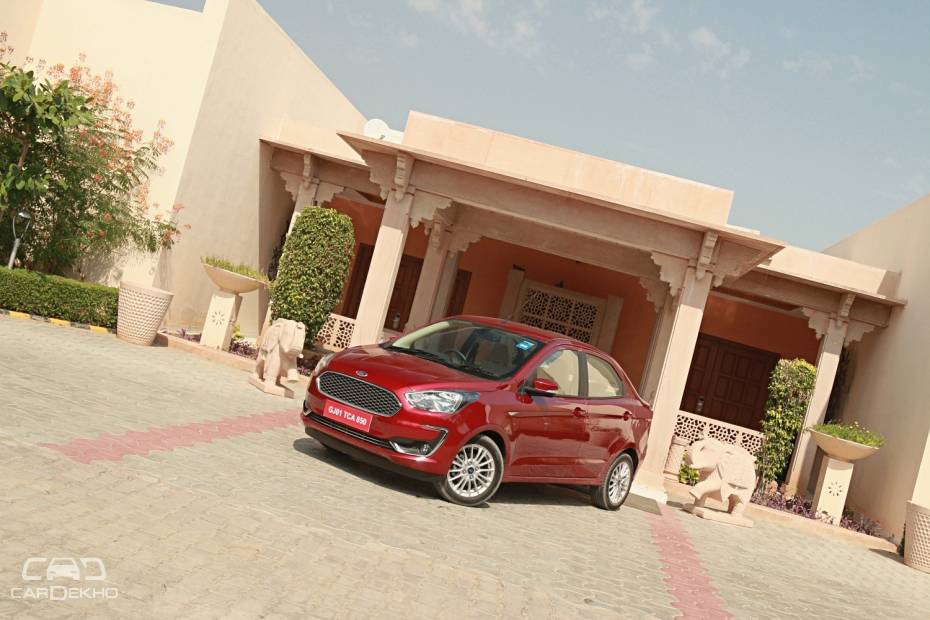 Comfortable, spacious and presentable, Ford's Aspire has a lot going for it. However, it lacked competent petrol engines and the features list felt dated vs the newer competition. Now, though, it has received some significant updates to make the petrol Aspire more appealing and the tech package more compelling.
Does the new petrol engine finally make the Aspire petrol an option worth considering? And with the market again shifting towards petrol, has Ford played it smart by giving importance to petrol engines again?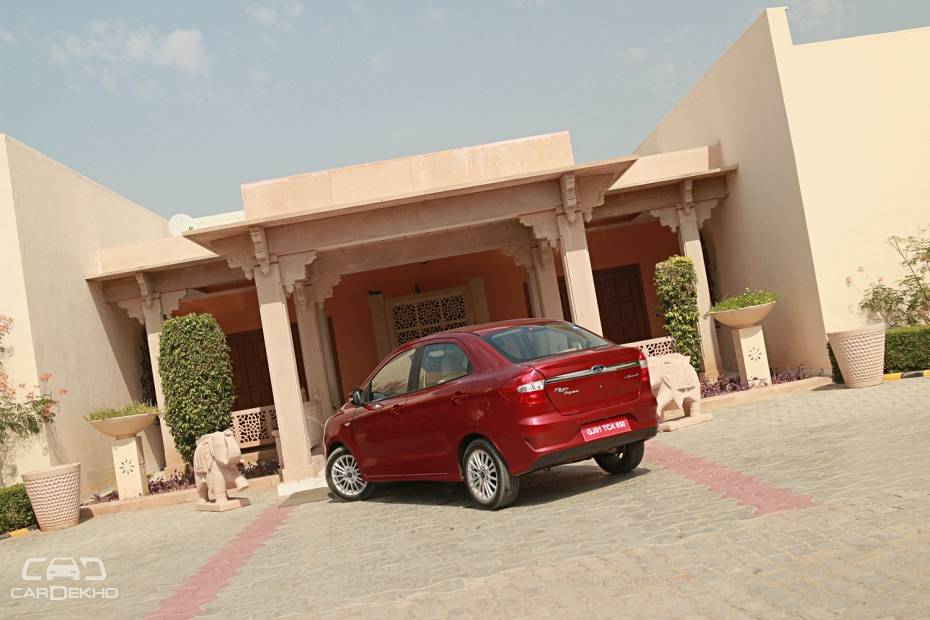 Exterior

The 2018 Ford Aspire is an updated version of the car it replaces. The headlamps are similar to the ones we've seen on the freestyle. The silver headlamp surrounds have been binned in favour of a smoked finish. There's a generous amount of chrome on the front grille which is now sleeker and features a honeycomb-type pattern. And then, thanks to some more chrome on the bumper, the car looks more premium. But we think, going by its sporty nature, an all-black grille would've worked better. Overall, the proportions are the same and the familiarity does work in the car's favour. At the rear, it gets updated taillamps with revised detailing and a redesigned bumper.

It also gets 15-inch wheels compared to 14-inch ones of the old car. These, however, are available with the Titanium variants only. The 15-inch wheels do add a bit of muscle to the car and give it a more upmarket appeal.

Exterior Comparison
Honda Amaze
Hyundai Xcent
Length (mm)
3995mm
3995mm
Width (mm)
1695
1660mm
Height (mm)
1498-1501
1520mm
Ground Clearance (mm)
165mm
Wheel Base (mm)
2470
2425mm
Kerb Weight (kg)
1012-1051
1160
Boot Space Comparison
Honda Amaze
Hyundai Xcent
Volume
420
407
Interior

The cabin, though not heavily updated, does get some new nifty features. The variant we drove was the top-of-the-line Titanium+ trim which now gets the new SYNC3 touchscreen infotainment system along with rain-sensing wipers and automatic headlamps. Buyers will be happy to note that Ford offers a touchscreen infotainment system and climate control from the Trend+ variant onwards. But SYNC3 is reserved for the Titanium+ variant only. The Titanium+ also gets two USB ports, while only one is offered from Ambiente to Titanium. In terms of safety, dual front airbags, ABS with EBD and rear parking sensors are offered as standard.

The SYNC3 system works seamlessly and features Android Auto and Apple CarPlay. The touch is intuitive and the touch interface, coupled with physical buttons makes it relatively easier to operate while driving. Front seats are comfortable and offer better lumbar support than before. There is ample room in the rear to seat two adults in comfort and you now get adjustable headrests as standard too.

However, anyone over six feet in height will feel constrained for headroom and the narrow footwells up front also can be an issue for taller occupants, especially on the passenger side. The reason for that is the larger AC compressor that takes up quite a bit of room up front, eating into the footwell width. There are also no rear door pockets which are a big miss. On the bright side however, you do get a manically powerful AC which negates the need for rear AC vents.

Safety
On the safety front, the Figo Aspire is the only compact sedan to get 6 airbags in the top-spec Titanium+ variant. Dual airbags are standard across the range. It also gets ABS with EBD; and with the automatic, the Ford is equipped with hill-launch assist, traction control and ESP as well.

Performance

The biggest change in the updated Aspire are the new petrol powertrains. Ford's compact sedan now comes with the Dragon series petrol engines. The 1.5-litre TDCi diesel engine has been carried forward as is. So we will be focusing more on the new petrol powertrains.

The Dragon series 1.2- and 1.5-litre petrol engines have been carried over from the Freestyle and the EcoSport. The 1.5-litre engine makes 123PS of power and 150Nm of torque but it's available with the 6-speed AT gearbox only. The 2018 Ford Aspire facelift we drove had the 1.2-litre 3-cylinder petrol engine that produces 96PS of max power and 120Nm of torque, which makes it one of the most powerful engines in its class. It is mated to a new Getrag 5-speed gearbox which, according to Ford, assists in providing a better fuel economy than before.

Although, it does need to be revved if you want to have fun, but the sweet spot lies just above 3000rpm that is not only approachable but also more forgiving on the consumption front. You only need to rev it all the way up to 6000rpm if you really intend to test the limits of the vehicle. At sedate speeds, it is equally well mannered and there is ample torque available to perform quick overtaking manoeuvres.
This is a major improvement compared to the old 1.2-litre engine that had to be revved hard even at low-medium speeds for overtakes. While it isn't as peppy as the Dzire petrol, it does come close. 0-100kmph takes 12.01 seconds vs the Dzire's 11.88s. Even in the climb from 30-80kmph, the Aspire petrol takes 11.47 seconds vs the Dzire's 10.39 seconds. That said, the Aspire doesn't feel as engaging to drive as the Freestyle. The gearing is set on the taller side, so acceleration isn't as brisk. This has been done in the interest of fuel efficiency and has worked. With a tested mileage of 15.92kmpl in city, it marginally betters the already frugal Dzire (15.85kmpl) but falls behind on the highway at 19.52kmpl vs the Dzire petrol's 20.90kmpl. The end result? The Ford Aspire is no longer a diesel-only pick.
The 5-speed gearbox itself is a treat to use. The shifts are precise and the clutch is light. Third gear again, like for the diesel, is the car's sweet spot where it can pull from 20kmph to 120kmph with ease.

The 1.5-litre diesel, on the other hand, makes a sprightly 100PS of max power and 215Nm of torque. This engine gets a new Getrag 5-speed gearbox too. Let's talk about the diesel first. It retains its punchy nature and accelerates like a bullet as soon as the needle goes past the 1800rpm mark. Its acceleration is relentless and the 215Nm of torque makes itself felt in more ways than one. You can be in any gear and a gentle push on the throttle is all that's needed to propel the car forward. Out on the highway, you can leave it in 5th and not worry about shifting down even if the speed drops to the lower fifties. You can also power out of corners in a gear higher than you normally would and the Aspire always responds with a bucketful of torque

The new Getrag transmission feels light and precise. Effort while shifting is minimal, though you do need to get used to the collar for putting into reverse. It is at its most versatile in third as it will pull from 30 to 110kmph with ease. It is equally comfortable sitting at triple-digit speeds and a dab of the right foot is enough to perform even the most unplanned of overtaking manoeuvres. It is still a treat to drive with ample torque at your disposal.

Ride and handling

Simply put, the ride is a considerable improvement over the old car. The upsized wheels on the Titanium do help in gliding over bumps. Both the petrol and diesel variants feel planted most of the time. All undulations are tackled with ease and there is little that can upset them. Even the rougher sections of road will pose little threat to the balanced suspension setup of the Aspire.

There are a few niggles though, the footwell feels a bit vibey, especially north of 80kmph. The rear feels a bit floaty at high speeds as well. The feeling is not intrusive or a deal breaker but it is present. There is a fair amount of tyre noise too that tends to creep into the cabin. This becomes especially prominent on rough tarmac, so state highways can be a noisy affair. In addition, you feel the vibe rather than hear them. Although, music does provide a good distraction.

The steering on both cars is quite sharp and precise. Turn ins are precise and you have decent feel from the tyres as well. The petrol, though, feels lighter than the diesel to chuck into corners. The driving experience overall is quite lively and a rare mix of a good ride and fun driving dynamics.

Performance Comparison (Diesel)
Honda Amaze
Hyundai Xcent
Power
97.89bhp@3600rpm
73.97bhp@4000rpm
Torque (Nm)
200Nm@1750rpm
190.25nm@1750-2250rpm
Engine Displacement (cc)
1498 cc
1186 cc
Transmission
Manual
Manual
Top Speed (kmph)
156 Kmph
0-100 Acceleration (sec)
Kerb Weight (kg)
1012-1051
1160
Fuel Efficiency (ARAI)
24.7kmpl
25.4kmpl
Power Weight Ratio
-
-
Performance Comparison (Petrol)
Hyundai Xcent
Maruti Dzire
Power
81.86bhp@6000rpm
88.50bhp@6000rpm
Torque (Nm)
113.75nm@4000rpm
113Nm@4400rpm
Engine Displacement (cc)
1197 cc
1197 cc
Transmission
Manual
Manual
Top Speed (kmph)
172 Kmph
-
0-100 Acceleration (sec)
-
Kerb Weight (kg)
1160
880-915
Fuel Efficiency (ARAI)
20.14kmpl
22.41kmpl
Power Weight Ratio
-
-
Variants
The Figo Aspire is offered in a total of 4 variants. The base variant is a no-frills version, but does get the essentials such as air-conditioning and dual airbags covered. The Ambiente variant also gets front power windows, rear fog lamps and auto-locking doors. If you are on an absolute budget, pick the Ambiente since it has a basic safety net in place, save for ABS.
The Trend variant gets some good features like front fog lamps, electrically adjustable wing mirrors and a 4-speaker audio system with steering mounted controls. It also gets indicators on the wing-mirrors and rear power windows.
The Titanium spec adds ABS with EBD, alloy wheels, a height-adjustable driver's seat, power folding ORVMs and in the automatic version, gets ESP, HLA and traction control too. The top-spec Titanium+ variant is fully-loaded, getting goodies such as a side and curtain airbags, a 4.2-inch screen for the music system and voice commands as well.
Verdict
The Aspire diesel was preferred over the petrol for its exciting driving dynamics. But with the new 1.2-litre petrol, Ford has truly multiplied Aspire's abilities as it now delivers the Ford experience while keeping everyday needs firmly in focus. Moreover, no other car in its segment offers a petrol engine that is as powerful. Its main rival, the Maruti Suzuki Dzire makes 83PS compared to the Aspire's 96PS. The K-series trumps Aspire's TiVCT in terms of refinement. But, Aspire offers a strong mid-range (2500-3000rpm) whereas Dzire relies on top end power (4000-6000rpm). It is also engaging and fun to drive.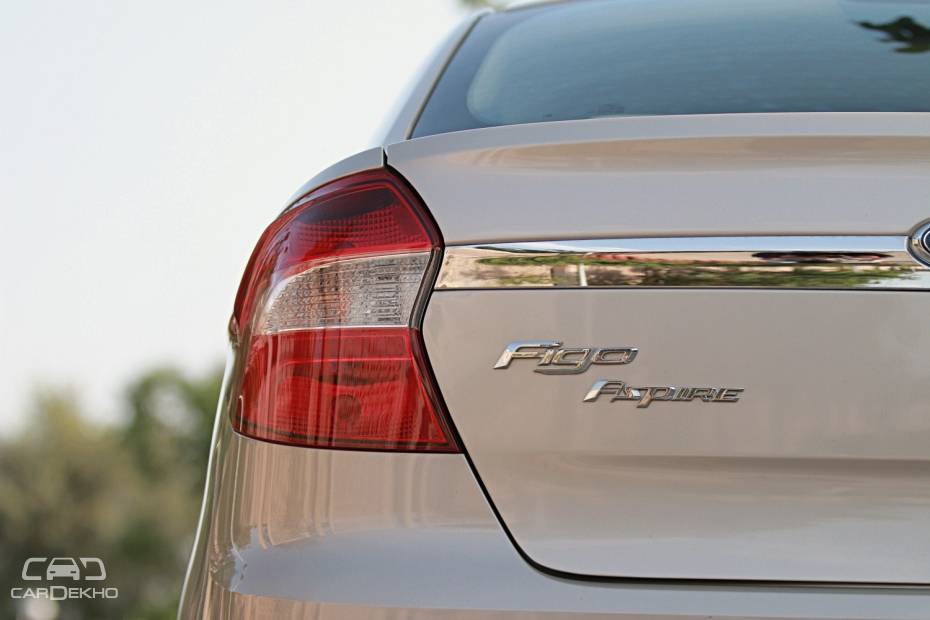 Yes, it doesn't offer the bragging rights of DRLs and projector headlamps but provides all that matters. You get a touchscreen infotainment system and climate control Trend+ onwards, along with ABS, dual airbags and rear parking sensors as standard. In the top-end variant it gets side and curtain airbags, SYNC3 (easily the best infotainment system in its segment) and a reversing camera. Plus, you get a car that can be a breeze to drive in the city and is fun in the corners. And with a starting price of Rs 5.55 lakh (ex-showroom Delhi), the Aspire is lighter on the pocket than the outgoing model. The pricing of the petrol Trend+ variant is similar to the older Trend variant and the new Trend+ is a massive step up from it.
Pros & Cons of Ford Aspire Car
Things We Like
Comfortable ride quality gobbles up potholes and broken surfaces
Well-loaded lower variants. You don't need to spend big bucks to get a well-loaded car
Clutch, steering and gear action is light. Makes it super easy to drive inside the city
Punchy diesel engine is sure to put a smile on your face. Among the most fun to drive small sedans
Things We Don't Like
Headroom continues to be an issue, especially for those around 6ft tall
Missing features such as projector headlamps, daytime running lamps, leather-wrapped steering wheel
No top-spec petrol automatic on offer. No diesel-auto combo either
Stand Out Features
 Emergency assist: In case of a mishap, the SYNC 3 system automatically sends your GPS location to emergency services through a connected smartphone. 

6.5-inch touchscreen is among the best in class. Easy to use, snappy response and great clarity. 

Side and curtain airbags are exclusive to the Aspire in this segment. 
Specification of Ford Aspire
| | |
| --- | --- |
| ARAI Mileage | 18.16 kmpl |
| Fuel Type | Petrol |
| Engine Displacement (cc) | 1196 |
| No. of cylinder | 4 |
| Max Power (bhp@rpm) | 86.8bhp@6300rpm |
| Max Torque (nm@rpm) | 112Nm@4000rpm |
| Seating Capacity | 5 |
| TransmissionType | Manual |
| Boot Space (Litres) | 359 re |
| Fuel Tank Capacity | 42.0 |
| Body Type | Sedan |
| Ground Clearance Unladen | 174mm |
Ford Aspire Car News & Updates
Latest News
Must Read Articles
Ford Aspire User Reviews
All (832)
Looks (119)
Comfort (211)
Mileage (234)
Engine (154)
Interior (91)
Space (83)
Price (77)
More ...
LATEST
HELPFUL
VERIFIED
CRITICAL
I bought Aspire diesel on Jan 21 after selling my Scorpio. I experienced the best pick up and very good mileage 26 kmpl on the highway and 18kmpl in the market.

Power and Acceleration are brilliant. Handling gives you confidence. You don't need a touch screen or Multiplex in this car, because you can just enjoy the drive.

Exalent comfort and good mileage, safty also good. Maintenance ls ok, very low prise. Esay drive. Super budjet car.

Good car with a better price range of the ford, comfort, and stylish, mileage is somewhat ok, still more

New Ford aspires titanium plus petrol May 2021 highway mileage of10 to 11km. Will, it increases or not.
Ford Aspire Car Latest Update
Latest Update: Ford has announced that it will stop production of its locally sold models. That said, the current lineup of Ford will be on sale till stocks last and the company will continue to offer support to existing Ford car owners.
Ford Aspire Price: It is priced from Rs 7.28 lakh to Rs 8.73 lakh (ex-showroom, Delhi).
Ford Aspire Variants: The Aspire is sold in two trims: Titanium and Titanium+.
Ford Aspire Engine and Transmission: It is powered by 1.2-litre petrol (96PS/119Nm) and 1.5-litre diesel (100PS/215Nm) engines. Both are only available with a 5-speed manual. Mileage figures are 18.5kmpl for the petrol and 24.4kmpl for the diesel.
Ford Aspire Features: The Aspire gets auto headlamps, auto-dimming IRVM, rain-sensing wipers, Ford Pass connected car tech, and push-button start/stop.
Ford Aspire Safety: Ford has equipped it with up to six airbags, ABS with EBD, and rear parking sensors.
Ford Aspire Rivals: It rivals the Maruti Suzuki Dzire, Honda Amaze, Tata Tigor, and Hyundai Aura.
Read More
Ford Aspire Videos
Ford Aspire 2023 has 2 video of its detailed review, pros & cons, comparison & variant explained,test drive experience, features, specs, interior & exterior details and more. Watch our Latest Hindi video of Ford Aspire to know price, safety features & more.
4:35

2018 Ford Aspire Facelift: Pros, Cons and Should You Buy One? | CarDekho.com

Nov 06, 2018 | 14016 Views

11:29

Maruti Dzire Vs Honda Amaze Vs Ford Aspire: Comparison Review | CarDekho.com

Jan 09, 2019 | 22251 Views

Ford Aspire Mileage
The claimed ARAI mileage: Ford Aspire Diesel is 26.1 kmpl | Ford Aspire Petrol is 20.4 kmpl | Ford Aspire CNG is 20.4 km/kg.The claimed ARAI mileage for the automatic variants: Ford Aspire Petrol is 17.01 kmpl.
| Fuel Type | Transmission | ARAI Mileage |
| --- | --- | --- |
| Diesel | Manual | 26.1 kmpl |
| Petrol | Manual | 20.4 kmpl |
| Petrol | Automatic | 17.01 kmpl |
| CNG | Manual | 20.4 km/kg |
Found what you were looking for?

Are you Confused?
Ask anything & get answer in 48 hours
*Ex-showroom price in New Delhi
×
We need your city to customize your experience