Top Police Supercars Around the World
Modified On Oct 20, 2015 12:40 PM By Firdaus
We all drool over supercars and wish to own them or to say the least wish to have an opportunity to drive them once in our lifetime. But what if your job was to drive these supercars and all for a good cause? The good cause being catching law offenders; sounds like a plot from a Hollywood movie right? Well wrong, if you thought that fast cars used by cops were only restricted to movies, you're wrong. There are quite a few police forces around the globe which use supercars in their fleet to catch criminals, especially the speeding ones. While these supercars are used to chase the bad guys, they are also used to promote tourism in their respective countries and cities. Here are a few Police forces and their superfast and super expensive steeds
New South Wales, Australia – Porsche 911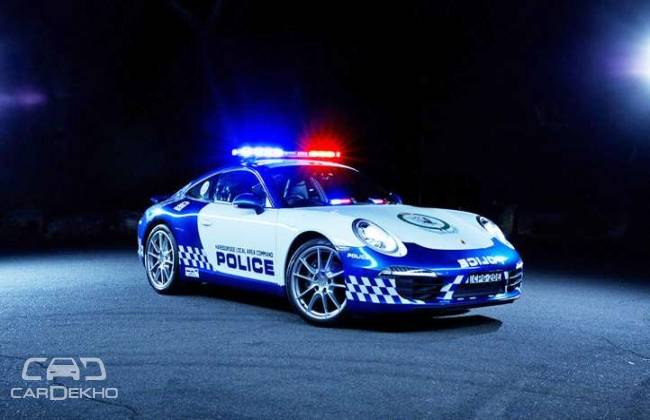 The Porsche 911 is one of the fastest and most agile cars on the planet, so it's no doubt the New South Wales police force has one in its fleet. Featuring a 3.4 litre flat six engine that churns out 350bhp of power with 389 Nm of torque, this 911 come with full livery of blue and white, along with the police beacon.

The car is extremely eye catching and once you spot this one in your rear view mirror, it's best to give up any thoughts of out-running it, unless you're in a machine much faster than this one.
US Police force - Dodge Charger Pursuit

Each year the United States Police force adds a fleet of Dodge Charger Pursuits in its entourage taking the appeal of cops with sexy cars a tad bit higher. This macho machine comes with a 5.7 litre V8 Hemi engine dishing out 375 bhp of power and comes with reworked suspensions and a reinforced chassis to enable it to take the beating it might have to endure during hot pursuits. As you can see, the black and white livery with the blue, red beacons just takes the hotness quotient of this charger notches higher.
Italian Polizia – Lamborghini Huracan

It would be really unfair if the country that manufactures a supercar, didn't have one in its polizia. As you must have guessed we're talking about Italy and Lamborghini! Yes, the Italian Polizia have inducted the baby Lambo- aka the Huracan in their fleet. With its 5.2 litre V10 engine and 610 bhp of power, you know you can't outrun this car, well, unless you're in the Aventador. We think it's apt they have a supercar in their force – I mean look at the number of Lamborghinis that run on Italy's streets, and given their roads, we're sure they don't always stick to the speed limit. Dubai Police Force – Ferrari FF

If anyone even randomly asks "Tell me one police force which has a supercar in its fleet" Dubai, that's the immediate answer that will pop in your head. The Dubai police force doesn't have one, but 15 supercars in its fleet and they just keep adding each time an exotic is launched. It is obvious they would have such a high number of supercars in their fleet, given the number of supercars one sees in Dubai, and we assure you, not all these cars follow the speed limits at all times. There is a separate department of cops who drive these cars called the 'Luxurious Super Patrol'. The Dubai police use these cars to promote the services of the department amongst Emiratis and to attract new recruits. It has also helped them attract quite a bit of tourism. Here is a list of Supercars in the Dubai Police Force
Ferrari FF: This four seater Ferrari makes more sense than the Aventador as you can put the offenders in the back seat. Its 6.2 litre V12 engine dishes out 650hp, easily touching a top speed of 332kmph. The standard thing about all these cars is they come with the white and green livery.
Lamborghini Aventador: It wouldn't be fair on the cops if they didn't have an Aventador in their fleet. I mean how would you catch the other Aventadors if you weren't driving one? Makes sense, right? The Aventador has a 6.5 litre V12 engine that dishes out 690 bhp of power and 689 Nm of torque. The only thing faster than this one will be the Bugatti Veyron!
Mercedes G-Class Brabus 700 Widestar: The choice of vehicle for his daily use by the ruler of Dubai, it is obvious the G Wagon would be added to the fleet. The G Class has a soft spot amongst the locals as well as they indulge in a lot of off-roading fun with this machine. This is one expensive SUV featuring a 5.5 litre V8 bi-turbo engine that dishes out 700 bhp and with the Brabus touch hits a top speed of 300kmph.
Mercedes-SLS AMG coupe: The SLS AMG was one of the most beautiful car in production with its gulling doors making you go weak in the knees, and its naturally aspirated 6.3 litre V8 engine producing an exhaust note that will make you fall in love with it instantly. The other thing you'll love it for are of course the performance numbers - 621 bhp of power and 635Nm of torque.
Audi R8: Iron Man has it, a lot of Arabs have it, so the Dubai police force has to have it! Yes, one of the most popular supercars, the R8 was further pushed to stardom when it featured as Tony Stark's ride in the Iron Man series. The Audi R8 packs a 4.3 litre V8 engine that dishes 414 bhp and 430Nm of torque. There are other engine plants of the R8 as well like the 5.8 litre V10 engine, but the one used by the police fleet is the former.
Ford Mustang GT: The Mustang is one of the most iconic cars in production. It's been a true blue American muscle car, and its looks and design have changed over the years. Though at a point of time this car was known for its galloping power and raw appeal, with technology it has become even more refined. It now features a 5.8 litre supercharged V8 engine that produces 411bhp of power. There are many movies which have elevated the cult status of this car, but the most memorable one remains Gone in 60 seconds where a Mustang GT named 'Elanore' was the protagonists arch nemesis. Some of the other cars in the Dubai Police's 'Luxurious Supercar Patrol' are Chevrolet Camaro SS, Aston Martin One-77, Lexus RC-F, McLaren MP4-12C, BMW M6 and the Bentley Continental GT
Abu Dhabi - Nissan GTR

The Godzilla of cars, the only mass produced supercar the GTR has a lot of credibility backing it up. The Nissan GTR is powered by a 3.8 litre engine V6 engine with twin parallel turbochargers that give it ample of forced induction. The GTR produces 522 bhp with a torque of 612Nm. The GTR has a reputation of taking most supercars head on and each year Nissan tries its best to give enthusiast an even more powerful GTR.
West Mid-lands – Lotus Evora

The Lotus Evora feature a 3.5 lire supercharged V6 engine and is British built. It produces 276 bhp of power with a torque of 250Nm with a top speed of 262 kmph. The Lotus Evora is one of the beautiful cars based on a new platform.
Columbia – Ferrari 348

The Columbian police confiscated the Ferrari 348 from a drug lord. They later hope to auction it to buyers but since they didn't find any, they decided to tweak it up and use it in their fleet. The Ferrari has a 3.4 litre V8 engine and that produced 301 bhp. Its styling pretty much resembled the Testarossa and the car is still used by the Columbian police.
Read More :
Was this article helpful ?
0 out of 0 found this helpful