Signs that could be a cause of concern
Modified On Feb 11, 2015 04:15 PM By Prithvi
Most of us are oblivious of the fact that our vehicles are just not a mere mode of transport, they also require basic upkeep, right? But during the course of time, they require a bit more attention than what we normally intend on giving them. Arising out of that are warning signs which could be a matter of concern if not paid a heed to, as it could damage your vehicle, especially the engine. To be able to address these issues, the best solution and in order to help you do that we shall discuss some important signs that can be found within the instrument cluster in your car.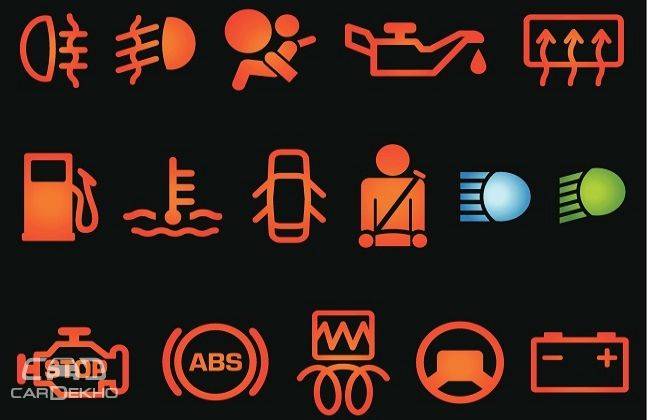 But before that, the first and most important thing to do is to refer to the owner's manual to re-establish the problem. Though some of us might be aware of a few of them, still it is advisable to refer to the booklet in order to solve the problem and avoid any more damage to your vehicle.
Engine check
It basically illuminates at the time of turning on the ignition which is alright, as after a couple of seconds once the engine is up to pace, this sign automatically switches off.

However, if and when it does come on, then this would mean that there is a problem with the Emission Control System. This directly relates to a misfire in the engine's cylinder. In order to address this issue, it is best to consult your nearest authorized dealer without wasting more time as it could be harmful.
Low Oil Pressure Indicator
Generally, this light comes on when the key is turned over (at time of ignition) but goes off, the moment a car's engine comes to life. Besides this, if it does illuminate then it would mean that the oil pressure within the engine is low. The first thing to do here is to park the car on the left hand side of the road on a level surface.

Always keep in mind to turn on hazard lights so as to inform others about the breakdown. Having done that, shut off the engine and let it cool for about 3 to 4 minutes. Once that is done, open the bonnet and check the oil level via the dip stick provided on the engine unit itself. If it is less, then drive to the nearest fuel pump in order to be able to top it up. In case the light does not go off within 10 seconds after the top up and once you set off, then it is recommended to once again park on the side and contact the nearest authorized dealer for immediate assistance.
Charging System Indicator

This particular sign is part of the ignition system which when turned over, illuminates for a couple of seconds and shuts off on its own. However, if it does come on then this means that the battery is not being charged properly. To address the issue at hand, we recommend that you should turn off additional electronic systems like heating & cooling (Climate Control included), music system, rear demister, etc to be able to reach a safe point and thereon contact a workshop for help.
Brake System Indicator
When this particular light comes on, it refers to low brake fluid. As you all know, brakes are a crucial element in any vehicle and one must not take this warning light so lightly. It could also mean that there is a malfunction within the Brake System. While driving, if it does come on, then the first thing that one needs to be doing is to press the brake pedal lightly in order to check pedal pressure.

On doing, check the brake fluid level the next time you stop and if you find it abnormal, then take immediate action. How does one do that? If required, utilize the transmission by downshifting thereby using engine braking to bring the vehicle to a rolling stand still. Once you have stopped, contact your dealer or get in touch with road side assistance services.
Electronic Power Steering (EPS) System Indicator
This warning sign indicates that there is a problem with the EPS system. In a normal case, when the vehicle is idle and you press the accelerator repeatedly to increase the engine speed, is the time when this light comes on. Besides this, when it actually does come on then the best thing to do is to park your vehicle aside. Having done that, switch off the engine and put it on to see whether the light still remains on. If it still persists then get it checked by an authorized dealer.

Keeping a lookout for all these warning signs will definitely make your life simpler when it comes to the upkeep of your car. It also saves one from escalated maintenance costs which is a major concern for each and every one of us.
Was this article helpful ?
0 out of 0 found this helpful