Top 5 Top Gear Challenges in the World! [Videos Inside]
Modified On Dec 22, 2015 07:41 PM By Manish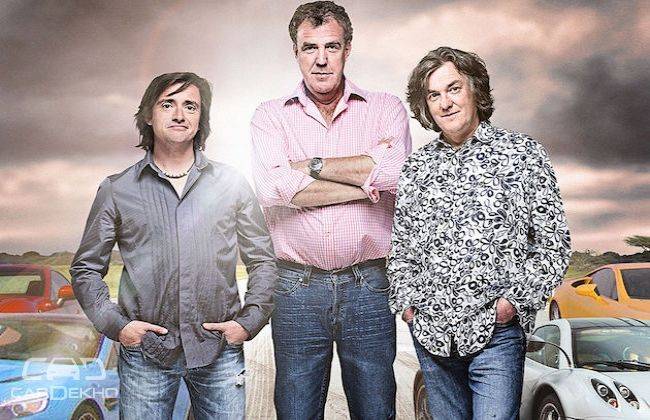 Yes, the Top Gear trio has left the building, BBC 2 building to be exact. Jeremy Clarkson (Jezza), James May (Captain Slow) and Richard Hammond (Hamster) have moved on to Amazon Prime and are currently filming for their new car show, which will in all probability be called "Gear Knobs". But this does not diminish their accomplishments in any which way or manner, or for that matter the chuckle inducing, inspiration invoking moments we shared with them. So, we have listed out some of the highlights of all the challenges that these gearheads took on over the course of the last 22 seasons (or series, if you prefer). Cue Jessica!
5) The US Road Trip Challenge- Series Twelve; Episode Two
Well, this isn't technically a challenge, as the trio reviews and tries to find out, if Americans have ever made a descent sports car. Considering their unique approach to American automotive industry, Dodge rather ostentatiously refused to comply with their request for a Charger, but if you think that slowed our trio down, then think again. On this relatively serious road trip, you will see some of the straightest roads conceivable, mentions of various Hollywood A-listers like Bruce Willis, watch our presenters try and break the land speed records for their stock production cars on the Bonneville salt flats and unfortunately there won't be any cows on the roof.
4) Cheap Supercar Challenge - Series Seven; Episode Four
Who loves a supercar?
All of us.
Who wants to own one?
All of us.
How many of us can go out and buy one?
Not many of us.
Well in this particular challenge the trio did just that. All three of them, went out and bought a supercar that one can purchase for the cost of an used Ford Mondeo and then the three presenters drove back to a meeting point (well two of them did), where they were given a series of challenges to see if an ordinary consumer can live with these high maintenance thoroughbreds, which include a Ferrari, a Maserati and a Lamborghini. I am sure all of you are more than eager to find out what these cars are all about and discover the answer to a long standing question: "Can one afford to live with a pre-owned super car?"
3) The £1,500 Botswana Special- Series Ten; Episode Four
In this particular challenge the presenters were dropped near the eastern border of Zimbabwe and were asked to buy three two-wheel drive cars that they would drive to the western border of Namibia, covering around 1,000 miles. The Journey took the trio across the Okavango Delta, where they tried to keep their cars from sinking in primeval muck. The challenge was aimed to deduce which of the trio's pick, would make the journey without breaking down and would be deemed the champion car. Jezza bought a 1981 Lancia Beta Coupé, May drove a 1985 Mercedes-Benz 230E and Hammond brought in a 1963 Opel Kadett, which turned out to be more than just a prop car by the end of the show. The surprises didn't end there, as nobody expected the winning car to take the champion title.
2) The Renault Avantime Modification Challenge- Series Twelve; Episode Three
Everyone loves a tastefully modified car and aspires to tweak their own to harness that extra bit of performance. As it turns out the craze is the same across the globe. Jezza, Slow and Hamster were presented with a stock car that they were asked to customize, so as to make it as fast as a Mitsubishi Lancer Evolution X, for half the cost (inclusive of the cost of the stock car). Presenters received a Renault Avantime as their stock car, which is one of their unanimous favorites and also, a people carrier. Top Gear has held the title of being "ambitious but rubbish", which made this particular project of theirs, a lot of fun to watch.
1) The Middle East Challenge- Series Sixteen, Episode Zero-Two
Topping our list, is this episode in which, the trio decided to recreate the tale of "the three wise men", while driving across the middle east. Each one of them received £3,500 to go out and buy a 2-door convertible sports car, which they were supposed to drive across the desert, all the way to the birthplace of Jesus Christ. As far as Top Gear being controversial goes, it doesn't get any better than this! Jeremy Clarkson Drove a 2000 Mazda MX5, James May bought a 1998 BMW Z3 and Richard Hammond drove a 2000 Fiat Barchetta. When the presenters reached the birthplace of Christ, what they witnessed was nothing less of a Christmas miracle.
Recommended Reads:
Was this article helpful ?
1 out of 1 found this helpful