The KONKAN EXPERIENCE- The Tata Way
Modified On Oct 26, 2012 06:24 PM By Sundeep
Given the geographical spread and variety of terrain, it is a given that sooner or later, India has to have a roaring automobile culture. But, the proverbial fly in the soup happens to be roads with highly inconsistent quality which are often poorly maintained and have to support more than optimal traffic volume. Indian road conditions, especially roads excluding the golden quadrilateral and some well-maintained major national / state highways, certainly do not inspire confidence in average car owner to go for extended road trips. Inclusion of a Sports Utility Vehicle (SUV) or a competent crossover/ soft-roader changes the equation drastically due to comparatively generous road clearance and better rough road cruising capability of such vehicles. Vehicle manufacturers, especially the two dominant players in the mass-market SUV / cross-over arena, Mahindra and Tata are definitely doing their bit to promote automobile based adventure cum lifestyle / leisure trips.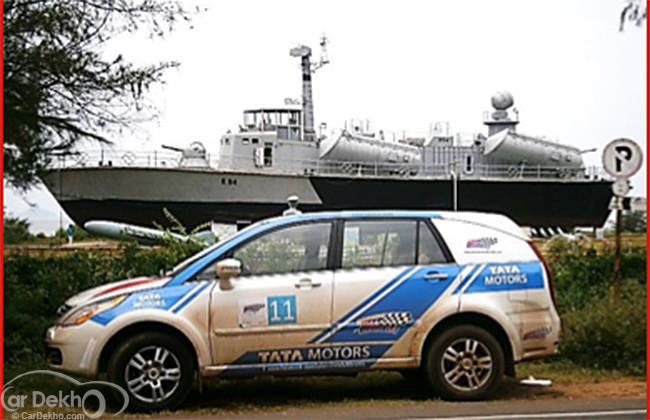 Tata Motors had earlier conceptualized an exclusive platform -"Explorer Club" for their SUV (Safari) owners. Now, with the addition of a pure lifestyle off-roader (Xenon) and a very competent Crossover (Aria), Tata Motors is going "Full Throttle" to give its SUV / Crossover owners the real taste of roaring thunder, i.e, adventure driving in an Indian SUV / Cross-over in rugged but extremely scenic Indian terrain.

Tata Motors seems to have inspired full confidence of its vehicle owners in its "All Terrain Conqueror" (4X4 Safari / Xenon) and "Adapterra" (Aria 4X4) four wheel / all-wheel drive system as one finds a number of such vehicle owners in the convoy proceeding on the "Full Throttle Konkan Experience" from Mumbai to Jog Falls (Karnataka) via Goa, Mangalore and Coorg. Total planned driving distance – approximately 1600 kms – from 28th September 2012 to 2nd October2012. On the very first day, road condition varied from the smooth and fast but monotonous six lane Mumbai-Pune Expressway, and four lane Pune–Bengaluru national highway to poorly surfaced (in patches) but extremely scenic state highway running east-west between Pune–Bengaluru national highway and Sawantwadi (via popular hill-station Amboli) on Mumbai-Goa highway. And then, as a contrast, the drive on the two-lane undivided carriageway of Mumbai-Goa highway which is so busy that overtaking required surgical skill and timing. The drive started from the entry point of the Mumbai-Pune Expressway with regrouping after crossing Pune at McDonalds.

Finally, at dusk, there was a much needed tea-break after crossing Amboli at a cozy and rustic eatery. First day of Konkan experience ended at Goa at about 9:30PM after a rewarding but a bit tiring drive. Efficient and extremely courteous reception at Taj Vivanta (Panjim, Goa) was a welcome and contrasting change from the stress of heavy traffic that the convoy had to endure after entering the Mumbai-Goa highway at Sawantwadi. Approximately six hundred kilometers of driving on day one, and the "KONKAN EXPERIENCE", especially the wonderful opportunity to view the beautiful landscape of the resplendent Western Ghats during the monsoon when it acquires a breathtaking lush green hue.

Participants spent the next day exploring Goa. Goa happens to be the quintessential tourist destination, mainly due to the fact that it spoils the typical tourist with an impossibly large choice of splendid beaches - all with their distinct character. For people with religious bent of mind there is the famous Mangueshi Temple and the culture conscious tourists get their share at certain enclaves which have retained the Portuguese inspired architectural features. High points of the drive to Mangalore through Karwar on NH 17 happened to be a brief short stop-over at the Warship Museum at Karwar, and tea break at Turtle Bay during evening hours when daylight was still available. Turtle Bay is a seaside resort near Kundapur on Karwar – Mangalore stretch of NH 17, which is located adjacent to a beautiful beach. The stretch of NH 17 from Goa to Mangalore is still a two-lane highway, which is quite narrow at certain places. Udupi-Mangalore section is being upgraded to four-lane divided carriageway and in the interim this has resulted in chaotic traffic with numerous diversions. Traffic is quite heavy and the limited road width results in strenuous driving condition with low average speed. There was a small mishap after the Full Throttle convoy exited Goa when a RCC slab covering a roadside drain collapsed under the left front tyre of a Safari. The Cougar Motorsport Team managed to recover the stranded vehicle immediately by towing it out with a 4X4 Safari. Except for purely cosmetic damage (plastic cladding came off) there was no damage to the vehicle which is a testimony to the inherent toughness of Safari.

Day 4 of the "Konkan Experience" saw the convoy driving from The Gateway Hotel (a Taj property at Mangalore) to Thaneerhulla Bungalow (owned by Tata Coffee Ltd) at Pollibetta, Coorg. It was an interesting drive (about 200 kms) with a mix of fast sweeping roads (up to Madikeri) which amply whetted a driver's appetite for curves alongwith narrow roads within Coorg (Kodagu district) through the various coffee estates. Lunch was scheduled at Coorg, where a delicious spread awaited the participants at the spacious Thaneerhulla Bungalow. This sprawling bungalow looks and feels like a heritage structure which indeed it is. Food was great, ambience even greater and service excellent as can be expected at the best professionally managed resorts. Apart from a spacious verandah, living room and dining room, this property has several large bed rooms with wooden floor and colonial furniture. Management deserves the highest praise for maintaining the authenticity of this heritage property while providing all modern amenities.

As the drive for the day had ended in the mid-afternoon, participants had retained sufficient energy to indulge in various activities around the coffee estates viz. plantation drive, visit to different heritage bungalows which culminated in an impromptu congregation and story-telling session around a bonfire on the porch of the heritage bungalow. Dinner was another tastefully conducted elaborate affair – full credit to the staff and management of Plantation Trails. Day 5 was a long day driving to Matthuga Homestay (about 8 kms from Jog Falls on NH 206) via Hassan and Shimoga. Road condition was extremely poor (roads infested with numerous potholes) up to Hassan which consumed more than three hours (approximately 100 kms). Lunch was arranged at "The Ashok, Hassan" and thereafter the road improved considerably and the convoy made good time to reach Matthuga Homestay at about 2100hrs. Apparently Matthuga Homestay is the only half decent option available in the vicinity of Jog Falls. As far as infrastructure is concerned, it is well appointed and clean but food was a very tame affair to say the least – typical pure veg South Indian fare, and about the service, less said the better – it was simply non-existent. The only saving grace was the camaraderie that had developed amongst the participants – being on the road for several days does this to you – and that saved the day. Everyone seemed to be in high spirits and this masked the disappointment which could have resulted from the service and food at the homestay.

Early next morning it was a quick fifteen-minute drive to Jog falls and then a four hour drive to Goa via Honnavar, Ankola and Karwar. Jog Falls was not the raging water fall which one gets to see in the promotional tourism brochures. Perhaps, the reason is storage of water in Linganmakki dam (hydroelectric and irrigation project, built in 1964 about 6 kms from Jog Falls) upstream the river Sharavathi and therefore what remains to sustain the waterfall is just the rainfall in the proximate catchment area. Still, even the substantially diminished Jog Falls is mighty enough to be awe inspiring as the photograph testifies. Tata motors had provided a Tata Aria. This is a Crossover vehicle built on a traditional but rigid chassis. This endows it with brute strength to cruise unruffled at high speeds over some seriously bad roads. Ride quality like all Tata passenger vehicles is extremely good but the best part is the grace that it displays while negotiating the curves. Being, primarily a rear wheel drive vehicle it puts the fun back for the enthusiast, especially on the curves. This is a package which is streets ahead in terms of handling, ride and power compared to the omnipresent Innovas and Xylos. Off course, there are certain quirks like the placement of air conditioning vents and steering mounted audio controls, but then as far as pure driving experience is concerned, it definitely comes across as a very competent and reasonably fast machine.

Finally it was about experiencing the Konkan in a Tata vehicle and enjoying the hospitality of Tata hotels and resorts. Even tea and coffee served at all the places (except Matthuga Homestay) had been sourced from Tata companies. The result being a welcome and pleasant experience of, perhaps unintended, but nonetheless a succinct demonstration of the depth and spread of the TATA business empire so overall it was The Tata Way.
Was this article helpful ?
0 out of 0 found this helpful