Series 2: How Can You Look So Beautiful at 48 - Chevrolet Camaro aka Bumblebee
Modified On May 21, 2015 05:19 PM By Raunak
After the Mustang we brought you the famous Bumblebee, yup you're right - its the 48 years old Chevy Camaro and it recently been updated to sixth generation!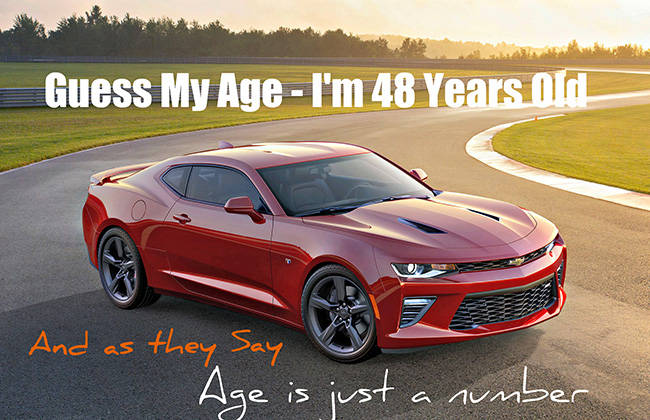 It was a rush job on priority, for tackling the insanely popular Ford Mustang with skyrocketing sales. Mustang went on to sale in 1964 while Camaro reached dealerships for the first time in September of 1966 as a 1967 model. It was nearly two years after Mustang's launch and by this time, Mustang was selling like hot cakes! Over the years, both Camaro and Mustang have been updated with new generations and along with the new Camaro's unveiling on May 16th, both the pony cars are now in their sixth generations.

Camaro started its life in September 1966 and GM sold nearly 220,906 units of the pony that particular year. It was produced to eat Mustang and indeed at one of the press conferences, people from GM answered a question - 'What is a Camaro?' Journalists were told - 'It was a small, vicious animal that eats Mustangs!' Contradictory to it - Ford retailed 480,000 Mustangs in the same first year of Camaro. And even if we compare Mustang's first-year sales, the Blue Oval company sold a mind-boggling 7 lac Mustangs in-between 1964-1965. Moreover, an interesting fact lie here, though Camaro was capable enough in 1967 to compete with Mustang, but it's only after a decade in 1977, Camaro defeated Mustang in sales for the very first time!

Mustang was Camaro's - the-most-vicious-rival and both are currently in their sixth-gen avatar, however, their histories aren't parallel to each other with Camaro's production halted in-between 2002-2009, Mustang is in continuous production since 1964.

This said, there's one striking similarity in their histories, in 80s, 90s, or for that matter early 2000, in an attempt to make these cars modern - designers went haywire. Although in this period, Camaro looked better than Mustang. Ford went horribly wrong few times in the above mentioned period compared to Camaro.

But later in 2000, a lesson was learned by both GM and Ford - Camaro and Mustang were re-incarnated. They have understood the fact that people were emotionally attached to the original ponies, not the ones they were making off lately. And voila! fifth generations of both the cars, which actually look liked the true spiritual successors of their first generations, debuted - 5th gen Mustang went on to sale in 2005 while 5th gen Camaro in 2009. And the rest is history. Even today both cars are fairly competitive to each other and there's no doubt, that it was their petty tiffs which helped them to grow all these years.


Speaking of the Camaros and movies, though it did not appear as much as the Mustang, but it has quite a few noticeable big-screen appearance. I think you know, where I'm gonna start with - Yes, The Transformers series. It started with the 1977 Chevrolet Camaro Z28 as the Bumblebee - Autobot in the Michael Bay's 2007, The Transformers.

2007 Transformers has made the Camaro an iconic character on the silver screen - Bumblebee! This first Transformers movie was released in July 2007, two years before the then new fifth-gen Camaro would go on sale, so Chevrolet had to build a one-off running concept for the movie. GM said, the vehicle used body panels made from the same molds that were used for the 2006 Camaro Concept (aka Camaro's re-incarnation), which was on the auto show circuit the year before. The body was fit to a chassis of a Holden Monaro (aka the Pontiac GTO) to make it capable of performing in the film.

The Bumblebee spree went on the Transformer series and indeed in the last iteration - Transformers: Age of Extinction (2014), the Camaro aka Bumblebee featured a subtle makeover, on which GM said last year 'design cues that could put it years into the future.' (see the picture below - Camaro from 2014 Transformers)

And indeed the recently revealed sixth gen borrows few styling cues from the last year's movie car (see the picture above - Camaro from 2014 Transformers). Apart from the Transformers series, Camaro also had few important appearances in Fast and the Furious flicks. Camaro is quite a big star, isn't it? considering the fact that it has screen name!

2006 Concept Interiors .. to ... 2016 Camaro Interiors

Below are the lines from my Series 1 - Mustang article that I couldn't resist adding here too, BTW the article is here - Series 1: How Can You Look So Beautiful at 51 - Ford Mustang
Camaro wishing Mustang 50th birthday last year was just epic and they wished - 'here's to another 50 years of rivalry - your friend Camaro' it's amusing, isn't it?

Was this article helpful ?
0 out of 0 found this helpful