Is A Crossover A Real SUV?
Modified On Jun 16, 2016 04:37 PM By Nabeel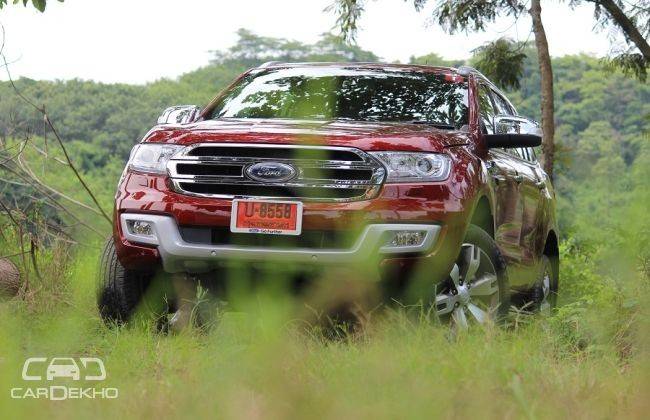 Is a crossover a real SUV? It's a simple question asked by all buyers who aspire to take their cars off-road on weekends, but still want them to be comfortable and practical in everyday operations. So, is a crossover a real SUV? To arrive at a conclusion, let's compare a popular crossover to a true blue SUV. Representing the crossover universe will be the Honda CR-V, while the Sports Utility vehicles will be represented by the Ford Endeavour.

First, let us try to understand the meaning of these two terms. An SUV is a rugged vehicle which has over 180mm ground clearance, is a ladder frame construction and offers four wheel or an all wheel drive. A crossover on the other hand, is a vehicle which combines the features of an SUV with comfort aspects of a passenger vehicle. Crossovers need not have a four wheel drive or defined high ground clearance. The CR-V is a perfect example of a crossover as it is based on the platform of the Honda Civic and has a ground clearance of 170mm. The Endeavour on the other hand, is a mammoth SUV with a ground clearance of 225mm and a whole bunch of electronics to help you climb mountains.

Talking about SUVs, the first aspect we need to consider is the off road capabilities. Let's have a quick comparison of the two in terms of their off-road abilities. The CR-V comes with two petrol engine options - a 2.0-litre and a 2.4-litre. Out of these, only the 2.4-litre petrol gets a 4WD system. The car stands 170mm above the ground and features hill start assist as well as vehicle stability assist to keep you in check if you decide to go off-road.

On the other side is the Endeavour which comes with two diesel engine options - a 2.2 litre and a 3.2-litre and both of them feature 4WD. Coupled with these powertrains, Endeavour comes with a full terrain management system which lets you pick between surfaces such as snow, sand and rock. To add to this, the SUV also features electronic locking rear differential, hill descent control and launch assist. Not satisfied? TIt has 800mm water wading capability with 30 degree approach, 25 degree departure and 21 degree ramp over angle. In short, you will really have to work real hard in order to get stuck in any terrain.

These is no compensation of power no matter on what surface you are. So, let's compare the digits of the two cars. The 4WD variant of the CR-V produces 190PS power with 226Nm torque. The 2WD variant produces 156PS power with 190Nm torque. The 2.2-litre variant of the Endeavour produces 160PS power with 385Nm torque. While the 3.2-litre engine produces 200PS power with a mountain moving 470Nm torque. Also, the fuel tank capacity of the CR-V is 58-litres and that of the Endeavour is 80-litres, which means that you could go on longer expeditions in the Endeavour and have more fun.

Inside, both cars come with a touchscreen infotainment system, climate control, rear ac vents, leather upholstery, leather wrapped steering wheel and much more. From the features point of view, both cars will score almost identical, with the Endeavour scoring a tad bit more.

So, an SUV gives you confidence to challenge the nature and possibly emerge with a huge grin on your face. A crossover on the other hand, makes you feel as if you are in an SUV, without the practical aspects of going off-road. You can move off the highway and enjoy some mild rocks and sand, but that is it. So, is a crossover a real SUV? No, but it definitely is a better urban alternative for those who live in the concrete jungle and don't often challenge the wild.
Was this article helpful ?
0 out of 0 found this helpful