Driving getaways
Modified On Dec 27, 2014 06:33 PM By Firdaus
It's the end of the year and you're wondering how to ring in the New Year. You don't want to follow the usual grind of attending parties at clubs nor do house parties sound that exciting. You want to get away from the crowd, experience a new place and statr the New Year with serenity, amidst nature so a road trip sounds like a perfect idea. But where should you go? Travel websites are full of places offering plenty of discounts with each one claiming their destination is the best. But if you want to go for a driving holiday, then it's not just the place/ destination that should be priority, the route too should sound exciting, none the less challenging. We understand how it feels when you have so many options in front of you and aren't able to make up your mind. So we decided to end your confusion and suggest a few places which aren't just breathtaking, but the road to them is equally mesmerizing as well. Also since most of us are stuck in the plains and really don't fancy a hot Christmas we've suggested places that will ensure you make good use of your woolens and thermal wear.
People living in the north in places like Delhi, Himachal are the luckiest. They don't have to think about where to go because most popular hill stations are barely a three hour drive away. People living in those places usually ring in the New Year amidst snow fall which makes New Year's Eve for them a surreal experience as if from a fairy tale. People living in the plains however aren't that lucky! We have the beaches, which for most us are a good five to eight hour drive away and our hill stations thanks to global warming barely see temperatures dip below 11 degrees. But there are a few places in the plains and down south which despite the lower altitude are cold enough to make your shiver pleasantly and reach out for that cup of hot chocolate or coffee.
If you're based in Mumbai or Pune or other nearby cities, you can drive down to the following destinations in
Down South
South India has a lot of hill stations which are cocooned in the jungles and hills. A lot of coffee plantations and estates have lodges as well where one can find a comfortable stay away from the hustle bustle of urban life. It's needless to say that the roads to these coffee estates and jungle lodges are winding, full of greenery and some come with their set of wildlife as well. There are some hospitality groups that offer tent stays in the jungle; this is an exciting option as it gives a camping experience without having to pitch the tent yourself. Some of the places also offer activities such as fishing, rafting, adventure sports, animal safari and bird watching to name a few. Since most of these places are located amidst dense greenery, in forests with rivers flowing by, the temperatures here drop considerably. Accommodation can range between Rs 700 (homestay) to Rs 2700 per person, per night. Quite a few of these hill stations are barely 20 kms away from the closest towns, so you can be sure that your urban commodities are close by. Since these places are located in Southern India, also known as the land of temples you can start your New Year with blessings from the various deities; some of the temples are more than a 100 years old and have quite a historic significance as well. Few of the places that you can visit are
1. Coorg-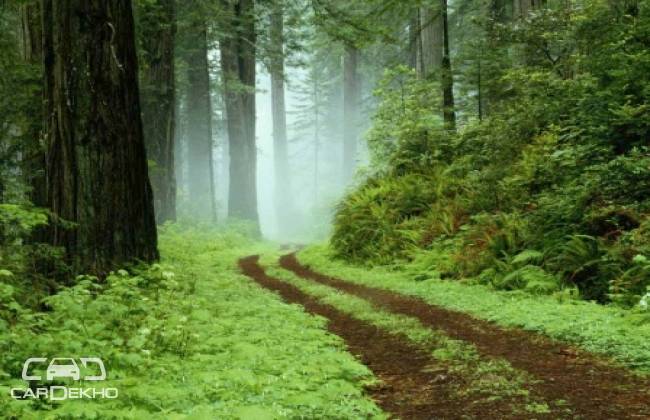 also known as Kodagu, is located in Karnataka and is a 1000km drive from Mumbai. It has plenty of homestays as well as resorts and is known for its landscape, rivers, temples and of course coffee plantations. If you choose this destination you can be sure that the perfect cup of filter kaapi will await you each morning.
2. Chikmanglur-

is another hill station nestled in Karnataka and is also known as the coffee land of Karnataka. It is a largely forested hill station with heavy rainfall and is located at the foot hills of Mullayangiri – the highest peak between the Himalayas and the Nilgiris. Chikmanglur is 863 kms from Mumbai. One needs to take the NH 4 and the NH 13 to reach here and this hill station has plenty of jungle lodges. Bhadra wildlife Scantuary is a short drive from here.
3. Hampi –

located in the Niligiri range, Hampi is a world UNESCO heritage site with many temples of historical importance. It's a popular tourist destination and one favoured often by bikers due to the plenty of twist and turns the roads in the Nilgiri range offer. It is 738 kms away from Mumbai and if you start early, is a day's drive. It is tourist friendly and was the seat of the Vijayanagar empire and also the capital of the largest empire in post-mughal India. Main attractions at Hampi are its temples and their architecture which make for good photographs as well.
4. Goa and Dandeli:

Goa is the MOST preferred destination for New Years thanks to its beaches and the host of activities that one can engage in. It is also the most expensive (depending on what part of Goa you stay) as this is season time for Goans. We really don't need to say much about Goa because everyone knows it's the most happening destination for New Years. A seven to eight hour drive and you will be in Goa. If you fancy a quiet New Years eve in Goa, then Arambol is place you can consider.
Besides Goa you can also try Dandeli. It is barely a two to three hour drive from Goa and is (again) located in Karnataka nestled in the Western Ghats. Dandeli is a natural habitat for wildlife, including tigers, leopards, black panthers, elephants, gaur, deer, antelopes, and bears. It is the second largest wildlife sanctuary in Karnataka and was designated as a tiger reserve in 2007. The jungle is also home to several varieties of reptiles and almost 300 varieties of birds. The sanctuary provides rafting opportunities at the Virnoli Rapids connected to the Kali River. Other tourist activities include nature walks, boating, bird watching, crocodile spotting and angling. Dandeli is famous for its white water rafting.
Mid-lands
The mid-lands are a nice place to be in. They have a mix of hill stations, beaches and of course wild life sanctuaries and jungles for one to explore. Some of the places that you can drive down, rather drive up to are
5. Mount Abu:

This is the most famous hill station in the Aravalli range and is located on the border of Rajasthan very close to Gujarat. It is also called the Switzerland of Rajasthan as the temperatures here dip to almost four degrees at night. This is an oasis in the desert as it is home to several lakes, rivers, waterfalls and evergreen forests. It is 752 kms away from Mumbai, most part of which is an easy, really straight and long drive on the NH 8. The fun part is the ascend to Mount Abu which has a 27 km long ghat - totally welcome after the long drive. Most accommodations here are at hotels which are reasonably priced. Mt Abu is known for its eco-tourism as well as adventure tourism and one can try out the various activities like rappelling and mountain climbing.
6. Pachmarhi:

Located in Madhya Pradesh, Pachmari is one of the most popular hill stations in India's largest state. It is rich and flaura and fauna and has historical significance as the place where the Pandavas built their cave during their 14 year exile. Major tourist attractions are the waterfalls and the wildlife which has a mix of panthers, bears, deers and bisons. Tigers were also spotted often at Pachmarhi but have retreated deeper into the forests now. The main hill station has few accommodation options as there are limited cottages and a few government guest houses. Other accommodation options are available in the market are. Pachmarhi is 902 kms away from Mumbai and one needs to get onto the NH3 to get here.
All the above mentioned driving destinations are within 1000 kms of Mumbai. It is easily a weeklong vacation and the best part about these places is that you get well paved national highways which run straight as far as your eyes can see, coupled with narrow, winding roads which may make your stomach gurgle. Overall these places are some of the best driving getaways in the country.
Was this article helpful ?
0 out of 0 found this helpful