A heritage drive to Hampi
Modified On Jan 31, 2013 11:35 AM By Sundeep
5395 Views

Write a comment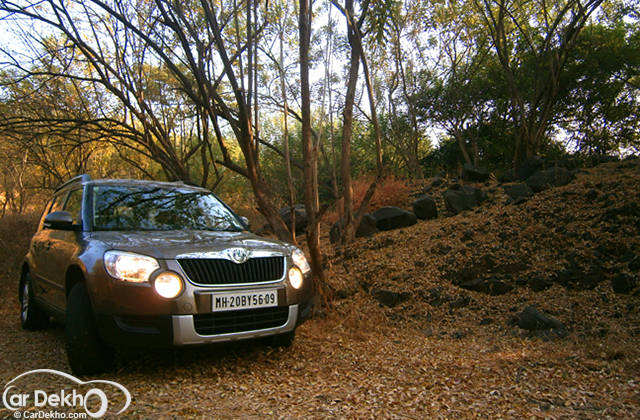 Notwithstanding the fact that ongoing expansion work to upgrade the existing four-laned road from Pune to Bengaluru (NH4) has, for the time being, created some impediments to the smooth flow of traffic, this section of the Golden Quadrilateral still remains relatively glitch-free as far as good average speed alongwith unstressed driving condition is concerned. This is especially true when one considers the chaotic condition of the Jaipur-Delhi section of Golden Quadrilateral which is also undergoing similar upgradation. So, in conjunction with the fast six laned corridor of NaviMumbai-Pune expressway the NH4 provided the best condition to check the highway manners of Skoda Yeti 4X2. We decided to drive the Skoda Yeti during an extended weekend – 8th December 2012 to 11th December 2012.

Skoda Yeti was originally offered in 4X4 (AWD) configuration with a six speed gearbox and 2 litre diesel engine developing 140BHP. This car shares the platform with Skoda Laura and that endows it with excellent handling characteristics. It has the engine installed in transverse configuration and is basically a front wheel drive vehicle like many other contemporary soft-roaders built on monocoque body.



Hampi was the first location on our itinerary but as decent accommodation is not available at Hampi, we decided to stay at a place (Toranagallu) midway on the road between Hospet and Bellary.

The drive through Navi-Mumbai-Pune expressway and NH4 was uneventful and quite fast upto Dharwad – covered 524km in 7hr at average speed of about 75km/hr. Thereafter progress was considerably slow as the section between Dharwad and Hubli is still a two laned road. After exiting NH4 at Hubli, traversing the urban areas of Hubli and Hospet consumed precious time. Due to mining activity this particular road (Hubli to Bellary) carries a lot of heavy traffic and therefore the general condition of road is not good. It is also infested with huge rumblers at almost all locations where it passes through any human settlement – big or small. Perhaps the rumblers are needed to instill some much needed driving discipline as the dumpers and trucks move recklessly on this road, but for any passenger vehicle, even the ones with good road clearance, these rumblers are a major hazard if one fails to spot and slowdown in good time. This problem gets accentuated during night when spotting the rumblers becomes even more difficult – installing suitable warning signs with retro-reflective paint could be a practical solution. Anyway, Skoda Yeti 4X2 was competent enough to reach Toranagallu by 10p.m. (Distance 743km – driving time 11hr – average speed- 67.5km/hr approx.)


The earliest mention of this place is as Kishkindha – the kingdom of monkey kings Sugriva and Bali in Ramayana. It is located on the banks of Tungabhadra river, bounded by hillocks having unique rock formations. It was also known as Pampa – which later got transformed into Hampe – Hampi.


During the reign of Raja Deva Raya I and Deva Raya II this place developed into a splendid city which perhaps, even surpassed the splendor of Rome. The ruins provide enough evidence to support the historical accounts given by various travellers such as the Italian Nicolo Conti (around 1420), the Persian Abdul Razzaq (1443) about the grandeur of the city which was known during those days as Vijayanagara / Vidyanagara. After the reign of Deva Raya II, the political situation became unstable. It was during the reign of Raja Krishna Deva Raya from 1509AD to 1529 AD(poet and wit Tenalirama was in his court) who is considered the most powerful ruler of South India during his time, that the political situation stabilized and Vijayanagara entered its golden era.

After the reign of Raja Krishna Deva Raya there was a steady decline in the political power of the rulers at the helm of Vijayanagara.

Political / military misadventures combined with treachery of some contingents of Vijayanagara army finally led to a complete military rout during the famous battle of Talikota (January 1565). Vijayanagara was left undefended and it was destroyed by the conquers – confederation of muslim rulers of Ahmednagar, Bidar, Bijapur and Golconda. It is said that the process of plunder and loot of Vijayanagara continued for six months and thereafter it was set ablaze; heat from the fire that raged was so intense that the granite hills situated on the periphery of the grand city suffered cracks.

The ruins that have endured till date are eloquent testimony to the grandeur of the city and the sophistication of town planning of the day. Recent excavations show the brilliance of planning and execution of water supply and drainage system.

Exquisite carvings with complicated themes showcase the intellectual depth of artistes as well as advancement in metallurgy which must have been necessary to produce tools with exceptional hardness and endurance to execute such magnificent carvings on hard granite.


Subsequent visit to Badami, Pattadakal and Aihole provided the much needed exposure to the earlier developments which had ultimately provided the architectural, artistic and technical impetus resulting in the architectural and artistic brilliance of Vijayanagara.

On the third day, Skoda Yeti travelled from Toranagallu to Bijapur and on the way we visited Badami, Pattadakal and Aihole. The route was through Hospet on NH13 -a four laned highway (for the major part) in good condition. After exiting NH13 at Kushtagi we drove westward to Badami and thereafter east to Pattadakal and Aihole. After Aihole, passed through Amingad, entered NH13 at Hungund and continued northward to Bijapur.

Road from Kushtagi to Badami is a narrow two laned road in fair condition with certain stretches in bad shape. It consumed two hours to cover 74kms.

Badami which was originally known as Vatapi was the capital of Chalukyas during 540AD - 757AD. The rock cut caves which ring the famous Agastya lake, are supposed to have been carved during the period between 6th century and 8th century. The rocks are red sandstone and there are four main caves having sculptures conforming to Buddhism, Jainism and Hinduism (Shiva and Vishnu). The rock formations are beautiful but the whole area is swarmed by monkeys who seem to have made the caves their permanent abode. Pattadakal lies along the river Malaprabha - about 21km east from Badami. Pattadakal was the place where Chalukya kings used to be coronated. This sight has archeological importance as a number of temples displaying both the Nagara (North Indian) and Dravidian (South Indian) architectural style were constructed.

Aihole is 13km east from Pattadakal. It is another treasure trove of archeological importance. The mythological Parashuram is supposed to have washed his axe at Aihole after annihilating the Kshatriyas.

Apart from the Durga Temple which is the main tourist attraction at Aihole, a museum containing numerous carvings is maintained by the Archeological Survey of India. The Durga temple was originally a temple dedicated to Vishnu but as it was located inside the fort i.e, "durg" , with passage of time it came to be known as Durga temple. This structure contains beautiful carvings of dashavataar of Vishnu.

After visiting Aihole, it was a straight forward drive to Bijapur via Amingad and Hungund. Distance 335km and driving time 7hr. Before setting out on the home run of the drive (Bijapur to Navi-Mumbai) we had to visit, apart from the famous Gol Gumbaz, some other sights of historical importance at Bijapur.

This was made easy by one of the many Tonga (horse-cart) operators who can be easily found at the entrance of the Gol Gumbaz. So we had a tour of the city of Bijapur on a Tonga and the operator also acted as a knowledgeable guide. There are several buildings built by the muslim rulers of Bijapur which are architecturally brilliant examples of Islamic Architecture. Gol Gumbaz, the mausoleum of Adil Shah is certainly the most famous among these.

The other major tourist attraction is the huge Malik-e-Maidan canon which weighs a humungous 55 tons.

It makes one wonder how it was cast during the bygone era and how it was transported and installed on the fort rampart.

On way to Navi-Mumbai lay the prominent temple town of Pandharpur where the famed temple of Lord Vitthala and Goddess Rukmini is situated. Pandharpur lies about 125km west of Bijapur but the road condition was not good and it took almost two and a half hours to cover the distance. After paying obeisance to Lord Vitthala and Goddess Rukmini the home run to Navi-Mumbai commenced. The final leg was through the two laned state highway (SH70) through Phaltan and Lonand and we entered NH4 at Shirwal . Once on the NH4, it was a fast run to Navi-Mumbai via Pune-Navi-Mumbai expressway and ended at 11p.m.. Total distance from Bijapur to Navi-Mumbai (Kharghar) – 467km- driving time 8hr.

Overall it was a bit exhausting trip considering the distance that we covered (1665km) in four days which included a fair amount of sightseeing. Skoda Yeti behaved true to its lineage and did not miss a single beat during the journey although it did encounter some seriously bad and broken roads apart from the numerous rumblers on the road between Hospet – Bellary highway. Fuel efficiency was a shade over 14kmpl which is quite good considering the fact that cruising speed, wherever road condition permitted, was consistently over 110km/hr and passenger complement consisted of four adults with baggage (total payload about 320kg).

Skoda Yeti is a happy highway mile-eater and is a pleasure to drive especially due to excellent handling and adequate power. Ride is a bit stiff which normally improves with speed but with full passenger complement it settles down and becomes comfortable even at slower speeds. With good use of the slick shifting gearbox, Skoda Yeti 4X2 gobbles up the highway at fast pace. It has disc brakes all around and blessed with powerful brakes and a fast shifting gearbox it is not only safe but also easy to drive. Fog-lamps complement the headlight high beams and illuminate the road without any dark patch.

Was this article helpful ?
0 out of 0 found this helpful