5 motorcycling books that you'll enjoy reading
Modified On Oct 20, 2015 09:46 AM By Firdaus
They say if you cannot visit a place, then the only way to vicariously experience it is by reading about it. Travel and books have an age old relationship where books have many often stirred the wandering streaking among humans, and often are recorded experiences of people who've dared to traverse unchartered territories, along the way encouraging future travelers to make the plunge as well. Of all the travel books I've read, some have hit a note with me genuinely pushing me to experiment with places to travel, along with encouraging me to have new experiences, and to strike a chord with fellow travelers and people along the way. While some have evoked the wanderlust, some have made me nostalgic about trips and some simply taught me that success doesn't come easy. Here are some must read automotive books that will stir your soul, and persuade you to embark on a journey.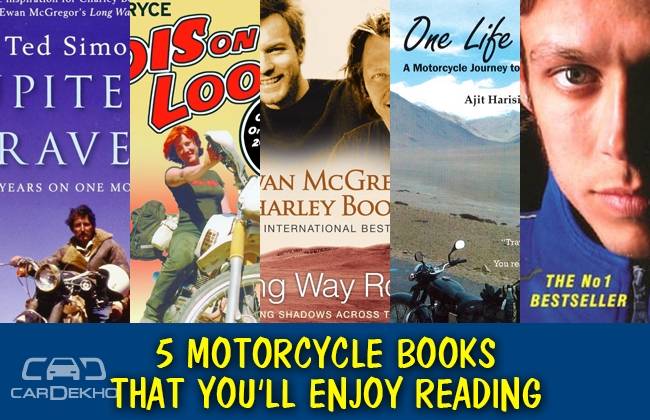 1. Lois on the loose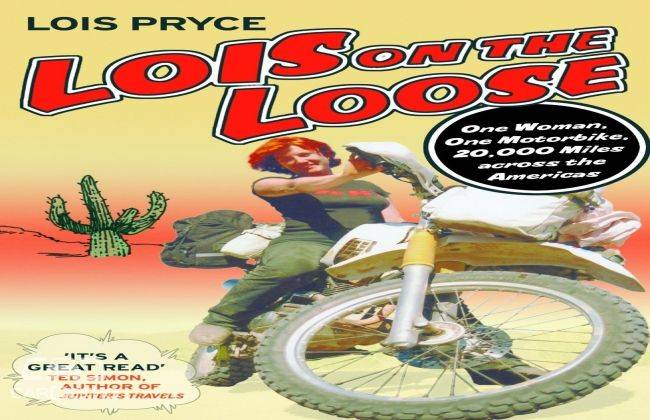 A complete inspiration for women motorcyclists and women alike, this book by Lois Pryce documents her 20,000 mile (32,000km) journey across the American continent. Starting in Alaska and concluding in Argentina, in the book Lois mentions her ups and down in the trip in the most hilarious fashion that will make your stomach hurt!
With knowledge of only two words in Spanish – caution and cheese, the book is a testimony of a woman's courage and wanderlust which overcomes the fear of the unknown, looking at the brighter side of new experiences and new places. Lois tackled every type of fellow biker imaginable and endured everything the continents could throw at her with quick thinking and a vibrant sense of humor. Whether bribing her way through Central American borders, spending the night in a Mexican brothel, or crashing her bike in Patagonia, Lois's bright, funny travelogue will charm anyone who longs for adventure and a stretch of the open road
2. What if I hadn't tried it

If you love MotoGP, then one book that you should read is 'What if I hadn't tried it" which is an autobiography of none other than the MotoGP star 'Valentino Rossi'. This fast paced book gives an insight of Rossi's rise as MotoGP star, right from the beginning of his career in the 125cc class in 1996 and then eventually moving to MotoGP in 2002. He's raced successfully on a Honda, moving on to Yamaha and winning fans across the globe.
Rossi is idolized as though he were a rock star. From his native Italy to California, from Philips Island to Laguna Seca, he has raised the limits, reshaped the frontiers of the sport and set new trends. Rossi has become the 21st Century face of motorcycle road racing. Yet he remains faithful to himself—one moment the intelligent, articulate interviewee; the next a jokester; the next the single-minded, focused, strategic racer with split-second skills the rest of us can only dream of.
The autobiography was written before Valentino made the shift to Ducati, and then back to Yamaha, the team he currently races with.
3. One life to ride

One life to ride is a travel story of Ajit Harisinghani and his solo journey from Pune to the revered mountains of Ladakh on his loving Royal Enfield Bullet. The journey is about a man's quest to test his abilities and gain new experiences. The language used in the book is lucid and the writing style so simple that you can immediately relate to his experiences. If you've already ridden on the Delhi – Manali – Leh – Jammu road, you'll be able to identify with the experiences even more. This one is definitely a good coffee time read.
4. Jupiter's travels

Also considered a traveler's bible, Jupiter's Travels is a story of accomplished motorcyclist and motorcycle rider – Ted Simon who rode around the world for four years covering 78,000 miles (1,24,000kms) and 45 countries sharing his experiences. Ted has not just ridden across these countries, but also ridden through nations battling wars and revolutions. He's stayed at farms, prisons, palaces et all. Jupiter's travels is one of the foremost books that inspired motorcycle travelling, as well as motorcycle travel writing. There is a successor to the book called 'Dreaming of Jupiter' where Ted embarks on the same journey, 30 years after the first one to rediscover himself as well as the characters he met.
5. Long way round

Long way round is a book by Charley Boorman, depicting his journey along with his best friend and actor Ewan McGregor across Alaska to Russia. This is also a documentary and Charlie clearly mentions that the inspiration for this road trip is Ted Simon's Jupiter's Travels. The book is more like a journal that Charlie and Ewan maintained through the trip and shows their struggles, emotions and accidents that tested their strengths. They were chased by paparazzi in Kazakhstan, courted by men with very large guns in the Ukraine, hassled by the police, and given bulls' testicles for supper by Mongolian nomads
Despite all these obstacles they managed to ride over 20,000 miles in four months, changing their lives forever in the process. As they travelled they documented their trip, taking photographs, and writing diaries by the campfire. "Long Way Round" is the result of their adventures - a fascinating, frank and highly entertaining travel book about two friends riding round the world together and, against all the odds, realizing their dream.
There is sequel called Long way Down which documents their incredible journey from John O'groats- the northern most tip of Scotland to Cape Agulhas, on the southernmost tip of South Africa.
Also Read
Was this article helpful ?
0 out of 0 found this helpful