5 Cars That Don The Indian Tricolour With Style
Modified On Aug 12, 2016 06:17 PM By Aman
It's that time of the year when we let go of the diversity that our vast country possesses and unite as one nation— India. Brushing aside all the differences and obstacles that we all face in our mundane day-to-day tasks it's time to celebrate the freedom of being the world's largest democracy. In the last 70 years of our Independence we have come quite far and have excelled by leaps and bounds. So let's adorn the tricolour with pride and gratitude while staying true to our love for cars, and let these colours take centre stage on the four-wheeled beauties. On this 'special' occasion, we have compiled a list of five cars that don our tricolour flag. Let's check them out.
Lamborghini Gallardo LP550-2 India Limited Edition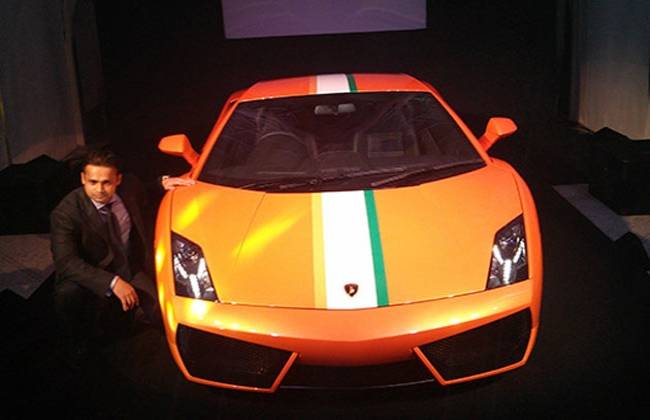 Lamborghini paid its tribute to our country on the occasion of our 66th Independence Day and also completing Lamborghini's fifty years in the automobile world by presenting a special 'India Limited Edition' Gallardo LP550-2. To make it more special, there were only 6 such special cars made available which have the Indian tricolour stripes done on the body. Adding that Indian touch to a monstrous Italian supercar does make for a great sight, doesn't it?
Ferrari 599 GTO India Edition

Speaking of supercars, and that too Italians, it's impossible to keep Ferrari out of the fray. This Italian auto giant went ahead with a special limited edition 599 GTO for India. Donning saffron, white and green stripes on the bonnet added that Indian touch to this beautiful Italian sports machine. A lot of speculations were also doing the rounds regarding Indian star cricketer MS Dhoni being presented with this limited edition. Nevertheless, this stunning Italian beauty sporting the Indian flag is just too irresistible. What do you think?
Jay Leno's Tricolour Tata Nano

What can be better than an Indian car that took the world by surprise catching the attention of the West too? The car in question is a customised Tata Nano sporting our tricolour, which was done up specially for American talk show host and comedian Jay Leno. Keeping it completely desi, he posed with an Indian sherwani and was seen quite excited about this special Tata Nano which became a new member of his illustrious garage.
Sahara Force India Formula 1

Now comes a proud moment for every Indian race enthusiast. Getting to see our very own Formula 1 team present at this pinnacle of motorsport was just unbelievable! Force India made every Indian proud each time these fast machines got out of the pits. Donning the Indian tricolour scheme was the icing on the cake. Thanks to its Indian owner, who now resides in the UK or some unknown location, due to certain reasons that we should not talk about, we did have our 'aww' moment. Despite the niggles, the Force India team is still up and running. So, let's give a salute to this beautiful piece of engineering that proudly sports our flag.
Renault Captur 'India Version'

Don't get confused here. First, the car in question is the Captur, which is a small cousin of the India-bound Renault Kaptur with a 'K.' Second, what we came across is a rendered version of the Captur completely draped with our Indian flag. We have to say, the way saffron, white and green has been used on this compact SUV actually looks quite stylish. Our flag does make the Captur look good! This is one car that we really wish was for real.
That's about it, folks. If you know or have come across any car that proudly sports our tricolour flag, please feel free to share your views in the comment section below. Jai hind!
Was this article helpful ?
0 out of 0 found this helpful