Citroen C5 Aircross 2021-2022
Change car
Rs.32.24 - 33.78 Lakh*
This car model has discontinued
Key Specs of Citroen C5 Aircross 2021-2022
| | |
| --- | --- |
| Engine | 1997 cc |
| Seating Capacity | 5 |
| Mileage | 18.6 kmpl |
| Fuel | Diesel |
Explore Price of C5 Aircross 2021-2022 Alternatives

Citroen C5 Aircross 2021-2022 price list (Variants)
C5 Aircross 2021-2022 Feel1997 cc, Automatic, Diesel, 18.6 kmplDISCONTINUED
Rs.32.24 Lakh*
 
C5 Aircross 2021-2022 Feel DualTone1997 cc, Automatic, Diesel, 18.6 kmplDISCONTINUED
Rs.32.74 Lakh*
 
C5 Aircross 2021-2022 Shine1997 cc, Automatic, Diesel, 18.6 kmplDISCONTINUED
Rs.33.78 Lakh*
 
C5 Aircross 2021-2022 Shine DualTone1997 cc, Automatic, Diesel, 18.6 kmplDISCONTINUED
Rs.33.78 Lakh*
 
View All Variants
Citroen C5 Aircross 2021-2022 Review
Citroen's first offering for India promises exceptional comfort. Our first drive tells us if it lives up to the claim and if there's more to the car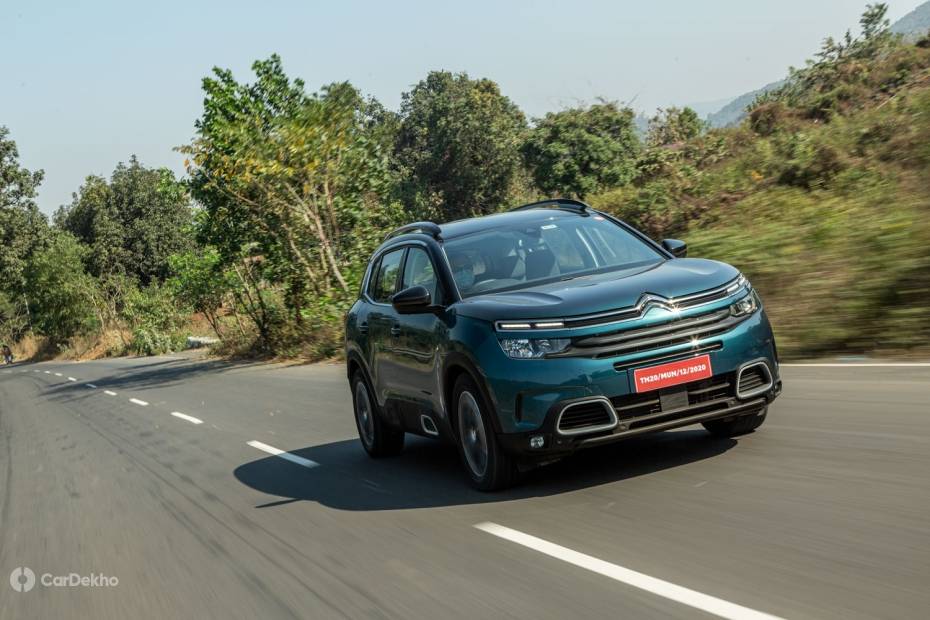 Citroen is starting its India journey with the launch of its flagship SUV. When we see a new car from a new entrant (in India), the first question that always comes to mind is: What is this car supposed to do that its better-established rivals don't already? Thankfully, there's a strong list of qualities unique to the C5 Aircross and many of these will be of importance to you, the Indian car buyer.
Exterior

At the outset, you have to know the C5 Aircross is quite a head-turner. It does, in some ways, remind us of the MINI Countryman thanks to the hot hatchback-like styling that's been applied to a tall SUV. What makes it really grab attention are the several design cues and quirks that we haven't seen on any car sold in India.

No logo stuck/screwed onto the front grille/bonnet; the front grille itself turns into the brand logo! The side body cladding goes notably higher up on the door than we've seen on most SUVs as well. It also gets oval accents to make the style stand out more. Even the C-shaped chrome garnish on the windowline is a very cool touch, complemented by 18-inch alloys (235/55 R18) that'd look right at home on a concept car.
FYI: Colour Options: Pearl White*, Cumulus Grey*, Tijuca Blue* and Perla Nera Black *available with black roof
What helps all this cosmetic competence is that this SUV also has size on its side. It's larger than its direct rivals on every count. That said, if intimidating/aggressive design matters to you, you'd probably tilt in favour of Jeep Compass.
| | | | |
| --- | --- | --- | --- |
| Dimensions | Citroen C5 Aircross | Jeep Compass | Hyundai Tucson |
| Length | 4,500mm | 4,395mm | 4,480mm |
| Width | 2,099mm | 1,818mm | 1,850mm |
| Height | 1,710mm | 1,640mm | 1,660mm |
| Wheelbase | 2,730mm | 2,636mm | 2,670mm |
Another interesting aspect is how little there is to tell the base Feel variant (blue car seen in the photos here) apart from the top-end Shine grade. Visually, the only things exclusive to the latter are a panoramic sunroof and LED headlights instead of halogens. Nope, no difference in the badging, wheel design, garnishes or even colour options.

What's unique about the design is how every aspect seems to have come from a different idea. The roof rails look like surfboard mounts and can be contrast painted silver or red to look funkier, the 3D LED tail lamps have a genuine 3D effect, and the D-pillar goes upright following an otherwise curvy windowline. There doesn't seem to be one strict concept to connect every aspect of the design and, yet, it all works!
Interior
The in-cabin experience brings the saying "same same, but different" to mind, relative to the exterior. It certainly looks as distinctive and quirky, but is far more subtle. Before we get into the boring stuff, here are two quirks we noticed first:

The layout is without a doubt, meant for a left-hand drive car. The gear selector and push button starter are closer to the front passenger than the driver.

There's a square pattern to almost everything -- each AC vent is split into two squares, the seats, inside door handle and door pad have a similar design, the steering mounted controls and horn pad are squared off and even the steering itself is flat (well, almost) at the bottom and top!
Now, let's run through the interior with a little QnA:
Q: Premium or luxurious?

A: Premium for sure. There's generous use of soft-touch plastics along the dashboard, door pads and centre console, and the layout of the cabin itself is very classy and clutter free. What keeps it from feeling luxurious is our experience with the new Jeep Compass. The cabin in the Jeep just feels richer. Soft-touch plastics on the dash-top, a soft leatherette pad on the passenger's side (instead of the plastic lookalike), and a richer grade of leather for the seats would've helped the Aircross's cabin deliver that all important wow factor better.
Q: Spacious?

A: Yes, the car's dimensions have been put to good use and the C5 seats five with ease. There's heaps of headroom, generous shoulder room, and it does feel like a big car. Knee room is decent too and will serve 6ft tall users well but it is an aspect where cars like the Tata Harrier have just spoilt us.

Where it has an advantage is with its flexi-seating. The second row is split into three individual seats that slide, recline and fold down as well, with adjustable headrests for each seat. With all the seats aligned, the C5 Aircross already has great shoulder room but a shorter middle seat occupant can slide further ahead to avoid getting too cozy with those seated to the sides. The gap won't be too large but it does make seating three at the rear more comfortable.
Q: Comfortable?

A: It's one of the biggest selling points of this cabin and the credit for that goes to the seats. Citroen uses high-density foam which feels cloud-like to sit on. They're soft but have a firm base so even prolonged time in the seat won't have you fatigued or facing lower back pain. We say this with experience -- we spent nearly three hours travelling just 50km from our shoot location back to the car drop-off point and took our first step out of the car severely frustrated, yet, oddly fresh and unfatigued.
Q: Practical?

Here, the C5 Aircross sees a lot of hits and a few misses. What works is the boot space: 580 litre (standard), 720 litre (second row slid ahead), 1,630 litre (second row folded down). Never mind the numbers, all you need to know is that there's plenty of space for the family's weekend's worth of luggage. The front occupants get two cup holders and under the front armrest is an absolutely cavernous amount of storage space.
However, the door pockets are oddly shaped so even a 1-litre bottle needs a little shove to fit properly. It missed out on a sunglass holder and rear armrest. One thing we'd like to say is that Citroen would benefit from compromising the boot space slightly. If the rear seats were placed just a few inches further back, it'd make the knee room feel as great as the other cabin space aspects, while still offering a boot that's plenty accommodating.
Technology
Here's a look at what you get in the gizmo department. Let's find out how these features fare individually:
8-inch touchscreen

The screen is large with easy-to-read fonts, however, the system has notable lag and the display itself looks outdated. There's no home screen, per se, which is unusual. Instead, you have touch-based tabs right underneath the screen for music, navigation, phone settings, car settings, and even the climate control. So you tap a tab and control it further through the touchscreen (no inbuilt voice commands to help you with any of the functions).
Overall, the system isn't as user friendly as we'd have liked and will have a slightly longer learning curve before using it becomes second nature. By user friendly, we mean almost phone interface-like, as most other touchscreens. Thankfully, you get Android Auto, Apple CarPlay, and MirrorLink connectivity.
12.3-inch digital instrument cluster

This screen looks cool and comes with different layouts: personal, minimum and dials. Interestingly, it doesn't get analogue display options i.e. no regular dials for the speedometer or tachometer. The speedometer is always digital and the tachometer is just a horizontal bar. While the cars get Eco and Sport drive modes, they don't change the displays seen here.
Dual-zone AC with rear AC vents

As aforementioned, the AC is operated through the touchscreen. It's a two-step process of tapping the sensor below the screen and then adjusting settings on the display. The AC was effective on the extremely hot day (about 40 degree Celsius) of our shoot but it is a bit noisy.
Powered driver's seat

No memory settings or powered co-driver's seat offered. The co-driver's seat gets manual height adjustment but the backrest is adjusted with a jog dial. So, if you want to recline the backrest by a significant degree or get it upright again, it's a tedious process.
Powered tailgate
Offered with the top-end Shine variant only, this feature is enhanced with the hands-free function as well. So, if your hands are full, you can just swipe your foot under the bumper to open the boot.
Other features
| | |
| --- | --- |
| Auto-dimming IRVM | Panoramic sunroof |
| Tilt and reach adjustable steering | Smart key with push button start |
| 6-speaker music system | Leather-fabric upholstery |
| Cruise control | One-touch up/down power windows with anti-pinch |
| Auto headlamps | Auto wipers |
What's Missing?

It doesn't get connected car tech, ventilated seats or wireless phone charger. Also, the model overseas gets the option of an in-built dashcam which isn't offered here. Not only would it be a cool talking point, but of all the places where a dashcam would be useful, India is definitely on top of the list.
Safety

Irrespective of the variant you choose, all of the C5 Aircross's safety features come as standard. Euro NCAP awarded this car the full 5 stars for crash safety, but the version tested featured auto emergency braking (AEB) and lane departure control, which aren't offered with the India-spec model.
| | |
| --- | --- |
| ABS with EBD | Front and rear parking sensors |
| 6 airbags | Rear camera |
| Front fog lamps with the cornering function (works while static as well) | Rear fog lamps |
| ISOFIX mounts on the rear side seats and front passenger seat | ESP & traction control |
| Hill hold | Hill descent control |
| Tyre pressure monitoring | Blind spot warning |
Performance

The C5 Aircross will be offered with one engine and transmission combination: a 2.0-litre diesel paired with an 8-speed automatic transmission. Technical specifications aside, what will matter to you is how well this combination has been tuned.
| | | | |
| --- | --- | --- | --- |
| Specifications | Citroen C5 Aircross | Jeep Compass | Hyundai Tucson |
| Diesel Engine | 2.0 litre, 4 cylinder | 2.0 litre, 4 cylinder | 2.0 litre, 4 cylinder |
| Power | 177PS | 172PS | 185PS |
| Torque | 400Nm | 350Nm | 400Nm |
| Transmission | 8-speed automatic | 6-speed manual / 9-speed automatic | 8-speed automatic |
| AWD/4x4 | Front wheel drive only | Available | Available |
Power delivery is smooth, yet immediate and the transmission shields you from the need to plan overtakes at any speed. Daily commutes are hassle-free in the C5 Aircross but where it really comes into its own is on the highway. The car gobbles up the kilometres effortlessly and filtering through traffic is a breeze. What also helps is the great noise insulation, aided by the double laminated front windows.

While we're happy with how the engine offers usable performance at all times, it's the transmission that's the real hero. It's very responsive to changes in throttle inputs and gets you in the right gear every time. While you do get paddle shifters, you'll rarely feel the need for them.

As for off-roading, well, you do get traction control-based off-road modes (snow, mud and sand) and 230mm of unladen ground clearance. Just don't expect it to manage any serious off-roading because this is very much an urban SUV.
Ride & Handling
A big talking point for the C5 Aircross is Citroen's progressive hydraulic cushion suspension setup. What you need to know is that it just works! The suspension insulates you from road imperfections with incredible efficiency and keeps the in-cabin experience very comfortable.

You will hear the suspension over rougher bumps or if you go over a speed breaker quickly but you won't feel the harshness inside. It does feel a little soft at low speeds and you can feel some side-to-side movement but otherwise, it takes the sting out of bad roads very well. Like the engine and transmission, where it really feels the best is out on the highway. Undulations and badly made expansion joints are brushed off with ease and long-distance cruises should be good fun with this car.

It's not without compromise though. There's notable body roll through corners and the steering feels vague while cornering. The powertrain has what it takes to make your drive exciting but the chassis is more comfort-focused than its rivals. So if you want the most fun-to-drive pick for the price, the Jeep Compass or Volkswagen Tiguan will serve you better.
Citroen C5 Aircross D AT (WET)
Performance
Acceleration
Braking
Roll ons
0-100
Quarter mile
100-0
80-0
3rd
4th
kick down
10.05s
17.11s @131.94kmph
43.32m
27.07m
7.18s
Efficiency
City (50 kilometers test through mid day traffic)
Highway (100 kilometers test on Expressway and State highway)
12.42kmpl
18.61kmpl
Measurements
Front
Rear
Cabin Width
1455mm
Shoulder room
1420mm
Shoulder room
1405mm
Headroom
920mm
Head room
870-970mm
Knee room (min-max)
550-750
Leg room
875-1070mm
Seat base width
1290mm
Knee Room
610-835mm
Seat base length
430mm
Seat base Length
490mm
Seat back height
610mm
Seat Base width
510mm
Rear floor hump height
25mm
Seat Back height
610mm
Rear floor hump width
265mm
Verdict
The Citroen C5 Aircross comes across as a great family SUV. It has space for five and their luggage, performance that is smooth as it is usable, excellent ride comfort, and design that makes it stand out with ease.
It does, however, miss out on a few features while some need to be more polished to use. Kneeroom could've been a bit more generous and yes, it's not set up to please enthusiasts. If you want a comfortable daily commuter that'll make rigorous journeys more peaceful or an SUV that's always up for long-distance road trips, or both, this is an option worth considering.

What we're hoping for is better price rationale. Citroen says the C5 Aircross will be priced around Rs 28 lakh to Rs 30 lakh (ex-showroom) and that's largely because the car is only being assembled in India and not produced here from scratch. That price would put this front-wheel-drive car above the range-topping Jeep Compass 4x4 diesel AT and Hyundai Tucson AWD diesel AT and too close to full-sized 7-seater SUVs from the next segment. In our books, a reasonable price for its value proposition would be around Rs 25 lakh ex-showroom.
Pros & Cons of Citroen C5 Aircross 2021-2022 Car
CarDekho Experts:
The C5 Aircross has a strong focus on comfort and practicality, but combines these traits with features and quality to offer a luxurious experience.
Things We Like
Unique styling that's sure to grab attention on the road.
Effective focus on comfort.
Easy and intuitive to drive.
Feature loaded even in the base variant.
A true 5-seater with generous boot space.
Things We Don't Like
Infotainment setup isn't the most polished and feels outdated.
Missing features for the price: ventilated seats, 360-degree camera, connected car tech, wireless phone charger.
No all-wheel drive or petrol option.
Stand Out Features
Panoramic sunroof

Digital instrument cluster.

Extra padded seats for better comfort.
Specification of Citroen C5 Aircross 2021-2022
| | |
| --- | --- |
| ARAI Mileage | 18.6 kmpl |
| City Mileage | 12.42 kmpl |
| Fuel Type | Diesel |
| Engine Displacement (cc) | 1997 |
| No. of cylinder | 4 |
| Max Power (bhp@rpm) | 174.33@3750rpm |
| Max Torque (nm@rpm) | 400Nm@2000rpm |
| Seating Capacity | 5 |
| Transmission Type | Automatic |
| Fuel Tank Capacity (Litres) | 52.5 |
| Body Type | SUV |
| Ground Clearance Unladen (mm) | 230mm |
Citroen C5 Aircross 2021-2022 Car News & Updates
Latest News
Must Read Articles
Citroen C5 Aircross 2021-2022 User Reviews
All (59)
Looks (19)
Comfort (11)
Mileage (6)
Engine (6)
Interior (4)
Space (9)
Price (27)
More ...
As the pace picks up, the gear transitions are seamless and rapid. But you have those paddle shifter...Read More

Citroen C5 Aircross. still requires some time to adjust in the Indian market. Though its style and l...Read More

The chairs are quite comfy due to the high-density foam bolstering and soft foam tips. The dri...Read More

It's attractive yet odd. Citroen hasn't really tinkered with that recipe much, even with the fa...Read More

Citroen C5 Aircross comes with amazing looks and an incredible exterior design. It has some nice fea...Read More

View All C5 Aircross 2021-2022 Reviews
Citroen C5 Aircross 2021-2022 Car Latest Update
Latest Update: The facelifted C5 Aircross is scheduled to launch on September 7.
Citroen C5 Aircross Price: The Citroen retails the C5 Aircross from Rs 32.24 lakh to Rs 33.78 lakh (ex-showroom pan-India) at present.
Citroen C5 Aircross Variants: The C5 Aircross is offered in two trims: Feel and Shine.
Citroen C5 Aircross Seating Capacity: It is a five-seater premium SUV.
Citroen C5 Aircross Boot Space: C5 offers 580 litres of boot space.
Citroen C5 Aircross Engine and Transmission: In India, the C5 Aircross comes with a 2-litre engine (making 177PS and 400Nm), coupled to an eight-speed automatic. Its claimed fuel efficiency is 18.6kmpl.
Citroen C5 Aircross Features: The SUV's list of features include a panoramic sunroof, an eight-inch touchscreen infotainment system with Apple CarPlay and Android Auto, 12.3-inch digital instrument cluster, and a kick-to-open powered tailgate, apart from dual zone climate control and a six-speaker sound system.
Citroen C5 Aircross Safety: Passenger safety is ensured by six airbags, electronic stability and blind spot monitoring.
Citroen C5 Aircross Rivals: It takes on the likes of the Volkswagen Tiguan, Hyundai Tucson and Jeep Compass.
Read More
Citroen C5 Aircross 2021-2022 Videos
Citroen C5 Aircross 2021-2022 2023 has 3 videos of its detailed review, pros & cons, comparison & variant explained, test drive experience, features, specs, interior & exterior details and more. Watch our Latest Hindi video of Citroen C5 Aircross 2021-2022 to know price, safety features & more.
Citroën C5 AirCross | First Drive Review | PowerDrift

Apr 14, 2021 | 507 Views

Citroen C5 AirCross India Review | French Accent with an Indian Vibe

Apr 14, 2021 | 13163 Views

Citroën India | Hello, you! Welcome to India! | PowerDrift

Apr 14, 2021 | 142 Views
Citroen C5 Aircross 2021-2022 Images

Citroen C5 Aircross 2021-2022 Mileage
The claimed ARAI mileage for the automatic variants: Citroen C5 Aircross 2021-2022 Diesel is 18.6 kmpl.
| Fuel Type | Transmission | ARAI Mileage |
| --- | --- | --- |
| Diesel | Automatic | 18.6 kmpl |
Found what you were looking for?
Citroen C5 Aircross 2021-2022 Road Test

Are you Confused?
Ask anything & get answer in 48 hours
*Ex-showroom price in New Delhi
×
We need your city to customize your experience