Maruti Suzuki Ritz VXi GENUS: A moment to be lived.
Maruti Suzuki Ritz VXi GENUS: A moment to be lived.
Flashback to June 2010. The location is Delhi. The sun is out in all its glory. They don't call it an Indian Summer for anything. I'm getting ready to go to work... but little do I know that this will be the day that'll change my perception of a "moment" forever. I get into my raggedy, ancient Santro. This warhorse has seen its days, but even this machine is no match for the sun god, which is out on all of its glory. Maybe this IS the last day on earth. I start the car, put the AC to the maximum and hope for the best. Ten minutes in. Twenty minutes in. Thirty minutes in. This is depressing. I'd rather put a damn cooler in here. The car and the rest of me are getting hotter by the minute... all the while noticing a blue car scream past me with the windows up. If green was the color of envy, I'd been the greenest thing you ever have seen. I crawl to my place of work. A closed office has never looked so refreshing. Go upstairs, turn on my workstation, and try to recollect what that car looked like... Flash forward to August 2010. The temperature seems to be getting tolerable. My current choice of transportation isn't. A friend of mine buys a new Punto, and shows it off to me. Huh? A Fiat and an AC that sluggish? Perhaps you got handed a weaker model, my friend was my response. As you can see that little bit of June sun was still with me. I start with the comparisons. Punto, no way. An i10 perhaps? What is this, another Santro to replace this one? That car zooming past me 3 months ago was still in my head. Fire up the browser, tap in a few select keywords, and start the research... Google seems to be full of info about this car. The official site has something called a special edition in there... hmmm... interesting. Google and a tussle within my mind keep me occupied, for the better part of the last quarter. A premium hatchback at this salary? Are you crazy? Go for something sensible I thought. And in the Indian Auto Dictionary, if you look up sensible, you'd probably see a photo of a WagonR in there. I went for the customary test drive. First gear, second gear, turn AC on, take it up the slope. How about a fourth gear? I don't think the poor guy liked what I suggested. It rumbled with a loud NO. I agreed and took it back to the showroom. Perhaps someone who considers transportation as going from point A to point B might like it. Disappointed at myself, Google and my research I started to walk back to my old workhorse. The salesman tells me to sit in this customer car they've in for servicing. Hmmm... I think I've seen this car before... it had its windows up and had a shade of blue... WOAH! WOAH! I never thought it'd be so big from the inside! WOAH! Look at that space and funky gear positioning... hehe it even looks like a bull from the cockpit. Whoever put that tachopod in there is a serious sci-fi fan. It looks like the deck of the Enterprise with that thing! I push the driving seat back to fit my crude stature in and take a peek behind the driving seat. I could fit in there again. Was this a sedan in hatchback clothes? I schedule a TD instantly since they don't have a TD vehicle ready. Aww... bummer. One week you say? Seven days have never seemed so long in my life. Eventually, after what seems like eons, the TD day approaches, and the keys are in my hand. One turn, and it's like a cat that's just getting out of bed, purring... we take the city roads, and the cat has started to wake up... the salesman tells me to take it to the highway instead. Bad move, buddy. Well, it's your car.... third gear, 3k on the tacho, and 60kmph on the speedo. Fourth gear, we're already over the century mark. Notice an i20 on the right. Heh. 3k on the tacho, fifth gear, and 120kmph on the speedo. Two minutes on, and I see that faint tilted H in my rear view mirror. Poor guy. The salesman tells me there's something called a special edition too for this beast. Did they put in more horses in that one I quipped? Sadly no. They made it funkier though. A quick trip to your showroom car lot is in order, my friend. There I see what I could only think of as a shy, sleeping bull all covered in dust. One quick wipe and the word GENUS peeks out from the back... GENUS indeed. I concur. This is a fine day. The dreary Indian Summer is long gone. There's no fog, no wind, no work... almost a great day to take delivery of a new car... the trip to the showroom seems longer than a trip to the end of the galaxy. Oh come on! Why are there so many traffic lights in this city? Why do people move so slow? Don't they know I've someone waiting for me? I pull into the showroom after dodging through the traffic, and there it was. The bull wasn't sleepy now. It stood there in all its glory, eyes all wide and ready to be unleashed onto the unsuspecting tarmac. Thirty minutes pass, the formalities are all done... but wait! Oh why does the service advisor need to teach me how the car works now? I guess he's as emotional as I am. I can understand well my friend. And it finally happens. The key falls into my hands. The unlock beep sounds sweet as if two soulmates meeting for the first time... I start her up and honest to god, I don't think I even put the key into the ignition. Perhaps this bull remembers me from my last time. First gear, about 1.5k on the star wars envy-inducing tacho, and the rumble starts.... Present Day. The double unlock beep still sound sweet to me. I get in, first gear, second gear, third, we're on the highway. I see someone sitting in their car on the side of the road. It's starting to get kinda hot these days... I zoom past them in the little bull, windows up. I think he just saw the Car of The Year 2010 sticker at the back... I guess in about 6 months time, there should be another of these little bulls on the road. The Indian Summer, and blazing tarmac, the sluggish i20's on the highway, and the weak so called premium cars have just witnessed the future. They haven't lived the moment. I get to work, lock the car with a beep. The guard asks me which car this is. The bull just winks at me from the parking lot. Ladies & Gentlemen, I present to you, the limited edition Maruti Suzuki Ritz Genus. A moment to be lived.
Maruti Ritz User Reviews
All (818)
Mileage (122)
Performance (32)
Looks (140)
Comfort (134)
Engine (74)
Interior (67)
Power (61)
More ...
Best in its class with great pickup and overall stability. Feels like punch while cruising on road a...Read More

The Maruti Suzuki Ritz comes with automatic transmission and premium dual tone interiors that make y...Read More

Our car is good it is in good condition. It is five seater car it looking very nice and its look is ...Read More

The Maruti Suzuki Ritz VDI is best in its segment, the best part is the look & Mileage of the ca...Read More

Flashback to June 2010. The location is Delhi. The sun is out in all its glory. They don't call it a...Read More

Finally, I have chosen Maruti Ritz Vdi after gone through all top car reviews of owners. Please find...Read More

Hi all, Took two test drives of the Ritz before finally settling on booking the Vxi today...due to t...Read More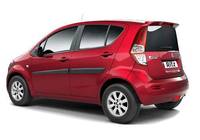 Rs.4.30 - 6.58 Lakh*
This car model has discontinued
Write your Comment on Maruti Ritz
×
We need your city to customize your experience