Volvo S60 R-Design: Expert Review
Published On Aug 31, 2015 By Akshit for Volvo S60 2015-2020
Volvo's long-standing commitment to safety let its cars speak for itself, but the new generation models have not been restricted to just that. From V40 to the range-topping XC90, all these offerings now stand neck-to-neck in every possible aspect, when compared to their respective German rivals.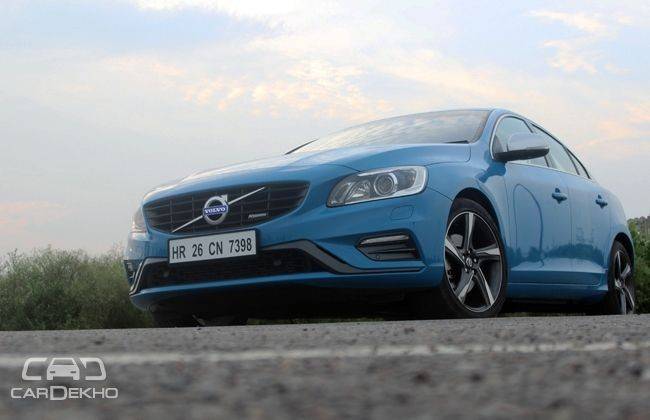 S60 is another capable Volvo that was introduced with new range of Drive-E engines few months back in India. Pitted against the successful Mercedes-Benz C-Class, BMW 3-Series and Audi A4, can this luxury saloon lure Indian buyers to turn their noses up at German cars and choose a Swedish-built model instead. We find out.
Design:

Having a hunched-down stance and coupe-like profile, the S60 is definitely one of the best looking cars from the Swedish carmaker. The most striking as well as my favourite element would undoubtedly be the polestar-borrowed 'Rebel Blue' body shade, which in collaboration with a matte-black wide radiator grille puts up a very resplendent look.

The R-Design kit comes as an icing on the cake and adds some extra zing to the overall package with sporty bumpers and bigger alloy wheels. While the silver-painted outside rear view mirror and twin exhausts with chrome tip play their part well and enhances the S60's sporty quotient. To sum it up, I have always loved the looks of this sedan and it continues to impress me without even trying.
Interiors:

Like any other Volvo, S60's cabin is a very comfortable and sophisticated place to be in. The all-black theme looks really classy with nice touch of brushed aluminium here and there. The driving position is excellent having plethora of adjustments, and the seats deserve a special mention as they are well-bolstered and offers best possible comfort.
There's plenty of space for four adults, with decent head and legroom all-round. Access to the rear seats is also good, but the sculpted rear bench makes life rather uncomfortable for a central rear occupant.

In a bid to simplify things, Volvo has tried putting a dedicated button for every possible function there on the centre console, which I found a bit distracting while trying to operate on the move. A rear-view camera, sun-roof, heated front seats and sat-nav system are some of the other features you are greeted with.
Engine & Drive:
Before I get on to briefing my drive affair with the S60, let me explain its specialty, the Drive-E engine in the first place. Volvo's new Engine Architecture family now offers a common 4-pot 2.0-litre diesel engine under the bonnet of majority of its models, and the output ranges between 120bhp and 230bhp for different models.
In terms of advancement, this oil burner monitors pressure feedback from each fuel injector rather than using a single sensor in the common rail. As well as, each injector monitors its own injection pressure to optimise fuel injection in each of the four cylinders.

India-spec S60 also comes with the same 2.0-litre diesel mill that now generates 181bhp@4,250rpm against the predecessor which churned out 163bhp@3,000rpm. While the torque remains the same at 400Nm@1,750-2,500rpm. The car isn't very quick of the feet but picks up gradually and post the 2,000 mark, it doesn't leave space to complain. Its responsiveness and in-gear performance impresses and the engine feels happy to rev till the redline. The new eight-speed automatic is slick and due to low ratios it makes the car quick to accelerate while easy to handle in city. Whether on the highway or in bumper-to-bumper traffic, S60's power delivery is very commendable and right on spot.

As I mentioned, the throttle response in the auto mode is a bit sluggish. However, the scenario can be flipped if you push the gear-lever to 'S' and start shifting gears via the paddle shifters. The throttle turns more alert, the transmission shifts quicker with every flick of the paddle, the engine note becomes more enticing and the steering gets very engaging.
Ride and Handling:

Ride quality on the S60 can be quite unforgiving as the stiff suspension setup and low-profile tyres make you sense every undulation on road. Stability, on the other hand, is rock strong and the car remains planted on most of the occasions. Choose some curves and turns to be countered and this Volvo without any hesitation will get you through them easily. The low profile Continental ContiSport tyre also compliments your drive well and offers good enough grip. Talking of handling, the steering feels direct and builds that confidence to have some fun, if needed.
Verdict:

Watching the sun set from a supremely-comfortable leather couch perched on the veranda of a lakeside log cabin, and that feeling that all is well with the world- this is the exact feeling while driving this S60 R-Design. Although, it doesn't offer a drive full of rush, neither it come with the best of service support in our country, but what it gives you is a sense of exclusivity. The design is fantastic and stands out of the crowd, especially in this blue colour. Overall the Swede-made S60 R-Design is a brilliant package and stands nowhere less than Germans in this league.