Renault Captur Petrol Review
Published On Dec 11, 2018 By Arun for Renault Captur
The Captur's petrol avatar has ducked under the radar for nearly a year. Does it do enough to warrant attention among strong petrol-powered rivals?
After driving Renault's Captur diesel for countless kilometres, if there was one key takeaway, it was that it grows on you. One tends to gloss over the flaws in the product over time, because it is a mechanically sound, rugged and a proven, reliable package.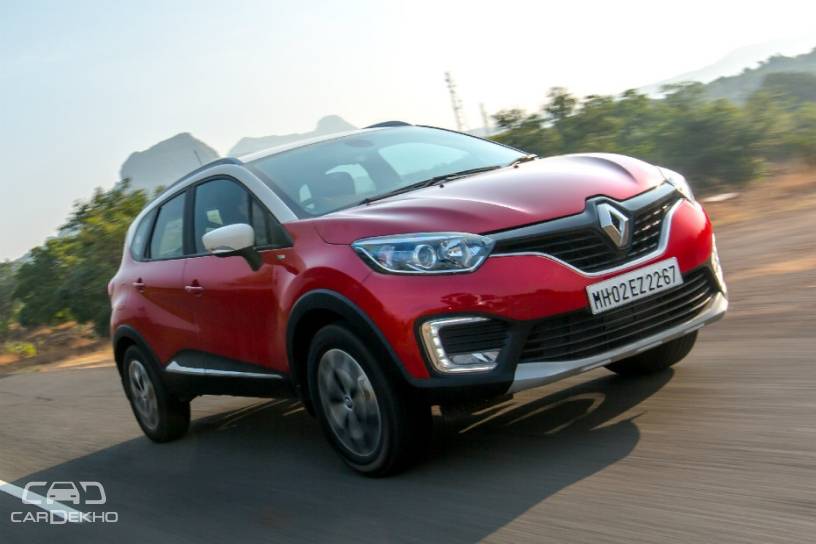 That said, we've all but sampled the petrol cousin. This was the one that gave the SUV a mouthwatering entry price tag. Question is - is it just that? Is it just a variant on paper that's meant to lure you into the showroom? Or does it give you enough reasons to have it parked in your garage? We spend some time with the petrol-powered Captur to find answers.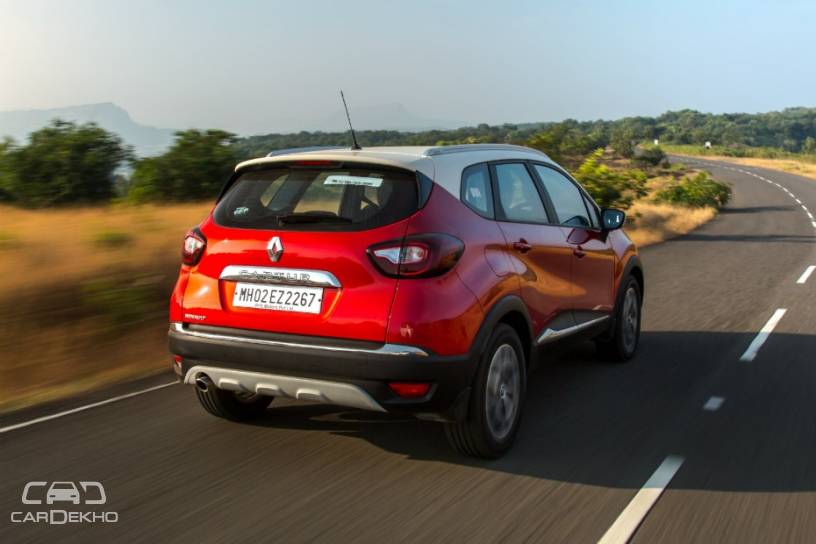 Engine And Performance
The Captur petrol gets a 1.5-litre, four-cylinder engine that makes a healthy 106PS of power, and 142Nm of torque. First impressions of this motor are super positive. It's as refined as petrol motors get, making nothing more than a mellow purr at idle. Couple that with the well-insulated cabin, and you barely ever hear the engine. It's only when you really push it towards the redline do you hear the raspy exhaust (which we must admit sounds quite sweet). It reminds us of Honda petrol engines of yore. And that's a big compliment!

Start driving and it's immediately apparent that this is going to be a lot easier to drive compared to its diesel counterpart. There are two factors at play here. One, the clutch. It's noticeably lighter to use compared to the diesel's. And while the travel is still longish, the clutch bites in early, which ensures you don't fiddle with the pedal too often inside the city. Second, the petrol motor doesn't feel bogged down at any point in time. Sure, progress isn't snap-your-finger quick, but it definitely feels a lot more relaxing compared to the annoying turbo lag and the sudden surge of torque of the diesel engine. If you enjoy driving in a calm manner, and aren't really bothered with how quickly you can overtake the car in front of you, the Captur will suit your style.

That said, it does manage to take the edge off city driving very well. You can drop down to single-digit speeds in third gear (say when you're slowing down for a speedbreaker), and simply step on it to make progress. There's a hint of protest from the engine, sure, but it quickly gets past that. Inside the city, we managed 10.72kmpl. That is slightly better than what we expected it to do. If you're stuck in a jam often, expect the figures to drop down to single digits.

Even in fifth gear, you can drop down to as low as under 30kmph - really handy on our unpredictable highways. Speaking of which, we expected the Captur petrol to be in its element out on the highway. Sadly, it's not. Most of this is down to the 5-speed gearbox. At triple-digit speeds, you desperately feel the need for a sixth gear. The engine is ticking over at 3100rpm, which does take a toll on fuel efficiency. On test, we managed to eke out 15.79kmpl from the four-pot on the highway. Bear in mind, there's no Eco Mode here, so keeping a light right foot is the only way to keep your wallet fat.

Also, since we're on the subject. Where's the automatic transmission, Renault? The more affordable Duster sports a CVT even. For something that's billed as a premium product, the absolute lack of an automatic option doesn't seem right. We're sure the two-pedal setup would've made the Captur a better city-slicker, as well as a conscious sipper on the highway.

Before we sign this section off, let's take a quick look at performance figures -
Acceleration

0-100kmph

14.33 seconds

30-80kmph (3rd gear)

11.38 seconds

40-100kmph (4th gear)

20.16 seconds

Braking

100-0kmph

43.48 metres

80-0kmph

26.55 metres

There's just a second separating it from the diesel-powered Captur in a 0-100kmph sprint. But what raises an eyebrow are the in-gear acceleration figures — 30-80kmph in third gear takes an additional 3.61 seconds, whereas 40-100kmph in fourth is a yawn-inducing 8.6 seconds slower. Clearly then, the Captur isn't for anyone looking at a fast SUV for highway mile munching. It's more suited to relaxed drives in and around the city.

Everything Else..
...remains pretty much identical to the Captur we've known for a little over a year. It turns quite a few heads, and has all the big car elements in place, including projector headlamps, daytime running lamps, 17-inch alloy wheels as well as a dual-tone paint scheme. It's properly equipped too — automatic climate control, cruise control, automatic headlamps, a touchscreen infotainment system — it's all there. Since the petrol engine isn't available in the top-spec 'Platine' variant, there's some equipment missing. We're sure you wouldn't really miss the all-LED headlamps, or the leather upholstery. In fact, we prefer the fabric/leatherette combo on this RXT variant, considering how much more suited it is for a climate like ours.

Our complaints remain pretty much the same too. For a car that's as big as the Captur, the second row doesn't feel particularly roomy. There are some annoyances in the form of the tiny pedalbox and the lack of a dead pedal too.

It rides similarly to the diesel version too. Which is to say it eats bad roads for breakfast and remains rock steady at highway speeds. The steering is light enough for city use, and weighs up well as the speedo climbs too. And yes, it still has that near-scary kickback when you corner hard.
The biggest miss, in our books, is in safety tech. We reckon it could do with four airbags (instead of two), ESC and hill-start assist — all of which the top-spec Platine variant gets.

Verdict
So, should you give the Captur petrol a shot? Absolutely. The refined engine is easy to drive, and feels just right for city use. You'd have to be a bit careful and drive with a light right foot. Because we do see it being a guzzler if not driven frugally. And yes, it isn't the most exciting car to drive. But, it does an excellent job if you want nothing more than a relaxed commuter.

What's good is that the Captur comes across as pretty good value for money. At Rs 11.5 lakh (ex-showroom), it undercuts the Creta SX by almost a lakh. And, when you break out the magnifying glass and run through the brochures, you'd find it doesn't skip on any major features either. Add in the bumper discounts, and you've got a package that becomes almost tempting.