Maruti Celerio Expert Review
Published On Jun 17, 2014 By Prithvi for Maruti Celerio 2017-2021

Erstwhile Maruti Suzuki is one of the most trusted brands when it comes to automobile manufacturers in India. Its performance, reliability and cost effectiveness is the biggest selling factor for this Indian home grown manufacturer to the point that the recently launched Celerio is a buzz in itself. Positioned aggressively, Maruti Celerio was pitched in the market as a technologically advanced small car with an automatic transmission thrown in to add variety to its model range and give consumers something to cheer about considering that traffic snarls are becoming an increasing concern for an end user. On that note, CarDekho recently got behind the wheel of a Celerio automatic to determine its potential in an increasingly demanding segment.


Exteriors


An entirely up-to-date product in regards to the design philosophy courtesy, years of long standing relationship between Maruti and Suzuki; the Celerio bears a very attractive look. It's the front that has all the action wherein one could find chrome highlighted front grille with Suzuki's logo sitting right in the centre. To complement the design further, a pair of wrap around headlamps with integrated fog lamps surely has things going for this small hatch. Body coloured door handles, sporty alloy wheels, side view mirrors with turn indicators give it a premium look. While rear bears elegantly shaped tail lamp clusters that along with its up kept tailgate provides the hatch a subtle yet instigating stance.


Interiors


Given that this was in fact developed to create an entirely new segment, the cabin provides some interesting and up-to-date features. To start off, the quality of plastics are at par with most of its competitors and perhaps equivalent to the one available on the Swift. Offered in two-tone, the dashboard offers a U-shaped centre console that comprised a Kenwood music system with features such as a USB port, AUX-IN and Bluetooth connectivity. However the top of the line variant does come with an integrated music system. Steering mounted controls and a multi functional instrument cluster comprising of a speedometer, rpm metre and an information counter do benefit its interiors.


As for upholstery, there are fabric seats on offer that provide decent amount of cushioning. Having said that the under thigh support towards the rear isn't that great in comparison to the front seats. One thing to note in front is that the two seats are a single unit instead of the regular demarcation of an attached head rest to the lower part of the seat.

There is a 60:40 split in the rear seat. When it comes to space, this small hatch does provide ample amount of head, shoulder and leg room. In regards to luggage, the boot provides 235 litres of space. From safety aspect, front airbags are optional on the top most variant with elements such as Immobilizer and ABS making it to the features list.

Engine & Performance
Focusing now on the most interesting part of this test is the power plant that breathes under its hood. Christened as K10B, the Celerio features a 3 cylinder all aluminium 998cc petrol engine that is capable of producing a maximum power output of 68 PS with 90 Nm of torque. In simple terms, this might come across as an ordinary unit however with a 5 speed automatic transmission thrown in the experience promises to be a nice one. How is that? Well, Maruti claim to have developed some interesting technologies to help attract perspective consumers with elements such as an Auto Gear Shift and Drive-By-Wire Technology. Theoretically, the Auto Gear Shift mentioned over here comprises of an electronic control unit that utilizes a precision hydraulic actuator to control clutch engagement and gear shifts. This system ensures that the gear and clutch operations happen at optimal timings thereby providing a better fuel efficiency of a manual transmission despite it being an automatic.


Unlike all automatics, this one does not feature a park mode rather it has a neutral therefore one needs to be aware at all times to use the handbrake while parking otherwise there could be a rolling disaster. Drive-By-Wire Technology is yet another feature that aids in providing better torque delivery and more responsive drive.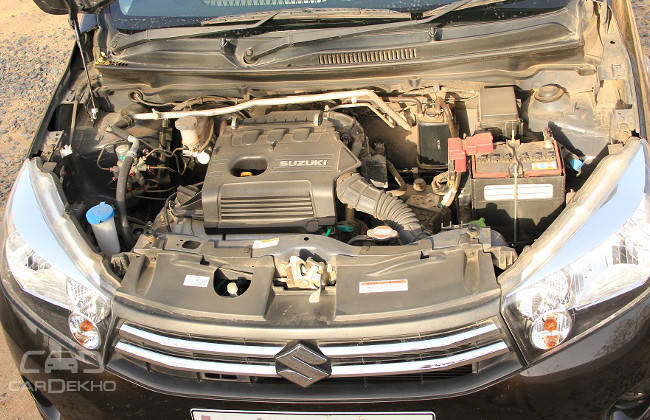 All accounted for, Maruti Celerio does reasonably well when it comes to Indian road conditions. Its pick up is linear to the amount of acceleration however if pressed really hard then the power plant goes into a frenzy thereby screaming its heart out loud with an average increase in speed. The Auto Gear Shift works in tandem to provide decent shifts. The ride quality is pretty good as the hatch can go over broken roads without much of an adieu; a ground clearance of 165mm further extends the reach. Bearing a turning radius of 4.7 meters it is fairly easy to maneuver through congested roads and park in really tight places.

As for fuel efficiency of the automatic version, one would say that if in auto mode the numbers aren't really impressing but the moment you go into manual they seem to provide a decent average which in our case went up to 16 kmpl with a mix of highway and city driving. However be advised, if the car is pushed really hard the fuel efficiency drops to 10-12kmpl as this is a tiny engine which has to work really hard to achieve triple digit speeds. The manual transmission variants will easily return fuel efficiency numbers upwards of 20kmpl.

Verdict

So does this all make sense at the end of the day? Well, Maruti seem to have definitely struck the right cord when it comes to making a connect with first time buyers and those who would like to upgrade from say a two wheeler to a four wheeler. The ease of an automatic definitely works given the deteriorating traffic conditions especially in our metros; the claims of having a fuel efficient engine is something that really doesn't really click but nevertheless the novelty factor of being a Maruti works in its favour and so do the features on board that are on par with majority of its competitors.