Mahindra XUV500 W11(O) AWD Automatic: Review
Published On Jun 14, 2018 By Alan Richard for Mahindra XUV500
Mahindra has refreshed the XUV500 with some new features, a new diesel engine tune and new variants. We drove the top of the line W11(O) AWD AT variant to see how all the changes add up.

The new XUV500 explained
The XUV500 is Mahindra's flagship offering in its SUV lineup

All-wheel drive with automatic transmission is only suited for mild off-road use

Can seat seven but then completely loses out on boot space

Tuned diesel motor now makes more power and torque than before
The XUV500 has received a number of updates over the years but for 2018 it receives the biggest update till date. In addition to a minor face and tail lift, there're new alloy wheels and a new tune to the mHawk diesel that gives it more power and torque as well. The interior has also received a minor sprucing up with some new upholstery and an update to the sound system and Mahindra's Blue Sense Android and iOS app. Read on to see how this all ties together in the top of the line W11(O) with all-wheel-drive and a 6-speed automatic transmission.

What's changed on the outside?
New grill design features larger openings with chrome accents and chrome surrounds

Headlamp design has been rearranged, with the LED DRLs moving to the top but with no real hardware changes

18-inch diamond-cut alloy wheels for W11(O) while W9 and W11 get 17-inch alloys

The rear has received the most changes with new accent lines, chrome and a new set of triangular tail lights

Mahindra have given the XUV500 its second facelift rather than a more substantial model update. The first thing you will notice is the more attention-grabbing front grill with chrome accents and large chrome surrounds as well. The headlamps have also been redesigned with the LED DRLs moving to the top side of the headlamp unit, but the essential elements like the projector headlamps remain the same.

On the side the new 18-inch alloy wheels are the most striking change and you may just miss the fact that Mahindra have made some subtle changes to the chrome accents on the bottom of the door sills. The new 18-inch alloys are also only available in the W11(O) variant while the W11 and the W9 get 17-inch alloys.

The rear has also received a bit of a revamp with some new accent lines and a new set of triangular tail lamps. But overall, the changes are fairly subtle and just about manage to give the XUV500 a rather fresh look.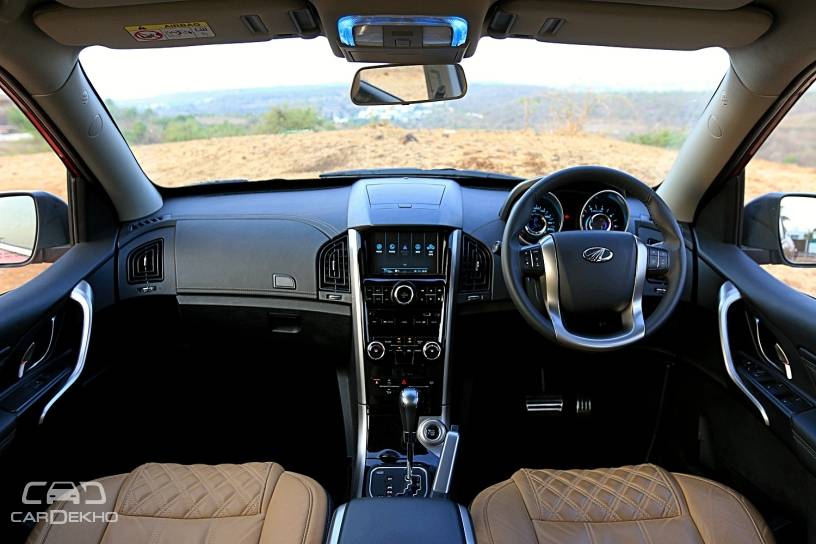 Is anything new on the inside?
The new tan faux leather seats are quite nice and look good against the dark coloured interiors

Space on offer is fairly generous but if you do choose to use all 7 seats then you won't have any space in the boot to store any luggage. You can use an aftermarket-fitted luggage rack, though this is not the best solution in the monsoons

Piano black finish on the central instrumentation panel looks very nice when clean but gathers fingerprints very quickly and then dust immediately after

The interiors in the top-spec W11 boast the most changes, with nice quilted tan leather seats that look quite upmarket and feel good as well. They also do a good job of adding some colour to the otherwise dark colours of the lower half of the car. The pillars and the headliner are upholstered in a light grey fabric that contrasts rather well with the black and tan and also gives the cabin an airy feeling. The centre console has now been given a piano black finish that looks really upmarket, but only when it's clean. Some of the buttons could also have been better made as they tend to feel a little plasticky. Also the SUV we had on test had already developed an annoying metal to metal squeak from the second row with just 2800km showing on the odometer. Recommended: 2018 Mahindra XUV500 Facelift: Variants Explained

The driver seat now gets 6-way electronic height adjust and the steering is adjustable for height and reach as well. However, the reach adjust requires a hefty tug on it to get the column to telescope towards you. There is enough room to seat five in comfort and adults can also fit in the third row but when these seats are in use, there isn't any place in the boot to fit even a tiny jogger's backpack.

Measurements - Front Seat

Parameter

Legroom (min-max)

980-1125mm

Knee room (min-max)

610-850mm

Seat base length

475mm

Seat base width

515mm

Seat back height

575mm

Headroom (min-max)

900-930mm

Cabin width

1380mm
Measurements - Second Row

Parameter

Shoulder room

1460mm

Headroom

955mm

Seat base length

460mm

Seat base width

1355mm

Seat back height

600mm

Knee room (min-max)

670-875mm
Measurements - Third Row

Parameter

Shoulder room

1245mm

Headroom

840mm

Seat base length

455mm

Seat base width

1000mm

Seat back height

585mm

Knee room (min-max)

530-635mm

Any new features?
Mahindra's Blue Sense infotainment app for both mobiles and smartwatches is really nice to use and can control a vast amount of vehicle functions

New Arkamys sound system is a strictly mediocre listening experience

The XUV remains a fairly loaded SUV with features like auto headlamps, rain-sensing wipers, cruise control and push button start all available from the W7 variant upwards

On the features front, the new, top of the line W11(0) gets a new smartwatch app that is available for a number of popular smartwatches. Like the smartphone app, it can control a number of car functions like the air con settings and infotainment controls. It also allows you to view vehicle stats like fuel range and mileage and even tyre pressures. Related: 2018 Mahindra XUV500 Facelift: First Drive Review
Mahindra have also tweaked the infotainment system and it's now been tuned by Arkamys, the French audio systems tuner, but the sound output from the system is still strictly mediocre.

That said, the XUV500 is still very nicely loaded from even the W7 onwards, which is one step up from the W5 base variant. Even features like auto headlamps, rain-sensing wipers, cruise control, parking sensors, push-button start and climate control are all available from the W7 variant upwards.

What about its performance?
New diesel engine makes 15PS and 30Nm more in this new state of tune

Is more responsive at low speeds with new eVGT

Automatic gearbox is smooth and happy when you are driving in a relaxed mode

Real-world fuel efficiency of 14.69kpl on the highway

Real-world fuel efficiency of 11.83kpl in the city
The XUV500 is powered by the same 2.2-litre mHawk turbocharged diesel engine as before but it now makes 155PS and 360Nm as compared to 140PS and 330Nm from before. It's now also slightly more responsive to drive, with better acceleration from lower speeds thanks to the new eVGT which gets the turbo to kick in quicker. Related: Mahindra XUV500 Electric On Cards; Here's Why

The automatic transmission is smooth and fairly efficient as well but it's been tuned to shift up gears very early, and even in manual mode it wont allow you to rev over 3400rpm. This is really never a problem while normally driving but just limits its flat-out acceleration to 100kmph, a task it completes in 12.98 seconds.

It's braking distances are also fairly modest and while the car does dive forward a lot during hard braking, its braking distance of 44.66 meters from 100kmph to a stop is not bad for a vehicle weighing just over two tonnes.
Acceleration
0-100kmph - 12.98 seconds
Kickdown 20-80kmph - 7.75 seconds

Braking
100-0kmph - 44.66 metres
80-0kmph - 28.26 metres

What it's like to drive
Very relaxed and smooth 6-speed automatic transmission is a delight in the city

Road presence is great and you do notice traffic giving way to the large SUV

AWD gives it the ability to tackle some light off-road work

In the city the suspension does let through some bumps into the cabin but this improves as speeds increase
The XUV500 is imposing on the roads, to say the least. It has great road presence in the city and you really can feel traffic part to give you way. That said, sometimes you feel it's from fear of the XUV500 rather than from admiration.

The automatic transmission is smooth and nicely tuned, with imperceivable shifts when driving at city speeds. On the highway it does take a little time to gather momentum and this is not quite the setup that can be hustled.
In the city you can feel small bumps as the suspension is set up on the stiffer side. As speeds increase the cabin levels out a bit, but still some up and down motion can be felt at highway speeds. It still has some body roll and also tends to pitch forward quite a bit when you brake hard. But if you focus on driving smoothly by accelerating gently and slowing down gradually, it stays fairly composed.

Safety features
All variants come equipped with dual airbags and ABS with EBD

From the W9 variant upwards you also get ESP with rollover mitigation, hill hold and hill descent control

In the W11 and W11(O) side and curtain airbags are added to the feature set as well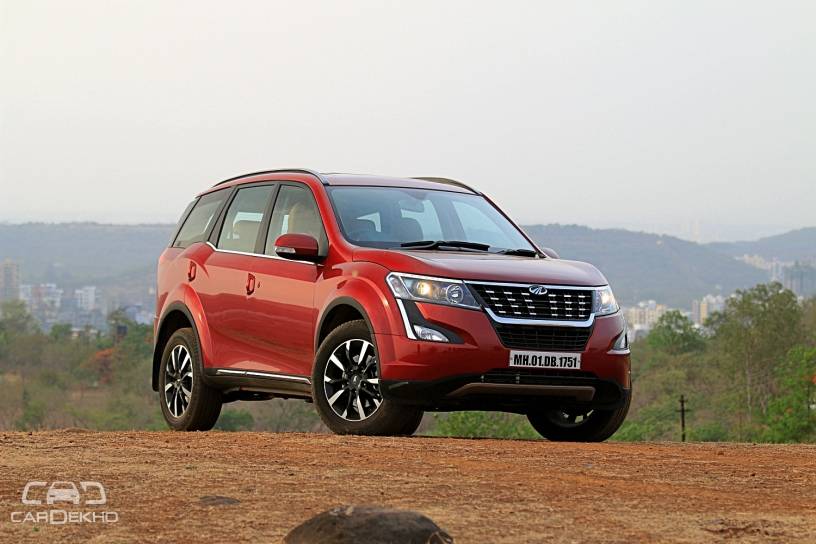 Verdict
So who should buy the XUV500 W11 (O) AWD automatic? Let's take a look at the options: The W11(O) automatic 2x4 is a whole Rs 1.1 lakh cheaper and will still retain some SUV abilities off the tarmac if you are just looking for the convenience of an automatic. On the flip side of the same coin, the W11(O) AWD is also available without the automatic gearbox for Rs 1.2 lakh less if you must have the more capable XUV500.
For an asking price of Rs 19.05 lakh the W11(O) AWD automatic sits at the very top of the XUV price list. So the XUV500 AWD automatic tries to be a bit of an all-rounder. It's a relaxing city driver that makes smooth progress and doesn't hassle you with the need to shift gears. Out on the highway it's a similarly calm driving experience and as long as you don't try to muscle it around, it behaves nicely. The AWD will even allow you to cross the slushy driveway to your farmhouse on your weekend getaway. And if you must have the most specced out XUV500 then the XUV500 W11 (O) AWD automatic is a nice, easygoing and feature-rich option.