Hyundai Elite i20 First drive
Published On Aug 21, 2014 By Prithvi for Hyundai Elite i20 2017-2020

Evolution describes the stature and success of any commodity. Over the years, Hyundai's i20 has carved a niche for itself and now with the advent of Elite i20 the image of this premium hatch has only grown greater. Can it break through the shackles of Maruti Swift and recent inclusion of Fiat's Punto EVO into the Indian market is something that time will only tell, however for the time being we put Hyundai's Elite i20 under the magnifying glass to bring you its first impressions.

"New Thinking New Possibilities", has definitely changed Hyundai outlook towards the end consumer and this can be seen through the products which they have been able to churn out for different segments. Their Fluidic Design philosophy has been the talk of town with their top of the line Sonata, filtering down to models like Santa Fe, Verna, Xccent, Grand i10 and now the Elite i20. Into its second generation, this premium hatch has evolved thanks to the company's Fluidic Sculpture which goes on to add more glamour and appeal to the exterior design since its inception back in 2008. In fact the current success of Hyundai Grand i10, which has sold more than 1 lakhs units till date in just a matter of a year since its introduction in September last year, is a prime example of the Korean automakers brand equity that's on the rise in the Indian market. Elite i20 is yet another endeavour on its part to provide the Indian consumers that bit of exclusivity and premium appeal that too in a hatchback.

Exterior

Christened as 'Fluidic Sculpture 2.0', Hyundai Elite i20 instantly manages to catch one's attention with its agile looks, be it front or rear; everything seems well thought out and in right proportions. Just to refresh your memory, this is the third time that this hatch has actually been rekindled to woo the taste buds and preferences of the Indian market which is riding high on design, feel, features and performance. In perspective, the sporty front end instantly makes you take notice of it. This is due to its pointed nose that features a hexagonal grille with chrome finished air dams. Wrap around headlamps further catch the eye with their touch of chrome along with a pair of elegantly redesigned fog lamps and sculpted bonnet that enhances the appeal.

Distinctive design element - a sharp line originating from the front runs all the way back to the rear instantly forming a connection with the overall design. Other elements such as side view mirrors with indicator inserts, chrome finished door handles and a set of 2 tone diamond cut alloy wheels definitely add meat to its side profile. The inclusion of blacked out C pillars adds character to the rear quarter which is bound to attract a lot of attention as the manufacturer claims that it is a first in the segment feature. However since it is made up of plastic, there will be a bit of a concern regarding its appearance over time due to the fact that panels like these ones tend to lose their shine and colour when in direct contact with sunlight.

A relative shift from what we are used to seeing on the first generation Hyundai i20 and then the facelift, the 2nd generation has a very contracting tail gate. One glance and its wide 3 step wrap around tail lamps instantly make an impression of its exquisite design. Availability for a dual tone rear bumper further enhances it rear stance along with features such as reflector inserts, a rear mounted camera that is located right below the Hyundai logo, parking sensors that adds mass appeal. Having said this, one would have to agree that looking at it from any angle; the Elite i20 is a stunner in comparison to rest of the competition in its class.
Interior

Initial cabin impression of the Grand i10 caught the likes of most customers and so is the case with the Elite i20. Comparing it with the previous generation, the interior ergonomics focuses on its occupants to provide premium aesthetics, intuitiveness and simplicity. Used to essentially describe the cabin of this premium hatchback by Hyundai boils down to one crucial point that is quality of plastics on board is superior and so is the fit and finish that would help take notice of it. Further its dual tone interiors blend in well to provide a roomy cabin.

Focusing on the dash, the instrument cluster with its blue and white illumination caters to a tachometer, speedometer and a multi-information display. The multi-information display in particular provides customized information to the driver. However the absence of a fuel economy gauge is deeply missed. This feature should have been included considering its segmentation. To top it up, there is a three spoke steering wheel with mounted controls that comes in handy. The centre console with its 2 DIN MP3 audio system with facilities such as a USB port, AUX-in and Bluetooth connectivity sound exceptionally good. It's first in class 1 GB internal memory is definitely going to attract many for its feature. Glossy outlook of the automatic climate controls does give away a few points as they tend to reflect whichever object comes in its way. Carefully thought out elements like the ticket holder located right below the climate control system, a sunglass holder, availability of an arm rest for driver and co-passenger, cup holders and air cooled glove box is impressive for this hatch. Inclusion of a rear A/C vent is a sure benefit for rear passengers considering that it is a feature that is seriously looked upon by individual customers.

Comfort wise, it must be said that there is adequate amount of head, shoulder and leg room. The fabric feels good and so does it cushioning in form a good under thigh support similar to its predecessor. Its rear seats cater to 60:40 split just in case if there is a requirement of loading more than 285 litres of space which comes in the form a boot. Things like Smart Key function, Start Stop button and Escort function also contribute to its long standing features list. To sum it up, it can be said that the cabin of Elite i20 is well designed with certain features that are a first for this segment which would definitely tickle the taste buds of many of us.
Engine & Performance

Unlike the ratifications it has received both on the outside and inside, the power plant under the skin of Elite i20 remains the same to the outgoing generation. There are two mills to choose from, one is a 1.2 Dual VTVT Kappa petrol engine and the other a 1.4 U2 CRDi diesel. In numbers, the 1197 cc petrol unit produces a maximum power out of 82 bhp along with 115 Nm of torque while the diesel mill churns out 89 bhp with 220 Nm of peak torque. The petrol bears a 5 speed manual while the diesel cares to provide a 6 speed manual transmission on board.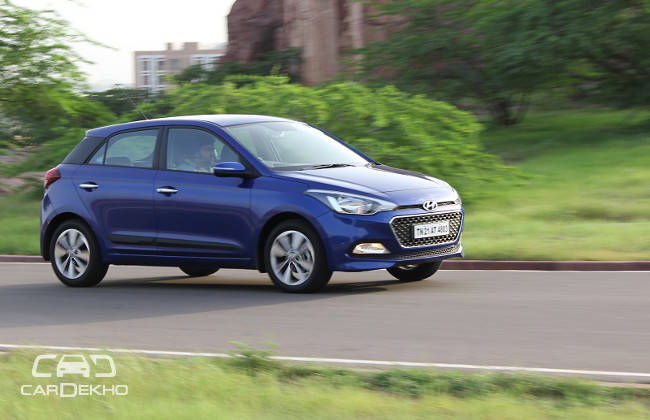 Referring to the petrol, this is the same unit that features in the Grand i10 as well. The only difference being that it has been re-callipered to provide better low end performance. Once on road, this variant provides a linear pick up as the 5 speed manual gear box blends in well to make an impression in the mind. Further its light clutch adds to the delight of driving but if you are on the lookout out for a slightly spirited power plant then this might not be the one for you as it still lacks a bit of punch when it comes to low end speeds.

The most preferred option out of the two, Diesel Elite i20 comes across as better refined in comparison to its predecessor. Better insulation has led to lower NVH levels especially at the time of idle, which is great news for its occupants. This variant offers more grunt that the petrol, which indicates that this one is far more engaging to drive. There is a bit of lag but post 2000 rpm the oil mill comes to life marking a progressive leap in power output. Its 6-speed manual gearbox does well to support performance with the ability of a light clutch that makes city driving very comfortable affair.

Another area wherein the Elite i20 seems to make a mark for itself is in the department of ride and handling. The suspension has been worked upon so as to provide comfort and this can be seen as going over potholes and broken roads isn't really an issue for this premium hatch. Handling however on the petrol is a bit of an issue as it feels light but in the case of the diesel, its power to weight ratio ensure better stability even at high speeds.

In regards to safety, Hyundai Elite i20 offers features like dual airbags, ABS, a first in its portfolio - smart pedal for better control during panic braking, impact sensing door unlock and a rear parking camera with steering adaptive parking guide lines to mention a few.
Verdict

Its far more attractive than before, Hyundai's 2nd generation Elite i20 gains to benefit the most just not due to its competitive pricing but also for the amount of feature that it has to offer. Considering that Maruti Swift is old and still has time to receive a facelift, the limelight is currently on this premium hatch. Its diesel variant is the one to lookout for, as Indian are big fans of the oil mill giving out a slightly impressive performance than the petrol variant.

Spec comparison: Petrol

Spec comparison: Diesel