2023 MG Hector First Drive: Do ADAS And The Added Features Justify The Premium?
Published On Feb 09, 2023 By Rohit for MG Hector
Despite missing out on mild-hybrid tech, the Hector has become bolder and more feature-loaded with its latest update. Do these additions make it a better family SUV than before?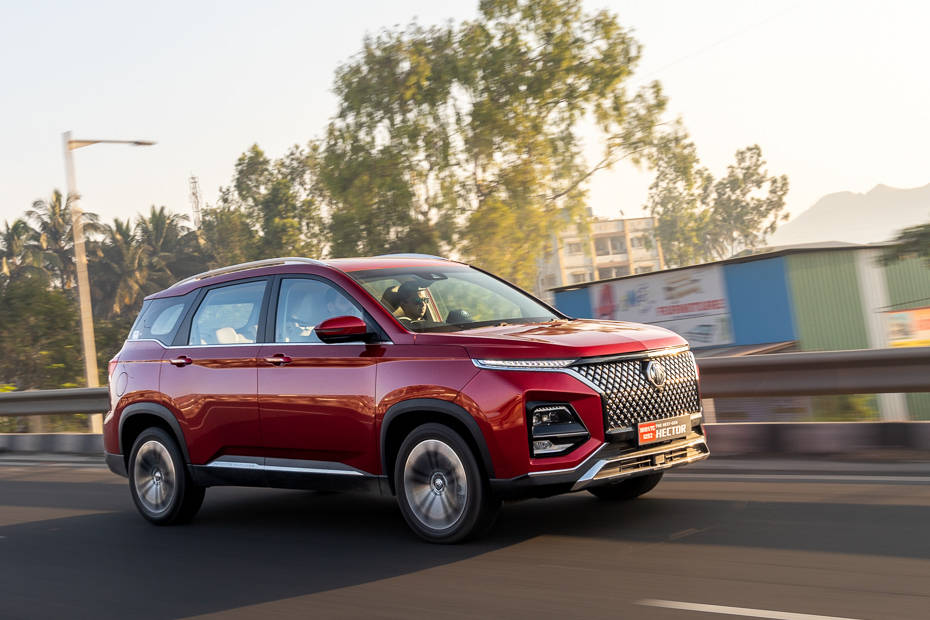 MG Motor's debut product in India, the Hector, has been given its second midlife refresh. The update comprises a bunch of visual differences, new variants (with the 'Pro' suffix) and features – and of course, a price increment across the board. But can it still do what it did best, i.e., being a family SUV? We help you figure it out:
Is Bolder Always Better?

The Hector has always been a bold-looking SUV, thanks to the heavy chrome usage on its front fascia. The changes, though subtle, are a bit more 'in-your-face,' starting with the obviously bigger grille. It now features diamond-shaped chrome embellishments while the grille has a black surround instead of chrome, making it look a lot bolder. However, those who aren't a fan of extensive chrome on their cars would certainly feel it being too much here.

MG has retained the same split auto-LED headlight setup from the pre-facelift version, still placed in the bumper along with the LED fog lamps, while the LED DRLs continue to be positioned above. The front bumper, which gets a revised air dam, has been tweaked to accommodate the extra big grille and also gets a skid plate like before that now houses the advanced driver assistance systems (ADAS) radar.


It's from the sides that you will notice none of the changes made to the SUV. The higher-specced trims of the Hector have continued with the same 18-inch dual-tone alloy wheels but lower variants get 17-inch wheels. That said, we would have loved to see MG offer 19-inchers on the SUV as well, even if those were optional extras. The facelifted Hector also has the body side cladding with chrome inserts with the same 'Morris Garages' insignia.


The Hector now comes with connected LED taillights, with lighting elements in the centrepiece. Apart from that, the SUV's 'Internet Inside' badge has been replaced with that of the ADAS while its tailgate sports the 'Hector' moniker. The chrome strip now runs the width of the SUV's derrière and the Hector's rear bumper has been slightly redone as well.
A Homely Experience

If you are someone who has experienced the MG SUV from close quarters, you would instantly feel at home once you step inside the facelifted model. Although the cabin has been heavily redesigned, it still features the same steering wheel (with both rake and reach adjustment) and a vertically stacked infotainment system. While the SUV may not offer as much practicality as some of its rivals, it can still instil the big sense of space as it did before.


The SUV's interior has fortunately retained the dual-tone cabin theme, making it feel as airy and roomy as before. You will notice the reworked dashboard finished in black which sports silver and chrome accents in the AC vent units and piano black elements, giving it a rich and premium feel. MG has used soft-touch material on the upper portion of the dashboard, door pads and above the glovebox but the lower half is just made of hard plastic, a big letdown. It also has revised central AC vents to house the bigger touchscreen unit, the start/stop button is now more squarish than circular, and gets a new gear shift lever as well.


Even the centre console has been updated – now featuring a generous dollop of silver around the gear lever, cup holders and other controls – and is connected to the touchscreen unit. It leads to the front centre armrest, which is slidable and includes a storage compartment for your knick knacks.

Its seats are finished in beige and are well bolstered and supportive, offering a good seating posture. The front seats are power-adjustable while offering plenty of headroom and knee room for even six-footers. There's a range of adjustments to the driver seat to help you find a suitable driving position and enjoy an expansive view from the windshield.

For those who like to be chauffeur-driven, the rear seats are spacious and can seat as many as three adults… as long as they're on the leaner side. While there's no dearth of headroom and legroom, shoulder room will become a luxury once the number crosses two. Thankfully, there's no central transmission tunnel, so the middle passenger has healthy legroom. MG has provided the rear seats with slide and recline functionality for even more comfort, and there are adjustable headrests for all three rear occupants.

If we were to nitpick, the seat contouring should have been slightly better, especially at the sides of the rear bench, and there should have been more underthigh support. On the bright side, the SUV's big window areas let in more air and light inside the cabin, but it can be a bummer in summers. MG has given AC vents, two cup holders, and a phone docking area with USB fast-charging port for those seated in the rear.
Weekend Trips Friendly

The Hector has enough boot space to swallow all of the weekend trip's luggage. It even gets a 60:40 split for the rear seats that should come in handy if you want to carry more bags and less people. Owners can also benefit from the inclusion of the powered tailgate, which MG claims is a first in the segment.
Tech On Point

One of the most important highlights of the facelifted Hector is the bigger 14-inch touchscreen system with wireless Android Auto and Apple CarPlay. While its display is much clearer and larger, the user interface (UI) is laggy, sometimes taking entire seconds to respond. Even its voice commands, although functional, tend to mishear your required actions. Another downside, also prevalent with many modern tech-laden cars, is the absence of physical switches to control the air conditioning and other features.


Other equipment on board the MG SUV include a massive panoramic sunroof, a digital driver's display, eight-colour ambient lighting, and ventilated front seats. There's also an eight-speaker Infinity sound system with subwoofer and amplifier, wireless phone charger, rain-sensing wipers, and over 75 connected car features.
A Beefier Safety Kit
The Hector packs a bunch of safety features such as electronic stability programme (ESP), traction control system, hill-hold assist, up to six airbags, front and rear parking sensors, and even a 360-degree camera.

With the facelift, its safety net has been enhanced as well, now including ADAS, encompassing adaptive cruise control, auto-emergency braking, lane keep assist, and forward collision warning. Its ADAS, like all cars equipped with such assistance systems, is only to aid the driver, and not to take full control of the vehicle, especially in chaotic traffic scenarios like ours. The ADAS stuff works best on well-paved and well-marked roads, which basically means highways and expressways. It doesn't feel intrusive and is able to recognise the types of vehicles in front of the SUV and put it up on the digital driver's display.
How Does It Perform?

Although the SUV still gets the same set of 1.5-litre turbo-petrol (143PS/250Nm) and 2-litre diesel (170PS/350Nm) engines as before, it has lost out on the mild-hybrid tech. While a six-speed manual is offered as standard, the petrol can also be had with an optional eight-step CVT, both sending all power to the front wheels.

We had the petrol-CVT combo to sample and it came across as a well refined unit. Getting off the line is fairly easy, thanks to the ample amount of torque on offer. Be it city drives or highway journeys, the Hector CVT doesn't require much effort and can reach triple-digit speeds easily as well.

Power delivery happens in a linear fashion and is available at a tap of the pedal, not just on straight patches of tarmac but even when going uphill or through a set of twisties. Although it still has the typical rubber-band effect seen on CVT-equipped models, the Hector doesn't let it become unnerving at any point. The SUV is more for the composed style of driving and will provide more than sufficient punch for your daily commutes.
How Does It Handle?

A key strong point of the Hector has always been its cushiony drive quality. It still works well at keeping almost all effects from the undulations and uneven surfaces at bay from the occupants, especially on highway journeys. It's only over rough roads at slower speeds that you can experience some side to side movement and particularly sharp bumps inside the cabin.

The SUV's light steering wheel makes the job easier for the driver, especially while manoeuvring it in tight spots and corners. Even on the highway, it weighs up well to induce the confidence to take on speeds upwards of 100kmph.
Final Thoughts
So, should you go ahead and buy the new MG Hector? If you are looking for a fun-to-drive and performance-focussed midsize SUV, the Hector might not appeal much to you. We would recommend you look at the Jeep Compass, Tata Harrier or Kia Seltos instead.

That said, the Hector has still stuck to its basics – space, comfort, ride quality, premium appeal and features – making it suitable for those wanting a family-friendly SUV.
Transmission

Manual/Automatic