What if Avengers were cars?
Modified On Oct 20, 2015 01:52 PM By Bala Subramaniam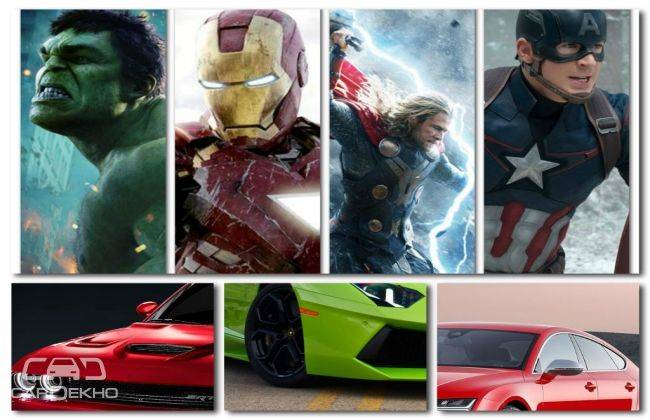 Also Read: 2015 Honda Jazz - First Look
We all love Marvel's Avengers. There's no doubt about it and the box office draw of the franchise's two movies confirms the truth. The team of superheroes from Marvel Comics have been entertaining us since their debut in 1963 and their entry into the big screen reaped millions of dollars more. We at CarDekho wanted to add our own twist to the mix. What if the Avengers were cars? Here we selected the first of the Avengers - Hulk, Iron Man, Thor and Captain America, and search for their equivalent of cars based on their characters.
Disclaimer: All the featured Avengers' partnership with their car counterparts are works of fiction and the Earth's Mightiest Heroes are not in any way endorsing the said products; well, except for Iron Man that is.
Hulk : Naturally Aspirated : Lamborghini Aventador

When the going gets green, it's time to let go of everything and run for your life. Hulk is famous for one thing only - smash. He doesn't differentiate between good and bad until recently, where he learned his manners to some extent in the Avengers movies. Like the Hulk, the Lamborghini Aventador intimidates with its looks and while the Hulk gets the power thanks to the gamma rays exposure, the Aventador gets it through a naturally aspirated 6.5-litre V12 engine. All it takes the Hulk/Aventador is a slight push and you will be thrown backwards in your seat or several feet forward, depending on who you mess with. The Aventador produces 700 hp and 690 Nm of torque to sprint from 0 to 100 km/h in just 2.9 seconds, same time that takes the Hulk to make a pulp of Loki. Oh and the green matches too.
Iron Man : Turbo charged : Audi RS7

Also Read: Mobilio to Munnar - Into the Nature
Iron Man is arguably the most famous Avenger thanks to the Robert Downey Jr starring movie franchise and the most technologically advanced too. The Iron Man is always fast, sturdy and comes loaded with several cool gizmos, not unlike the Audi RS7 Sportback. Powering the Iron Man suit is an arc-reactor exhibiting turbo charged qualities with its power delivery that is very similar to the RS7's 4.0-litre turbo charged V8 engine that makes 560 hp and 700 Nm of torque. And the RS7 sports several technologies like Martix LED lights, Quattro all wheel drive with sport differential on the rear axle, adaptive air suspension with adaptive damping, sport suspension plus with Dynamic Ride Control, dynamic steering with continuously variable steering ratio, carbon fiber-ceramic disks and more. And the fact that Audi has official partnership with Iron Man also helps.
Thor : Electric : Tesla Model S

Just like how the Asgardian god of thunder gets his power from thunder and lightning, the Tesla Model S derives power from an 85 kWh battery. That doesn't necessarily mean dull performance as the Model S delivers supercar performance, sprinting from 0 to 60 mph in just 3.1 seconds. Both Thor and Model S look out of this world but in a good way. While the body of Mjolnir, the hammer of Thor is forged with Asgardian metal Uru, the body of Model S is completely made out of aluminium. The Model S can run up to 480 km on a single charge ensuring minimum recharging breaks between Earth and Asgard.
Captain America : Supercharged : Dodge Challenger SRT Hellcat

We all know the story of Captain America. A weak American soldier transformed into a super soldier by an experimental Super-Soldier serum. The Dodge Challenger SRT Hellcat reflects similar characteristics of Captain America thanks to the supercharged 6.2-litre HEMI V8 engine. With 707 hp and 881 Nm of torque, the Challenger SRT Hellcat is the most powerful muscle car in the world. The supercharged V-8 engine has premium-grade, heat-treated aluminum-alloy cylinder heads that are optimized for superior thermal conductivity while Captain America's shield is physically indestructible thanks to the vibranium-iron alloy mix used in its production. And being patriotic is a natural thing for both Captain America and Dodge Challenger SRT Hellcat.
Also Read:
Was this article helpful ?
0 out of 0 found this helpful