4 reasons for tyre blowouts!
Published On Jun 08, 2015 06:54 PM By Abhijeet
Summers are at its peak and they bring with them the unfortunate season of tyre blowouts with them. People who have experienced it will definitely tell you that it was one of the most terrifying experiences of their life.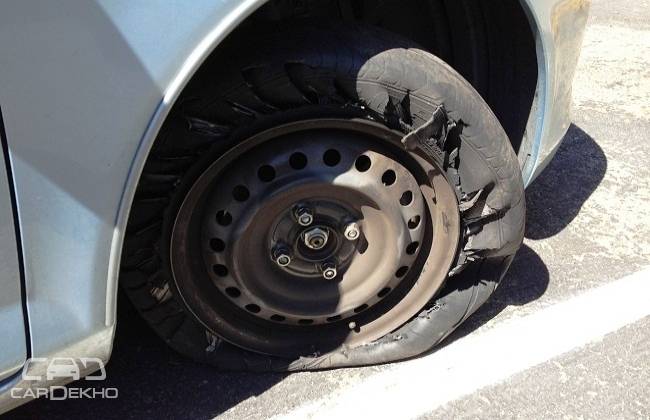 We duly stick to passenger cars here, however, blowout usually occur on heavily loaded trucks and Lorries. But passenger cars do suffer this problem due to various reasons, some of which I try to underline below.
Tyre pressure
This happens to be one of the most important aspects of regular car maintenance overlooked by many. Tyre air pressures have to be exact on all four wheels of your car to extract maximum efficiency and safest braking.

Most folks do not care of the numbers running through while the get air pressures checked. The correct values are mentioned on the driver side door by the manufacturer for easy access. Over inflation and under inflation, mostly under inflation, is one of the prime reasons for tyre blowouts.

Incorrect tyre pressure means that the tyre construction compounds-rubber, steel wires- flex or stretch beyond their limits. This weakens the tyre from underneath and it eventually implodes when the temperature goes too high while driving. It is advisable to regularly check tyre pressures and keep them at their correct levels as designated by the manufacturer.
Bad roads
Another very obvious reason for killing a tyre is driving recklessly on potholed surfaces. Your car may be a strong mechanical instrument for you but remember the tyres are rubber and becomes even softer in hot weather.

While driving when you slam through a pothole, the impact can slice the tyre squished between the wheel and pothole. Most cases will give it a minor injury internally but if the impact is hard enough, the tyre will get a cut thus rendering it useless.

The problem may further escalate if you have low profile tyres as they have very little tolerance space between the rim and the pothole edge. Next time ease off the throttle while covering that unpaved patch of road to avoid damaging your tyres.
Excessive luggage
The more weight, luggage, you mount onto your car, the more pressure on the tyres. Overloading your vehicle beyond the limits means excessive pressure on the tyre while driving which will make them weaker from the inside.

Driving along with lots of weight means the tyres will be working beyond their maximum weight carrying capacity, mentioned on the sidewall of the tyre. This practice would result in damaging the tyres permanently causing a blowout.
Quality of tyres

The quality of the tyre compound also stands important in the blowout case. Cheaply constructed tyre might be light on your wallet initially but might turn into a mistake later in life when they get used every day. You end up with tyres which have a shorter working lifespan and might even end up at the hard shoulder with a blown tyre.

Was this article helpful ?
0 out of 0 found this helpful