Top 5 Tasteful Tata Safari Modifications
Modified On Dec 30, 2015 07:26 PM By Manish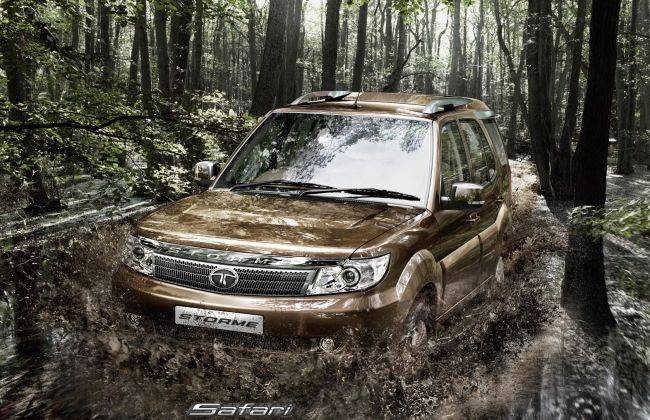 Safari is revered by many as India's first proper SUV. The car gained popularity as it bestowed the consumers with premium-ish creature comforts and underpinning, which were state of art. Tata Safari was treading on independent, coil springs suspensions, while its rivals were still pulling their weight with leaf springs. Considering its impressive foundation, it must come as no shock that this particular people's SUV has undergone various customisations. We have lined up the top 5 tastefully modified Safari's in India, let's check them out.
5. Motormind Safari DICOR

Kicking off our list is the timeless DICOR. The car has an imposing stance to begin with but the Bangalore based customiser Motormind has further enhanced the intimidating appeal of the SUV. The car features redesigned body panels, which are drenched in red paint, which incorporates silver and black accents. The headlamps are paired with LED DRLs, making sure this ride is always in the spotlight.

4. BBT Auto Expo Tata Safari Storme

Tata showcased a self-modified iteration of the Safari Storme SUV at the 2015 Big Boy Toys Auto Expo. The car comes well equipped with features like front bumper mounted fog lamps, personal navigation device from Garmin, roof-mounted fog lamps, hood scoop, alloys with mud-terrain tyres, DRLs, hood-deflector, chrome garnish, tailgate-mounted cycle carrier, laser shades, door-visor, car awning, chiller/warmer, seat organizer, seat covers, coat hanger and rubber mats. These add-ons bestowed the SUV with the ultimate off-roader look.
3. Tata Safari Storme Ladakh Concept

Another mod-job by Tata Motors, this Safari Storme indulges in features like blue-tinted, projector headlamps clusters. The grill and headlamps are encased in cladding and the panels are immaculately designed while keeping the Himalayan theme in mind.
2. Motormind Safari Storme

The Bangalore based customiser took another crack at a Safari modification and this time the subject of choice was Tata's Safari Storme. The car features a matte-yellow wrap and redesigned body panels, which includes a redesigned hood-scoop, roof panels, bumper with integrated scuff plate, and tailgate. The car treads on multi-spoke black alloys and is definitely an eye catcher.

1. Big Daddy Customs Safari Mod

Topping our list is a rather controversial pick, this particular mod-job was undertaken by the Delhi-based Big Daddy Customs. The overall aesthetics of the car might not be everyone's cup of tea, but it's the attention to detail, which places this particular "Range rover-Inspired" modification at the top our list. The customiser has immaculately modified the car to replicate every Range Rover detail like the shape of DRLs and the slanting C-pillar chop and at Rs. 8 lacs, this modification is the ultimate steal.

Recommended Read:
Was this article helpful ?
0 out of 0 found this helpful