Top 5 Off-Road Vehicles in India
Modified On Oct 20, 2015 01:58 PM By Arun
2144 Views

Write a comment
There are a few amongst us, who prefer to take the road less taken. Some prefer to go where there isn't a road to begin with! For these adventurous souls, we compile a list of vehicles that can go offroad, in case you ever have to!
Duster AWD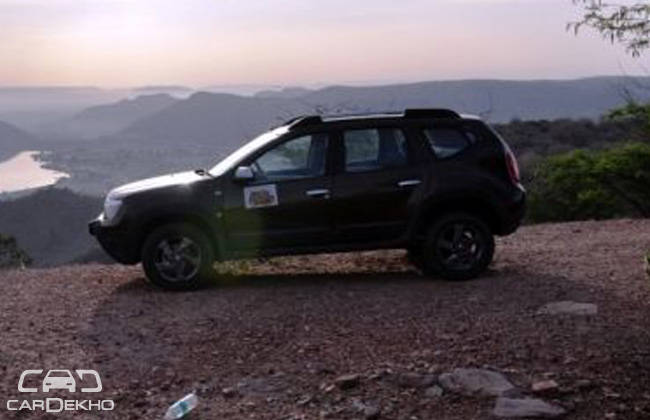 Also Read: Driving on the same road every day, read this!
The compact SUV from Renault saw overnight success, owing to it's butch looks. The Duster doubled up brilliantly as both, a city commuter and a highway mile muncher. The lack of an all-wheel drive option was recently plugged by the French manufacturer, with the Duster AWD - launched in September, 2014. The four wheel drive Duster is available only with the 110 PS version of the 1.5 litre dCi diesel engine. The Duster AWD has 3 selectable driving modes 2WD, Auto and 4WD Lock, in case you feel adventurous.
Safari Storme 4WD

The Safari has been amongst the best selling Tatas of all time. It has garnered quite a cult following, thanks to it's 'Go anywhere, Do anything' nature. The updated Safari Storme is no different. It features a 2.2 litre Varicor Diesel engine putting out 140BHP and 320Nm of torque. The Safari comes equipped with a Limited Slip Diff and a electronic shift-on-fly 4 x 4 transfer case, both of which come handy for sprinting across that road people believed was not motorable.
Force Motors Gurkha

Gurkha what? Is that the first question in your mind? Would not blame you. The Force Motors Gurkha is relatively unknown in the mainstream markets. Among the off-roading circuit however, it is hailed for it's abilities. The Gurkha got an update very recently and Force has made an attempt to make the Gurkha more user-friendly on a daily basis.The Gurkha uses a Mercedes derived 2.6 litre diesel engine, with power figures rated at 81 BHP and 230NM of torque. It also features lockable front and rear diffs and a snorkel, in case you plan on crossing a river or something like that.
Also Read: Series 2: How Can You Look So Beautiful at 48 - Chevrolet Camaro aka Bumblebee
Mahindra Thar

The Mahindra Thar retains the styling elements from the Jeeps of the yesteryears. The design is reminiscent of Mahindra's MM540/MM550 and looks rugged, with a hint of retro. The Thar is available in 2 and 4 wheel drive variants with either a DI engine producing 63 bhp and 183 Nm of torque or the CRDe unit churning out 104 BHP and 247 Nm of torque. The Thar enjoys slush as much as you enjoy Friday evenings.
Toyota Fortuner 4x4

The big Toyota has a quite a fan-following. And reasonably so, it manages to mix comfort and presence with ruggedness and robustness almost seamlessly. Launched in 2009, the Fortuner houses a 3.0L D-4D diesel engine which pumps out close to a 170BHP and a mammoth 360Nm of torque. What's more, the latest iteration of the 4x4 comes with an automatic! The high ground clearance, generous torque along with the fulltime 4WD system ensures you reach your destination. Whether there's a road to take you there, or not!
Special Mention: Gypsy

I simply cannot finish the list without mentioning the legendary Gypsy. The Maruti has remained relatively unchanged for the past two decades. The Gypsy is powered by a 1.3 litre petrol engine, producing 84BHP and 103Nm of torque. This definitely does not sound like much, but the Gypsy has remained a favorite with the Armed Forces and Wildlife Tourists alike - who swear by the Gypsy for it's off-road capabilities. The oldest car on the block, is also amongst the most loved!
...and that concludes our list of the Top 5 Off-roaders. Got anything to add? Reply in the comments section below.
Also Read:
Was this article helpful ?
1 out of 1 found this helpful