Electrically turbocharged: Audi TT clubsport
Modified On May 20, 2015 07:24 PM By Abhijeet
Audi's latest development is aimed right at the immediate future, the new TT clubsport. It has a 2.5 litre TFSI coupled with an electric biturbo. Audi wants you to forget about the tiniest amount of turbo lag with this new sort of hybrid turbo.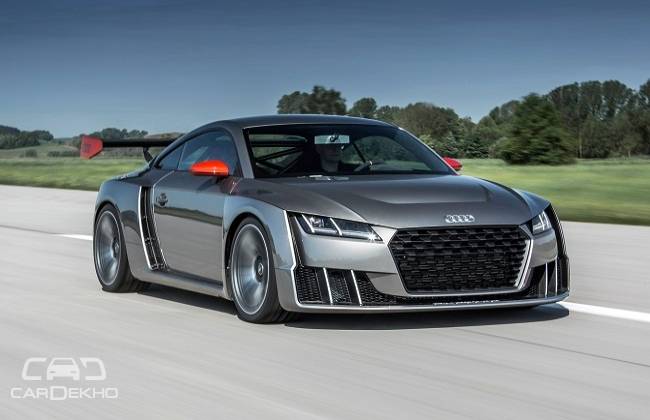 The Audi TT clubsport turbo puts out 600bhp from a 2,480cc engine. A massive 650Nm torque gets available for use from no revs at all and more than 600Nm is available between 3,000 and 7,000 rpm. All the data transforms into 240bhp and 260Nm per litre of displacement.

Got some performance figures for you, 0-100kmph comes up in 3.6 seconds and it keeps on going till it touches 310kmph. The biggest advantage for the clubsport comes up in the first few metres of the launch. The electrically driven compressor helps it cover up to 16 meters within the first 2.5 seconds, 6 metres further than the standard car. The clever packaging and extensive use of lightweight materials means the TT clubsport turbo show car has an un-laden weight of just 1,396 kg.

Where does electricity help?
It's simple how the electrically powered compressor gains its advantages. It spins up to maximum revolutions without any human perceptible delay and continues boosting charge pressure when too little drive energy is left in the exhaust gas for the turbocharger.

This means that Audi was able to make the turbocharger for higher charge pressures, subsequently, generating for high engine power. The e-turbo ensures quick response and powerful sprints from considerably lesser engine speeds.

Hence, the 2.5 TFSI engine is able to develop more power without any perceptible delay at all from the turbocharger. You get power as soon as you touch the accelerator pedal. Even the standard TT looses with the identically powered engine but no electric biturbo.
Smarter electronic systems
The electrical charge is provided to the turbocharger by a dedicated 48€'volt electrical sub-system. And then a compact lithium-ion battery in the luggage compartment acts as energy storage that comes as recuperation when coasting. A DC/DC converter provides the connection to the 12€'volt electrical system. A racing-type radiator cools this engine.

All of this would feel incomplete without a sweet sounding engine, and luckily the clubsport has a rich throaty exhaust note. It has been designed for minimal back-pressure. A side pipe to the ambient air is located immediately after the racing-type muffler.
Focused interior
Safety first! Audi claims the car has a protective "cage" made up of ultra-high-strength titanium tubes making the rear of the interior more rigid and safe. Up front the lightweight race car bucket seats with four-point harnesses keep secure in place.

Another future innovation, Audi virtual cockpit absolutely focuses on the driver so that he has all information he requires without getting distracted, and can control all key driving parameters via four satellite buttons on the multifunction steering wheel.

"The electric biturbo signifies a new dimension in driving enjoyment; it boosts sprinting ability and torque and enables high peak power," explains Prof. Dr. Ulrich Hackenberg, Audi Board Member, Technical Development. "In our TDI engines, we are close to production readiness with this technology. We are now presenting it in a TFSI – here too, we are the first automaker in the world to do this. For our fans at Worthersee, we have packaged the electric biturbo in a very sporty show car."

Was this article helpful ?
0 out of 0 found this helpful