6 handsome actors who are also race car drivers
Modified On Apr 15, 2015 02:54 PM By Firdaus
We are often in awe when we see movies where the protagonist is a handsome race car driver. It gives an impression that he has it all – good looks, adrenaline pumping lifestyle, skill, success and all the other fancy things that money can buy. One movie that can sum it all would be 'Rush' where one of the two leads, James Hunt, has it all. Though this is reel life, there are quite a few celebrities who are real life race car drivers too. Yes, they're handsome, they can race and they sure know how to make a woman skip a heartbeat. Here are six handsome hunks, who often adorn the full race suit and helmet, hitting top speeds, securing podium wins!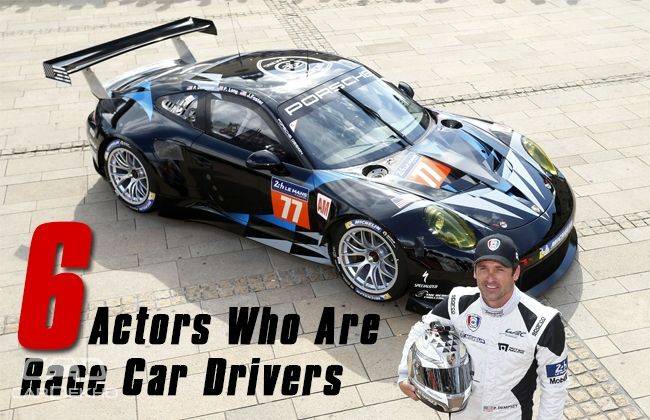 1. Patrick Dempsey

Often know as Mr. McDreamy, Patrick Dempsey leads two separate lives -1. As a famed actor more popular for his role as Dr. Shepard in the TV series Grey's Anatomy and 2. As a race car driver in the Daytona and Indianapolis series. Patrick Dempsey has also raced in the 24 hour of Le Mans and the Rolez 24 at Daytona. Not just that, he also owns a racing team that races in the American Le Mans series.
2. Rowan Atkinson

The saying 'Looks can deceive' holds true for some people, especially in the case of Rowan Atkinson aka Mr. Bean. Though he portrayed the character of a clumsy, weird introvert in the popular film series, in real life Mr. Bean is as sharp as his collection of supercars. Yes, not only does he have an enviable collection of cars which include a McLaren F1, an Audi A8, a previously owned Honda NSX, and an Aston Martin DBS V8; he also races them. He also raced the Renault 5 G Turbo for two seasons of its one make series in the UK and is actively spotted on the F1 circuit, especially during the races held in the United Kingdom. Rowan Atkinson is one of the few celebrities who has the best lap times on the leader board of the Top Gear Show.
3. Eric Bana

Mr. Hulk as he is often know is not just a popular actor, but also a motor racing enthusiast, having participated in various competitions in Australia, his homeland. He loves automobiles so much that he contemplated quitting school to become a full time mechanic, until he was dissuaded by his father to avoid making his hobby a job. His first car was a 1974 XB Ford Falcon Coupe with which he debuted in the 1996 Targa Tasmania week-long race. He purchased a Porsche 944 in 2004 to compete in the Australian Porsche Challenge usually finishing in the top 10; he finished fourth at the Sandown 500 – his personal best. He has also appeared on the Top Gear Show as a guest for the 'Stars in a reasonably priced car' segment.
4. Frankie Muniz

Popularly known as the guy from the successfully sitcom 'Malcolm in the Middle' Frankie Muniz isn't just an actor and musician, but also a racing driver. He put his acting career on hold to pursue motor racing. He started in 2005 with the Toyota Pro/Celebrity race, later signing a two year contract as a driver with Jensen motorsport. He also participated in the Formula BMW USA series, eventually moving to the Champ Car Atlantic Series, finish ninth overall. Muniz also joined the band 'You hang up' as a drummer, but he quit in 2014. Frankie Muniz's start in his racing career wasn't as impressive as his acting career, but it gradually picked up, helping him get a spot in the list of celebrity car racers.
5. George Lucas

The creator of Star Wars, George Lucas was always drawn to cars since childhood. He would often race his Autobianchi Bianchina at an underground circuit and in drag races, but gave up after a near fatal accident. His dream was to become a professional car racer. Lucas and Steven Spielberg conceived the Indian Jones series which would be produced by the former and directed by the latter. Little is known about the fact that he sold Lucasfilm's Computer Graphics division to Steve Jobs, which then became Pixar animation studios. Though he couldn't pursue car racing for long, he has always found a way to integrate a car racing or chasing scene in almost all the movies he has directed.
6. Ajith Kumar aka Thala Ajith

Ajith Kumar is a name to reckon with in the South India film industry. Known for delivering blockbuster hits, 'Thala' as he is popularly known isn't just famous for his acting skills, but also for his driving. He participated in the British Formula Three Season in 2003 as a Formula Two racing driver, finishing seventh in the season. After a six year sabbatical, in 2010 Ajith signed up for the FIA Formula Two Championship; prior to this he competed in the final round of the MRF racing series in Chennai, but failed to finish due to mechanical problems. He has also undergone pre-season trails at the Sepang circuit in Malaysia before his stint with the Formula Renault V6 car. Thala is not just a car enthusiast but a bike lover as well often spotted on long rides with his motorcycle. He was awarded the third best car driver in India during his peak.

Was this article helpful ?
0 out of 0 found this helpful