PickUp Trucks: Why Havent They Picked-Up in India?
Published On Jun 01, 2015 03:05 PM By Arun
1958 Views

Write a comment
As an automobile enthusiast, two things come across as quintessentially American - the V8 muscle car and the brute pick-up truck. The pick-up truck is an American legend. Much like the muscle car, it has it's own history and set of followers who'd have nothing but a good ol' Pick-Up! Lets take a quick detour to the history books before we figure out why pick-ups haven't really caught steam in India. Or for that matter, why it won't - at least in the foreseeable future.
The history of the pick-up truck dates almost a century back, when Ford introduced the TT circa 1917. Dodge introduced their first pick-up in 1924, while Chevrolet followed suit in 1931. Since then, the engines have gotten big and the trucks themselves - even BIGGER! The concept of the pick-up was rather simple. A cabin for the passengers and a large bed for the utilities. Pick-up trucks were widely used as delivery vehicles and had very little creature comforts. What started off as a 'runabout with a pickup body' is now a lifestyle choice across income groups in markets like America, New Zealand and Australia. The pick-up has now become an alternative for the family sedan. So much so, that the highest selling vehicle in America is a pick-up truck! And it's not like the pick-up is a rage only in the States. They have found buyers down-under as well. Called 'UTE' (pronounced: You-T) as a slang for Utility - the trucks have seen enormous success in these markets.
The best selling brands have been the American trinity: Ford - Dodge - Chevrolet. Ofcourse, there are brands like Toyota, Mazda and even Holden that makes some amazing pickups too! Some of the best selling pickups have had an extremely simple recipe - an extremely big engine mated to an automatic transmission and an even bigger body for it to lug around. These trucks are known for their brute strength and their go anywhere nature. Case in point: the Toyota Hilux. The Toyota Hilux was dubbed invincible after it refused to break sweat even when taken to the North Pole. It was also driven to an active volcano too and the Toyota refused to budge one bit. Talk about reliability!
Now, amongst the trinity, we do have Ford and Chevrolet selling small cars and sedans in our domestic market. Even Toyota does extremely good business in India. If you've ever wondered why these global automobile giants have shied away from introducing their highly acclaimed Pick-Up Trucks in India, here's why.
Price
As with every other car that hasn't seen the light of day in the Indian market, the finances are the primary cause of pick-ups being offered as a passenger vehicle in India. Lets consider the price of the best selling Ford pickup - the F150. The prices in the US domestic market ranges between $25k to $50k. A literal conversion yields a price of anywhere between Rs. 16 to 32 lakh. At this price point, many Indian buyers would opt for a luxury sedan like the Jetta or the Octavia. Or even a butch SUV like the XUV5OO or the Fortuner. At such a high asking price, there would be very few takers.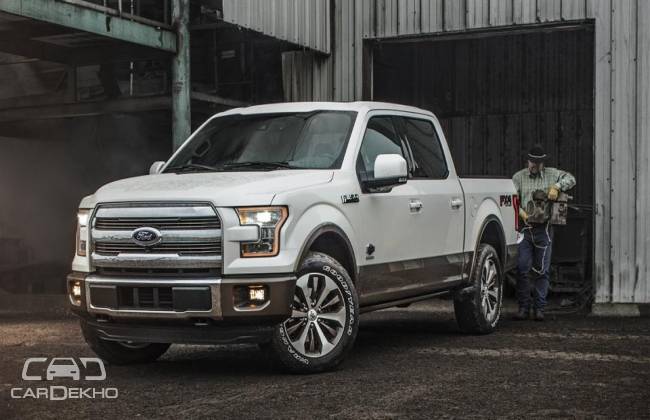 Every car has an image attached to it. Not stereotyping, but more often than not, you would find your local politician in a Scorpio or a Fortuner. The slick-haired executive will be seen driving around in a German saloon and the boy-racer will be seen in a tricked out Swift. Come to think of it, what does a PickUp truck say about the owner? There are people who'd love to be associated with the carefree attitude of the vehicle, but the majority would just see it as another 'Goods Carrier'.
Size
The latest Ford F150 measures a whopping 6190 x 2459 x 1923mm (L x W x H). Compare that to the Endeavour which measures 5062 x 1788 x 1826mm. It is very rarely that you can say that a mammoth such as the Endeavour is 'dwarfed' in comparison. Pick-ups are gigantic. There are no better words to describe them. And considering our towns with lanes barely wide enough for a sedan, maneuvering pickups in and around the city would be an absolute nightmare.
That said, I'd love if pickup trucks were made available to the general public. The Tata Xenon and the Mahindra Genio aren't quite there yet. There's the Isuzu D-Max, but that is available for commercial registrations only. The enthusiast cries foul, yet again!
Was this article helpful ?
0 out of 0 found this helpful