Petrol Vs Diesel cars, which one to pick?
Modified On May 06, 2016 08:02 PM By Firdaus
Most first time cars buys face a dilemma whether they should buy a petrol car or a diesel car? Now there is no straight answer to this question, but what we can do is chalk out the prime differences between a petrol and a diesel car, which will (hopefully) help you make a decision.
Petrol cars are quieter and most hatchbacks are available only in petrol variants, because fitting a diesel engine would make them expensive. Also the fact that the price of petrol in our country changes more often than the seasons, it kind of makes for an expensive fuel.
Diesel engines used to be noisy at a point of time. Not anymore. They're more fuel efficient than petrol cars, and diesel is way cheaper than petrol in India. But these aren't the only reasons why you should opt for either petrol or a diesel car. Here are a few more: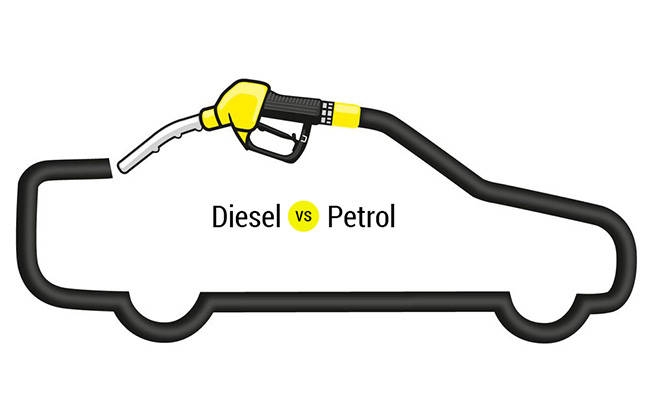 If you're going to be running a lot of miles on your car monthly, then opting for a diesel car makes sense, because then you'll be saving up on fuel and the maintenance cost will be justified.
If you're car usage is going to be average, then it makes sense in buying a petrol car and saving up on the maintenance and as well the overall cost of the car. Trust us, the fuel cost won't pinch as much.
So now you know (hopefully) which engine is best suited for your usage and you also know that our market is swamped with petrol and diesel cars, with each manufacturer offering you the best. Which car gives the maximum mileage? Which efficient car will fit your budget? Still have your doubts? Well, here is a list of the most fuel efficient cars in India, take your pick!
Most fuel efficient petrol cars

Find more fuel efficient petrol cars in India
Most fuel efficient diesel cars

Find more fuel efficient diesel cars in India
Moreover, the fluctuations in the diesel and petrol prices are more often nowadays compared to couple of years back. As most of the buyers are shifting towards diesel cars courtesy to their low-running cost; has increased the consumption of diesel in our country. The gap between the diesel and petrol prices are constantly decreasing as the diesel is getting dearer every month by Rs 0.50. Furthermore, in the recent upgrade petrol was lowered by a rupee while diesel still continues to grow! lets see what future hold when it comes to price gap between the two fuel trims. So now you know which engine suits your needs and you also know which cars offer the best fuel economy; we hope this infographic helps you make a choice. Happy buying.
Was this article helpful ?
0 out of 0 found this helpful