Dog-Proofing your car
Published On Jun 01, 2015 06:47 PM By Abhijeet
Your furry companion is your best friend indeed, especially when you get to take one out for a drive. The slobbery face out the window with the tongue hanging out, it is as fun as it gets for your dog. However, it becomes a pain cleaning dog hair off the seats and the slobber on the windows. But that does not mean you'll stop having those enjoyable drives with the family's best friend.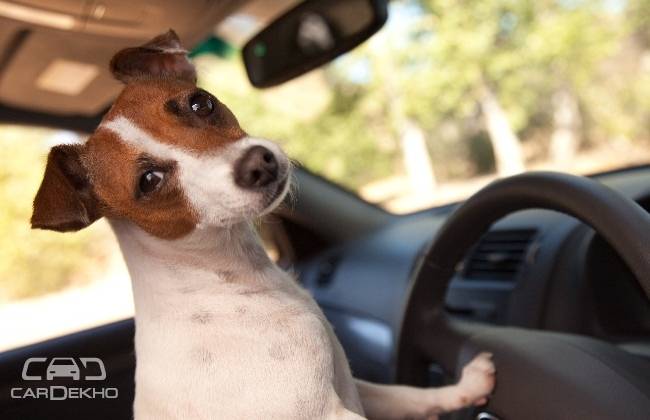 There are a few suggestions that might come handy to reduce the amount of mess when your faithful exits the car. The most important thing to have in the car is a dedicated blanket to drape over the dogs seat. It is always advisable to backseat your pets as it is safer in the event of a collision.

Your standard car fabric interiors act as magnets for dog hair. Hair is literally snagged by the large weave pattern of the fabric and is an absolute pain to clean out. And then is the moisture and smell from your dog which might stay in the seats for long. Even dog nails are a problem which will leave scars on your fabric interior.

Buy a cheap felt blanket for the dog as it acts as a magnet for hair. This will mostly take care of the hair, but still stray hair does make it to the car floor and smaller cracks in the interior. Use a lint roller to pick up this stray hair. However, if the fur is just impossible to clean, you will have to resort to using your vacuum cleaners attachments to reach these unreachable spots to have a clean interior again.

Another option is the use of dog seat covers made specifically to accommodate dogs. These covers made from durable tight-weave fabrics which make dog hair a cinch to clean up. Some of these covers are also water-proof and durable enough to keep accidents and dog nails from finding their way into seat fabric.

Then is the problem of drool on the windows. For that, simply put a layer of plastic wrap on the inside of the window glass each time you plan to take the dog along. Have you noticed how race car drivers use helmet visors that have plastic sheets over them? That sheet can be just yanked away leaving a spotless visor in front of them, similarly the plastic layer you put on the window glass can be removed to leave a clean glass windows which will not need scrubbing.
Was this article helpful ?
0 out of 0 found this helpful