Dealing With A Flood Affected Car – Here's How To Do It
Modified On Sep 01, 2017 05:51 PM By Jagdev
311552 Views

Write a comment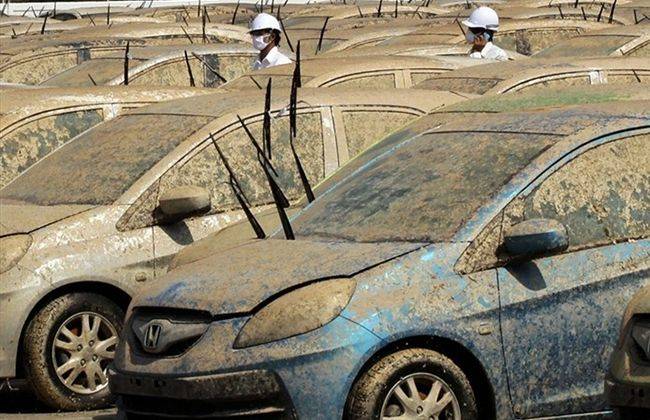 All comprehensive and zero depreciation car insurance policies in India cover damage due to floods. So if you have a valid comprehensive car insurance, you have enough reasons not to panic if your car gets trapped in flood water, unless of course, the sea gulps it. We've already covered on how to drive on waterlogged roads, and we would suggest you not to drive your car if the water level goes above the car's tyres. Even if your car is just parked, you will need to go through a thorough check-up and restoration process to get your car functioning properly. Here's a list of things you should and should not do if you are unfortunate enough to get caught in a flood.
1. Don't start your car – During a flood, water can enter the engine and cause serious harm to its internals. There are two ways that can happen. If the water is above the level of your bonnet, it can enter the engine through the air filter. The second way it can happen is if your engine is idling as there isn't enough exhaust gases being pumped out to keep the water out. It can also happen when you are trying to crank the engine when the exhaust outlet is already under water. Getting caught in a flood can seriously hamper your car's electrical systems as well and this can be quite expensive to replace. Hence, to get insurance cover, you have to ensure that you don't start your car during a flood and even after the water recedes.
If your car's manufacturer provides RSA (Roadside Assistance), it's best to call them to get your car to the official service centre. Mercedes-Benz has set one such example where the luxury carmaker has extended support for M-B cars damaged in 2017 Mumbai flood. Here's what the carmaker is doing. Otherwise, call a towing service to get the car towed to the nearest authorised workshop.

2. How to claim insurance?
Insurance companies expect more claims post a natural calamity like floods. As a result, they check vehicles more diligently before offering a claim as many people take up this opportunity to get non-flood affected parts changed under the claim. So, don't hide anything from the surveyor and don't be greedy.
3. There's no separate insurance cover for floods – Now, you might be wondering if there is an insurance cover that entitles you to a new car against you flood-affected one. Well, you will be disappointed as there is no such thing like that. Instead, all insurance companies cover flood in their comprehensive insurance policies.

4. But what if your car is submerged in water? Or will it be beyond repair?
In a scenario when a car's damage is 75-80 per cent of the insured declared value (IDV), you're entitled to a total loss. But again, this is a condition covered under all comprehensive insurance policies. Hence, you don't need to get any separate cover for this.
5. What parts are covered under insurance?
The post-flood scenario might be a one-off case for you, but for an insurance company, it's just like any other insurance claim. So all the parts that are covered under your comprehensive insurance are covered for a claim in the case of flood too. Also, comprehensive insurance takes into account a certain depreciation value (differs for different parts) which the insurer has to pay. The same applies in the case of a flood as well.
6. Does third-party insurance also cover flood loss?
No, third party insurance doesn't cover loss due to flood.
With the monsoon in full swing and most of the major cities bearing the brunt of it, we hope this list of Do's and Don'ts help you out in case of any flood-related incidents that might occur to you or your beloved car.
Was this article helpful ?
0 out of 0 found this helpful