Biggest Automotive Scandals of All Time - Part 1
Modified On Oct 20, 2015 01:20 PM By Bala Subramaniam
1865 Views

Write a comment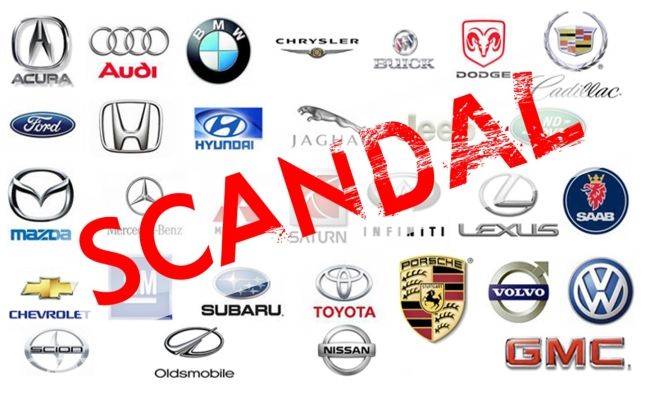 As we keep receiving new updates daily on the Volkswagen diesel emission scandal, we cannot help doubting about how the car companies are scamming us still in ways unknown yet. If VW has got the guts to do such things in stringent law abiding USA, we can only imagine the extent to which we, in India can be taken for a ride. Here, we list the 10 biggest automotive scandals of all time in no specific order.
General Motors drives Chrysler Airflow to the ground

Also Read: Biggest Automotive Scandals of all time - Part 2
When Chrysler Airflow was introduced in 1934, it was the most advanced cars ever built with advanced aerodynamic design, advanced suspension, complete steel unibody construction, safety glass and other advanced features. The jealous General Motors, which saw the Airflow as a product that will take away its technical leadership, placed ads in Saturday Evening Post claiming that the Chrysler Airflow is a plagiarized design from top-secret GM projects. Though GM never published any proof for the claim, it was too late for the Airflow to get back on its wheels and was discontinued in 1937.
Tucker 48's advanced fraud of its time

Tucker 48 caught the public's eye in 1948 with its streamlined styling, advanced technology and safety features of that time. Founded by American automobile designer and entrepreneur Preston Tucker, the car was much advance for its time but it was Mr. Tucker's business tactics that brought down the company. He tried to sell options and accessories to customers for cars that hadn't been built yet and dealership rights for the car before it existed. The production of the car was delayed continually and he was brought under investigation by the Securities and Exchange Commission for fraud. Mr. Tucker believed that the big players in the automotive industry were in on this and that they were out to get him.
Ford Pinto - so hot it goes up in flames

Also Read: Safety First: Sub Rs. 15 lac Cars With Airbag As Standard Feature
Ford Pinto was introduced in 1971 and was a runaway hit with more than 325,000 cars sold in its first year. But the Pinto had one fatal flaw, which the company knew about even before the car went into production. In case of a rear-end collision, the fuel filler neck will snap and puncture the fuel tank, which will spray fuel into the passenger compartment and ignite. The problem was exposed by Mother Jones magazine in 1977 that the company knew about the problem but decided to ignore it as it would be too expensive to fix. Nearly 900 people died because of this flaw and the company recalled around 1.5 million Pintos to fix the problem after a public outcry in 1978.
Chevrolet's engines make it their duty to speed up things

When the National Highway Traffic and Safety Administration received a report about defective Chevrolet engine mounts in 1969, General Motors has already received 172 reports of failed engine mounts resulting in 68 accidents and 18 injuries. Instead of taking any action, both NHTSA and GM kept quiet for three years before going public. The engine mounts used on full size Chevrolet vehicles between 1965 to 1969 have the potential to collapse at speed, getting out of position and stressing the throttle body linkage, resulting in unintended acceleration. After the media exposed the flaw, GM announced a massive 6.5-million vehicle recall to fix the issue.
Ford cannot stop its cars

Ford was in the news again in 1980, when Mother Jones magazine published another report against Ford about a transmission slippage problem that the company had known about for at least a decade. After receiving over 23,000 complaints about the Ford transmissions, NHTSA made a determination of defect in Ford Motor vehicles' transmissions that permitted them to slip accidentally from park to reverse. More than 20 million vehicles manufactured by Ford between 1966 and 1980 were concluded to be affected. But instead of fixing the problem, Ford compromised with the then Reagan administration to mail out 23 million stickers for the owners to put on their dashboards reminding them to set the gear selector lever fully engaged in Park and to fully engage the parking brake before turning the car off. The defect caused 777 accidents, including 259 injuries and 23 deaths.
Also Read
Was this article helpful ?
0 out of 0 found this helpful