Biggest Automotive Scandals of all time - Part 2
Modified On Oct 19, 2015 12:48 PM By Bala Subramaniam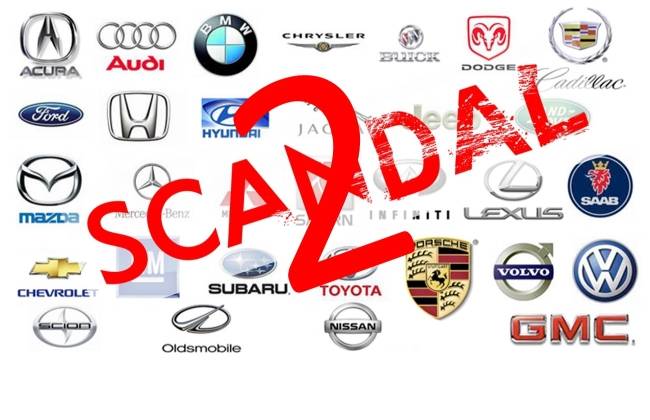 We continue with the biggest automotive scandals of all time.
Audi gone in 60 Minutes, almost

Audi was almost blown out of its four rings in the 1980s when CBS's 60 Minutes telecasted a program 'Out of Control', which was meant to expose Audi's unintended acceleration problem. Though the program was later shown to be scripted, the damage was already done. There were several lawsuits and even though the acceleration was proved to be driver error, Audi's sales plummeted down to 12,000 units in 1991 from 75,000 units in 1985.
Tyring story of Ford and Firestone

Firestone had been the preferred tyre partner of Ford for over 100 years. But the partnership came to an end when NHTSA reported a high rate of tyre failure on the Ford Explorer models. Ford investigated and found that the 15-inch Firestone tyres had very high tread separation rates. Firestone, on the other hand, blamed the Explorer's top heavy design, weight and low tyre pressure were the causes. Firestone and Ford separately recalled 6.5 million and 13 million tyres. Both the companies parted ways in 2002 with neither company taking responsibility for almost 100 deaths worldwide.
Toyota floored by unintended acceleration

Toyota faced its own unintended acceleration in late 2000s. NHTSA got many petitions from 2002 to 2009 about Toyota and Lexus models' tendency to accelerate on their own. When Toyota was notified about this problem, the Japanese company switched the floor mats to keep the pedals clear. But in 2009, when California Highway Patrol officer Mark Saylor and his family died in an accident driving a Lexus ES350. The cause of accident was found to be loss of braking function and unintended acceleration. After this accident got a nationwide coverage, Toyota recalled almost 10 million cars. But the Justice Department fined Toyota for $1.2 billion, when it came to know that Toyota was issuing misleading statements to NHTSA regarding the problem.
Also Read: Biggest Automotive Scandals of All Time - Part 1
General Motors ignite own problems

In February 2014, General Motors recalled over 800,000 Chevrolet Cobalts and Pontiac G for an ignition switch problem, causing the engine to shut off and thus switching off the power assisted features such as power steering, braking and airbags. The issue came into congressional action when more than 150 deaths were connected due to the ignition problem. General Motors recalled over 30 million vehicles worldwide. Though the company was able to deflect the blame on the old GM before the government bailout, the new GM paid $900 million in fine and $575 million in lawsuit compensation.
Takata unable to cushion in their own airbags

New York Times published a report in 2014 about Takata airbags installed in Honda vehicles were cause of two deaths and 30 injuries. After that, more than 30 million vehicles made by 10 different manufacturers were recalled. The Takata airbags, fitted on vehicles between 2000 and 2008, could deploy with excessive force due to moisture and shower the interiors with metal shrapnel and chemicals. The report suggested that Honda has known about the problem since 2004 and failed to act. Honda was fined $70 million by the US government.
Also Read
Safety First: Sub Rs. 15 lac Cars With Airbag As Standard Feature
Expresssway Delight : That smooth ride from Delhi to Agra
Was this article helpful ?
0 out of 0 found this helpful