A Jungle Trail Drive to Yawal Wildlife Sanctuary in Nissan X-Trail
Modified On Feb 04, 2013 02:59 PM By Sundeep
6478 Views

Write a comment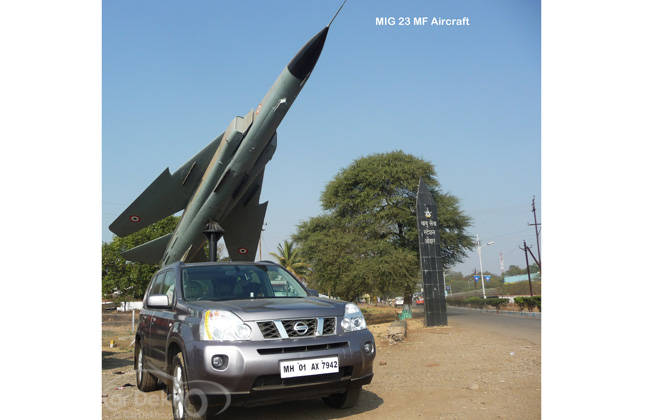 Twenty percent of the surface area of India is covered under forest – well this has been the oft repeated statistical data that most of my contemporaries – read people in their forties – must have come across during their school days. The other part of the same conundrum is that Madhya Pradesh is supposed to have the biggest area land area under forest cover. But mere statistics - as per Land Use Statistics, Ministry of Agriculture, GOI, 2008-09, Madhya Pradesh has 8696000 hectares (28.27% of total land area) covered under forest and Maharashtra has 5213000 hectares covered under forest cover (16.95% of total land area) – does little to convey any qualitative idea about the forest cover unless one takes the pains to visit a forest area. Well, actually there is no substitute for first-hand experience and therefore it became imperative to visit a forest area to experience the real jungle. An easy option was to visit one of the popular wildlife sanctuaries but better sense prevailed and we zeroed on Yawal Wildlife Sanctuary which straddles the border areas of Madhya Pradesh and Maharashtra. Although the forest area of Yawal Wildlife Sanctuary falling in Maharashtra is quite rich, both in terms of diversity and quality of flora and fauna, being bereft of the famed striped cat (Tiger) has meant that it has remained in relative obscurity vis-à-vis other more famous Wildlife Sanctuaries of Maharashtra.

Yawal Wildlife Sanctuary is southern dry deciduous forest comprising of wide variety of tree viz. Teak, Salai, Anjan, Shisham, Jamun etc. Leopard, Hyena, Jackal, Sambar, Wild Boar, Langurs, Sloth Bear etc. are found alongwith numerous bird species.

Pal village which is well connected and has considerably developed tourism infrastructure in the form of a cluster of forest bungalows and resthouses managed by the Maharashtra Forest department was the primary destination.

It is about 490KM from Navi Mumbai. Starting reasonable early in the morning at about 0700hrs meant that we could cruise past Nasik by 1000hr despite having stopped for a cup of tea. Between Bhiwandi and Kasara Ghat we slowed down several times as a large but spread-out convoy of various classics and vintage cars were being driven towards Nasik. It was a simple case of inability to resist the temptation that automobile enthusiasts normally suffer from: to stare at the venerable beauties driving along. We could see that some of the old cars were in good form and were being driven quite briskly.

At around 1030hrs we crossed Ozhar where the famed HAL (Hindustan Aeronautics Limited) has a manufacturing unit. Nissan X-Trail proudly posed with the legendry MIG 23 aircraft, which is mounted for display outside the gate of Indian Airforce Station, Ozhar. There is a museum housing Fighter Aircrafts and other paraphernalia connected with Fighter Aircrafts and Air Force but our tight schedule meant that we had to give it a miss.
Speaking of legends, Nissan has, had a very illustrious history of association with Indian Armed Forces. Nissan Patrols of the 1960s era were inducted in the Indian Armed Forces and rechristened JONGA (acronym for Jabalpur Ordnance aNd Guncarriage Assembly). These robust 4X4 vehicles fitted with a 4litre 6 cylinder gasoline engine mated to a 3 speed gearbox and 2 speed transfer case were produced by Vehicle Factory at Jabalpur from 1965 to 1999 and were the mainstay for Indian Army. Some of these had even competed in the Himalayan Rally of the yore and had earned laurels for the rally drivers from the services. It is a totally different matter that despite having such a fantastic lineage and despite being an excellent product, Nissan X-Trail did not set the sales charts ablaze in Indian Automobile Market. It is basically a case of product being introduced in the market a bit early when the market was not mature enough to appreciate it.

Armed with a modern and very rev happy 2Llitre diesel engine developing around 150bhp which is mated to a 6 speed super smooth transmission, Nissan X-Trail is one modern soft-roader which exceeds expectation on road as well as off road. On road it drives as well as any other monocoque bodied SUV and easily gobbles up the highway at fast pace.

Engine is free revving and feels absolutely stress free at high RPMs. Power delivery is seamless and very linear. Gear shifts are super quick thanks to short and precise throws of the shifter lever. Armed with contemporary electronic wizardry in the form of ESP (Electronic Stability Programme), EBD (Electronic Brake-force Distribution), ABS (Anti-lock Brakes) and endowed with inherent handling prowess due to a very competent chassis (monocoque), Nissan X-Trail inspires confidence in the driver to power past slower moving traffic with ease. The question was how would it fare once off the highway and that was to be seen later when the Nissan X-Trail up would be up against some rugged jungle trails of Yawal.

The route upto Dhule is through the four-laned (divided carriageway) NH 3 and progress is quite brisk as some of the flyovers which have become functional at Nasik, help in bypassing the city traffic. From Dhule, once on NH 6 (which goes to Kolkata) the progress is impeded considerably due to heavy traffic on two-laned carriageway. Moreover, as the highway runs through the city of Jalgaon and Bhusawal, long distance highway traffic has to perforce contend with several traffic signals (at short distances within the city limits) and chaotic local traffic. Once past Bhusaval and after crossing the Tapi river the route to Pal is through SH 4 and SH 189 via Savda and Faizpur. Road condition past Bhusaval, is reasonably good and we reached Pal by 1600hrs.

Forest department of Maharashtra has decent establishment at Pal. There are several options for accommodation of guests / tourists at well appointed and well maintained rest houses, log-huts. Across a small river there is a training centre for forest guards and apparently it is a major facility spread out in a reasonably large area having a hospital, hostels, staff quarters, playgrounds etc. At a small distance there is a deer breeding and rescue centre.



The river between Anupam (Forest Bungalow) and the Forest Training Centre is a veritable paradise for bird lovers. Wide variety of birds can be spotted. We could spot a Hoopoe, Little Egret, Black Winged Stilt, Red Wattled Lapwing, Cattle Egret and Black Headed Ibis.






Due to poor light in the evening hours, photography was a bit difficult and recourse to high ISO settings was the only option and this did turn the photos grainy.
Next day was spent fruitfully in exploring the deep forest and checking out the capability of Nissan X-Trail in the rugged jungle trails. Local Forest authorities were happy to provide necessary guidance and support which was most essential as we had decided to venture into the deep where normal mortals seldom tread and a constant contest between forest officials and teak smugglers goes on.

Reportedly the teak smugglers, locally known as "gullewale" come in hordes of up to fifty persons. They come on bicycles from across the state border (Madhya Pradesh). After felling teak trees, they cut and size the logs so that logs are suitable for doorframes and carry the booty out of the forest area on bicycles.

Apparently the teak smugglers were having a good time in the past but the current Range Forest Officers at Pal and Jamnya led by the incumbent Assistant Conservator of Forest (Yawal Sanctuary) being made of sterner stuff, have managed to effectively thwart their illegal activities. Forest department has employed ex-servicemen for added support and situation appears to be in control with several dozen offenders having been put behind bars in the past one year. As it is, the forest area falling north of the track which goes from Pal to Langda Amba via Jamnya, lies in Madhya Pradesh and looks bereft of the dense canopy cover which is there to be seen in the area falling in Maharashtra. Perhaps, the reason could be that majority of locals engaged in the depredation of these teak forests are based in Madhya Pradesh; actually this is what could be gathered from anecdotal accounts and conversation with local people.

The area is extremely rugged and the connection between Pal and Jamnya / Langda Amba is a kind of a path which at best can be termed as a fair weather track. The distance of about 33km (Pal to Langda Amba) consumes almost two hour in fair weather.



There is no mobile phone connectivity in the area and forest officials depend on their captive wireless communication system. Langda Amba falls under the purview of Range Forest Officer based at Jamnya.

The forest office / bungalow structure at Langda Amba is of British vintage - 1899 is marked on its stone wall as the year of construction. It is stone masonry structure and seems to be in perfect shape. The renovated floor and roof bear testimony to the attention lavished on it by the incumbent forest authorities.

Some young trainee forest guards who were on a field trip were housed at Langda Amba and it certainly feels good to see youngsters undergoing proper training for effective policing and management of forest resources.

During the drive from Pal to Langda Amba Nissan X-Trail had handled the unpaved rough surface with numerous dry river bed crossings and inclines over slippery surface comprising of loose earth with aplomb, but the decision to proceed further in the deep jungle provided it with ample opportunity to showcase its true colours.

Nissan X-Trail did not misbehave even once during the round trip down the valley where no road exists but for a rudimentary jungle trail. The ruggedness of terrain can be gauged from the accompanying photographs as well as the fact that it took almost 40 minutes to cover a distance (one way) of just over 9KM.

Under water boulder sized rocks in the many stream crossings, loose and slippery surface with steep gradients and acute curves with negative camber – all these were handled without any drama while the Nissan X-Trail ambled along in All Mode 4X4 -i.



More than adequate power from the engine meant that lack of proper low range transfer case was also a non-issue atleast in the terrain that was traversed. In the All Mode 4X4 -i, onboard processor distributes torque to the four wheels, based on inputs from several sensors on real time basis. This system is so effective and quick that on no occasion any need was felt to overrule it by way of engaging 4X4 Lock Mode (equal torque distribution to front and rear axles).


Driven rationally, i.e, with some common sense, All Mode 4X4 -i in Nissan X-Trail can make an off road specialist out of a driver who has never gone off-road.




Overall it was a nice trip. We could spot and photograph many birds in their natural habitat. Primarily nocturnal animals inhabit the sanctuary but during the daytime we could see birds, large and small monkeys.






There is a water reservoir popularly known as Garbaldi Dam which is a 42 meter high dam - part of the Suki Project – built in 1977. It is situated about 10KM south from Pal and easily accessible. Many birds frequent this area and local fishermen can be seen rowing their boats in the sizeable water reservoir. Fresh water fish caught from this reservoir is sold at Pal. We had the opportunity to sample the fresh fish which was cooked by the caretaker of the forest bungalow and taste and texture of the fish was divine to say the least. It is a fact that fresh fish tastes and feels considerably better than the fish that is sold in the cities and supermarkets after being stored in ice / cold storage for days.


On the return journey we made good time and reached Nasik at around lunch time. It was sheer serendipity, that on a spur of a moment decision, we veered towards the tasting rooms of Sula Vineyards. This place is located on the outskirts of Nasik, at Govardhan Village on Gangapur-Savargaon Road.

Being aware of wine tourism in the vicinity of Nasik, we looked forward to the experience. Atmosphere was electric, with lots of evidently fun loving people of all ages and shapes thronging the place. Although, this place is located quite far from the highway (NH 3), the experience was worth the effort and time put in to reach it.

The concept of wine tasting at vineyards seems to be gaining currency as the huge number of people during afternoon hours testified.



For people who are not entirely comfortable with crowded places, it would be wise to avoid it on weekends and public holidays but otherwise the detour would be enjoyable for people who like to excite their taste buds.

A platter of Sula's Special Cheese Platter alongwith a Kebab Platter washed down at a leisurely pace with a bottle of Sula Zinfandel Rose was just the refreshment that was needed for the remaining part of the drive.

With the better half taking over the driving duty, it was a relaxing afternoon cruise from Nasik to Mumbai. Reaching home at around 1700hrs, the picnic ended and it was time to think about more mundane matters.

Personally, this trip in the wilderness has been an eye opener. We could have never been able to fathom the challenging circumstances under which the forest managers of our country operate. Apart from the depredatory activities of wood smugglers and poachers, they have to contend with encroachment of forest land; and all this in inhospitable terrain with absence of even a modicum of infrastructure and facilities. The situation may improve with greater awareness and involvement of public with the forests. Increased tourism activity with stress on eco-tourism and integration of local population into such activities may be the way to go. Apparently, Maharashtra has taken the lead in establishing eco-tourism facilities by involving local forest dwellers and peripheral village dwellers at Pitezari in Nagzira wildlife sanctuary and Amzari in Melghat. Community driven eco-tourism may provide sufficient motivation for the local population to become an active stake holder of the forest resources; this may make them interested in preserving it.
Nissan X-Trail proved an able all-rounder. It spoils the driver and passenger with automatic climate control, heated seats, electrically controlled power seat adjustments.



Ride is quite pliant and as far as functional part is considered, it is a robust SUV - fast and stable on the road and surefooted off the road.

Was this article helpful ?
0 out of 0 found this helpful