7 essentials to have in your car
Modified On Oct 20, 2015 03:27 PM By Firdaus
Our cars are our prized possessions. Well, for most of us they certainly are; we like to flaunt a nice, shiny clean car as it gives us a sense of pride and is an extension of its owner's personality. There are hoards of accessories out there in the market offering to beautify your car, helping you keep it clean. The list is endless and can often leave you confused as to which ones to pick and which ones to skip. We list down seven essentials that you must have in your car.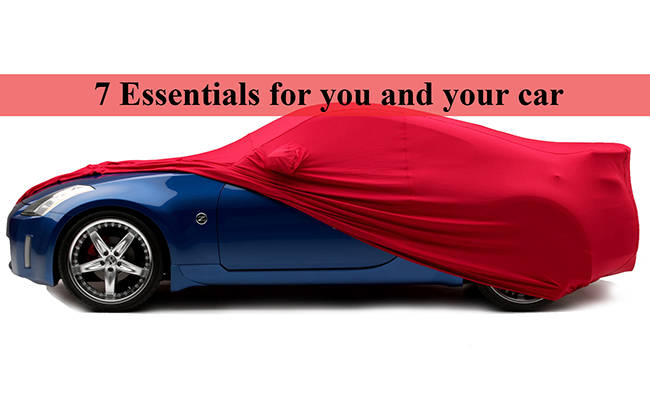 Also Read: Car wheel alignment explained
1. Box of tissues
This is of paramount importance and the most versatile accessory that you can have in your car. From cleaning spills to cleaning the windows, windscreen and getting the dirt off your shoes so that the carpet stays clean, tissues always come to the rescue. You can invest in dry tissues as well as wet ones which are highly useful during summer. Pick a pack of three; it'll save you some money too.
2. First aid kit
We can never underestimate the importance of a first-aid kit as you never know when an emergency may strike. Once can easily access a medical kit from a pharmaceutical store; if not you can make one yourself. Here are the must haves in a first-aid kit
Cotton
Cotton gauze
Band aid
Dettol/savlon or any other suitable anti-septic
Pain killer recommended by a physician
Anti-septic cream and burn cream like burnol
Johnson tape
Tweezers
3. Perfume/ deodorizer
Entering a car that smells good immediately uplifts your mood, and everybody likes having fragrances around. There are plenty of car perfumes available in the market, some are expensive with exotic notes, some are on the affordable side. Most car perfumes can be attached on the air vents, though sometimes these tend to give out a strong note which might not suit everyone's taste. In this case you can just keep the perfume in one of the stowage space to soften the aroma.
If you're someone living on a budget and think car perfumes are a luxury, think again! Some smart shopping at your local superstore can help find fragrances within budget. As much as we love our car smelling like paradise, some of us cannot indulge in buying car perfume every month, especially during summers when they tend to evaporate at a faster rate. In such a scenario buying blocks of room fragrances is a good and cheap idea. Room fragrances cost a fraction of cost of car perfumes and they last much longer in the car (3 months on an average).
Also Read: Connected cars for safer driving: Volvo Cars
4. Wiper
Your car windscreen has a wiper, and your car may also come equipped with a rear wiper and washer, but what about the windows? Many a times when we wash our car, the water droplets remain on the windows. Once these dry up, they look like stains and also hinder visibility. Wiping them with a cloth just makes it worse. The best way is to keep a small wiper in the car. You can use it to remove the droplets from the glass in a clean manner. You can use this to wipe the entire windscreen as well, as the fixed wipers only clean the partial screen and not the sides near the A pillars which are imperative for visibility.
5. Dust bin
Littering in your car is an absolute no no and throwing wrappers, papers, parking tickets on the road is not an option either. The dustbin is the place for these things. Now you may wonder how do I get a dustbin in my car? Well, one does get bins of various sizes in the market and it is a convenient option to keep one in the car to ensure there is not littering. But in case you're on a budget, then instead of a dustbin you can simply use an empty plastic cereal container for the same purpose. You'll also be recycling in the process, standing up for environment.
6. Car cover
Thanks to global warming the weather in our country keeps changing at the drop of a hat; the recent rains in March are one of the biggest examples of how global warming is affecting us. Like us, our vehicles are also subject to weather and physical damage which may occur in the form of scratches and dust. Covering your car is a good way to protect it from such damage; it also ensures that less amount of dust settles on the car and that the surface of the paint is also protected.
7. Dash board polish
A dull dashboard is like an Instagram picture sans editing. Looks acceptable, but doesn't really charm you. With dust and sunrays the dashboard also tends to lose its sheen and the best way to prevent it is by giving your dashboard the occasional polishing treatment. Yes, you can get this done from professionals as well but then again it will cost you a bomb. You can get the polish for a fraction of the price what the professionals charge you, and the bottle will last you much longer. Just clean the dashboard with a microfiber cloth, apply polish and wipe it off. Polishing the dashboard moisturizes the material making it look soft and fresh, just the way a moisturizer works on your skin.
Read More:
Was this article helpful ?
0 out of 0 found this helpful