The icon returns: Ford GT
Published On Mar 05, 2015 11:25 AM By Abhijeet
1753 Views

Write a comment
It has been 50 years since the Ford GT stood a dazzling 1-2-3 at the 1966 24 Hours of Le Mans. Calling for a celebration, the engineers sitting at Ford decided to mark it with the next full-bore pedal-to-the-metal of this winner turned legend supercar. Escalating its performance bar even higher, the company has termed the new GT as an ultra-high-performance supercar. The all-new Ford GT will become a technological showboat featuring the highest EcoBoost performance, slippery aerodynamics and lightweight carbon fibre construction.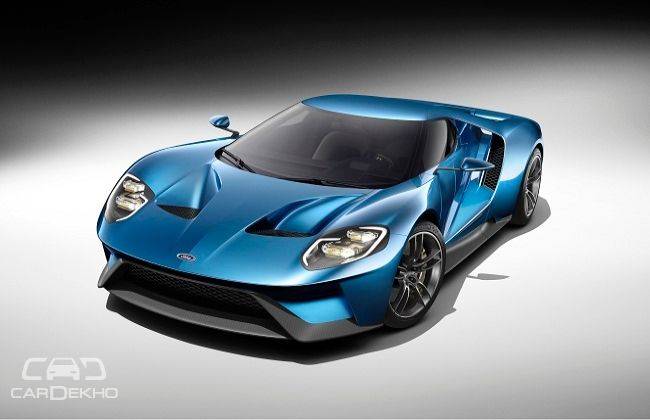 The new avatar will be based on the classic dependable mid-mounted rear-wheel drive setup on a smooth, aerodynamic, two-door coupe body shell. Sitting at the heart will be the most powerful EcoBoost engine by Ford yet, a next-generation twin-turbocharged EcoBoost V6, developing in excess of 600bhp. Keeping with the times, Ford's engineers have used lightweight materials extensively. The construction of carbon fibre and aluminum will make GT capable of exhilarating acceleration and handling with improved efficiency, and noise. Space age learing has drizzled advanced active aerodynamics, such as a deployable rear spoiler, and a host of material and technology innovations to help better serve the driver, such as SYNC 3 – the latest version of Ford's advanced connectivity system.

Ford's performance range is expanding; Focus RS, F-150 Raptor, Shelby GT350 and Shelby GT350R, but the pinnacle in the crown will always be the GT. With production for this car starting late 2016, the GT will hit the streets in selected global markets to celebrate the 50th anniversary of Ford GT race cars placing. "As we at Ford drive innovation into every part of our business, it's worth remembering that our first innovation as a company was not in a laboratory, but on the racetrack," says Mark Fields, President and CEO, Ford Motor Company, in conjunction with Henry Ford's win of a 1901 car race that inspired financial backers to invest in his company. "We are passionate about innovation through performance and creating vehicles that make people's hearts pound."

Design
Ohh dear...If you think the GTX1 is a radical looking GT then this will take your breath away. A wonderful combination of contemporary design merged flawlessly with modern purpose built functional shape. Ford's engineers have worked their fingers to the bone to create modern yet classic supercar, adding functionality to art. The space-age chassis is suspended by an active racing-style torsion bar and pushrod suspension, of course with adjustable ride height. The huge 20-inch rims wear Michelin Pilot Super Sport Cup 2 tires featuring an exclusive rubber compound and structure developed for the new Ford GT.

Narrow-profile canopy decreases the frontal surface area improving aerodynamics and also lends a purposeful interior with better vehicular control and comfort. Though you have to be careful while opening the door on your super-expensive sports car, but what a way to open the door! The two-seat cockpit is accessed by upward-swinging doors, and features driver and passenger seats integrated directly into the carbon fibre passenger cell.

This setup actually decreases required seating hardware and weight, and provides a consistent and direct sensory connection to the chassis, spine-to-the-chassis connection that is. The seating has been fixed so you don't mess up the weight distribution, but instead adjustable pedals and steering column help adjust to multiple individual dimensions.

The steering wheel is cutting edge F1-style that includes driver controls with a stalkless column allowing uncluttered access to the transmission paddle-shift controls. The instrument cluster too is focused and precise delivering fully digital and configurable data to committed drivers.

"The GT is the ultimate execution of an enthusiast supercar," said Raj Nair, Vice President, Global Product Development, Ford group. "GT includes innovations and technologies that can be applied broadly across Ford's future product portfolio – another proof point that Ford continues raising the performance bar while ultimately improving vehicles for all of our customers."
EcoBoost power
Although Ford EcoBoost technology is available in every Ford vehicle, but the most powerful of them all will provide its services in the new GT. The twin-turbocharged 3.5-litre V6 EcoBoost unit powering the GT is based on the race-proven engine architecture performing in Ford's IMSA Daytona Prototype endurance racing.

The engine has an all-new, port/direct dual fuel-injection setup to improve engine response, plus a low-friction roller-finger-follower valvetrain. Mated to a 7-speed dual clutch transaxle system, the new GT's drive-train will provide instantaneous gear shifts and superior driver control.
Slippery aero
Smooth flowing aerodynmics reside at the heart of the GT design. This actively reduces drag while adding downforce and vehicular stability. The aircraft-inspired fuselage and visibility-enhancing curved windshield are designed to minimise drag and optimise downforce. Not only this, the GT's surface features fully active aerodynamic components to improve braking, handling and stability.

An active rear spoiler is keyed to both speed and driver input, reactively deploying and adjusting its height and/or pitch angle depending on driving conditions. "While we hope enthusiasts rejoice about this all-new GT, all Ford customers will benefit from the ultimate performance Ford and its new-generation innovations," said Nair.
Carbon fibre construction
Reducing weight is one parameter that effects vehicle's capabilities on every dynamic, acceleration, handling, braking, safety, efficiency. GT features advanced lightweight composites to aid its rigid yet efficient nature. With the broad application of structural carbon fiber elements, the GT will exhibit one of the best power-to-weight ratios amongst many other production cars.

Wrapped around the carbon fibre passenger cell, the GT has aluminum front and rear subframes covered in structural carbon fibre body panels. The lightweight yet extremely strong carbon fibre provides stiff foundation for chassis components, while holding a light package for increased dynamic performance, swift cornering abilities and efficient fuel burning.

Was this article helpful ?
0 out of 0 found this helpful